Backspace Ivy, Pata Sente and Famunera are the latest Ugandan based startups to acquire funding through a live pitching session. Hosted by Startup Uganda – an association of innovation and entrepreneurship organizations, the 2021 round of the innovation challenge pitch competition presented fresh opportunities that can be harnessed by every innovator with a startup idea in Uganda.
The first innovation challenge pitch competition run in August 2020 and this year, Startup Uganda borrowed a leaf of the previous year challenge categories for innovators to solve key issues to the hearts of the Challenge's Anchor partners who include UNCDF, Ensibuuko, Makerere Innovation and Incubation Center (MIIC), FSDU, among others per challenge category.
Financial Health for MSMEs with Financial Sector Deepening Uganda (FSDU) as an anchor partner.
Digital Literacy with Danish Refugee Council as an anchor partner.
Prior to the pitching competition, a call for applications was made four weeks before 150 startups successfully applied and 10 startups qualified for the Bootcamp stage. Working with United Social Ventures, Makerere Innovation and Incubation Center, Starthub Africa and Iventure Africa, the teams underwent a virtual 3-day Bootcamp.
On the final day of the Bootcamp, the 10 teams pitched to panels of judges consisting of UNCDF members and the respective anchor partners per category. Through the process, teams were grouped into 3's per competition track and these included:
Kanzu Code, Pata Sente and Chap Chap under Financial Health for MSMEs.
Agricycle, Famunera and Cabral Tech under Leveraging Last Mile Distribution Networks.
Digital Woman, ZOORA and Backspace Ivy under Digital Literacy.
Per Category, only 1 startup idea emerged victorious with $20,000 in funding and a pilot phase by anchor partners. Non-Winning teams will as well participate in a pilot phase to best craft their ideas in partnership with UNCDF and anchor partners per competition track.
Digital Literacy – Winner Presented by Resource Innovation Lab, and the Danish Refugee Council (DRC)
Winner: Backspace Ivy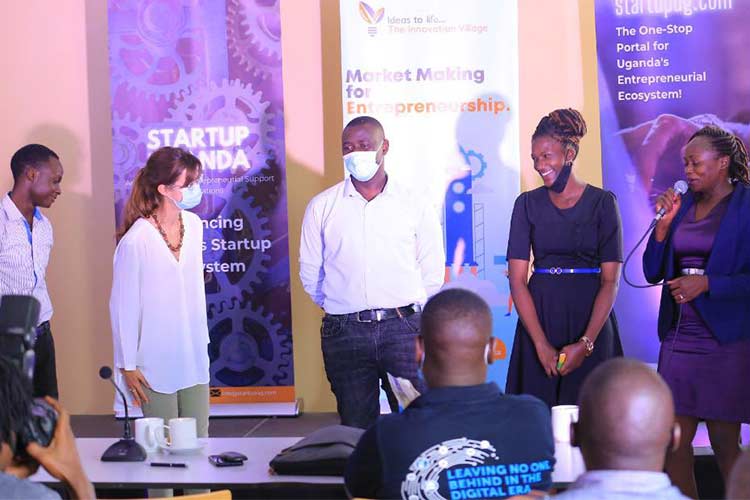 Backspace Ivy is a female IT consultation startup and social innovation enterprise specialising in online digital training for underserved groups of people like Girls in science, technology, engineering and mathematics (STEM), youth, orphans, refugees, disabled, women and semi-urban youth.
The startup aims at increasing the digital inclusion rate by making digital education accessible through short courses. Backspace Ivy won the Digital Literacy track against Digital Woman and Zoora which will now work with the Danish Refugee Council for a Pilot phase to fine-tune their ideas into successful innovations in Uganda.
Financial health for SMES – Presented by Innovation Village & Anchor Partners (FSD Uganda, UNCDF) – chosen based on how they can actually impact SMEs
Winner: Pata Sente
Pata Sente is a Fintech startup that specialises in buying goods for customers and they pay back later on credit through a Web or mobile application interface. The startup allows businesses to pay suppliers in cash as they wait for a payment from their customers who may delay to pay them due to contract or work conditions which often affect Small and mediaum sized enterprises (SMES). So, with a solution to favor small and growing businesses from debt, Pata Sente beat Kanzu Code and Chap Chap for $20,000 in funding to boost their innovation.
All teams to under the financial health track for SMEs will work with FSDSU for a Pilot Phase at a more increased depth to help them grow, innovate, and may be find more potential investors (for non-winning teams) to help their ideas grow into real-world solutions for small and medium businesses in Uganda.

Last Mile Distribution – Presented by Makerere Innovation Incubator Center (MIIC) & Anchor Partners (Ensibuuko, UNCDF, Mobipay)
Winner: Famunera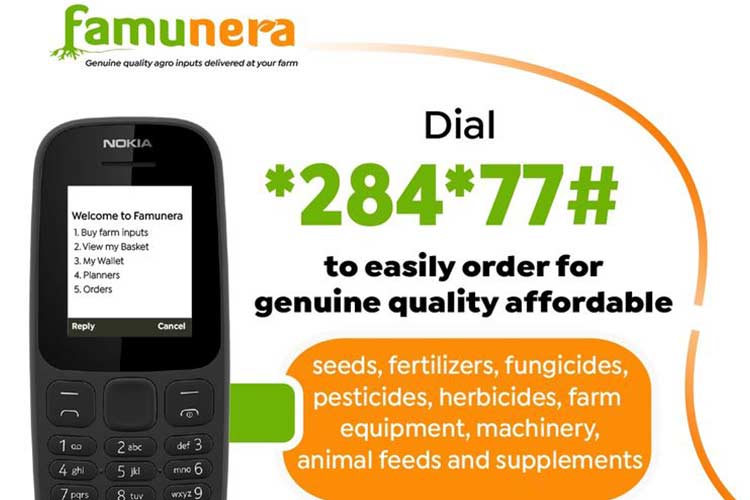 Agrotech is a fast-growing venture in Uganda, and Famunera is one of the fresh startups that aim at making agriculture affordable and accessible for the general population. Famunera is a virtual marketplace that allows farmers to buy high-quality farm inputs and have them delivered to their doorstep or farm location across Uganda. The startup uses an eCommerce website, call centre, and mobile USSD code *284# approach from which customers can access and buy genuine farm inputs.
With Ensibuuko and Mobipay as notable startups that have been working on last mile distribution for 3+ years and have experience on what farmers and customers want, how they want, and when they want, Famunera as the winning startup idea was selected on visibility, validity grounds and how the solution can be experimented to reach the underserved community and farmers in Uganda.
Also, factors that make last mile distribution effective like crop insurance, climate-smart agriculture, vertical farming, agents and field centres were considered as services that can be used as plant doctors to elevate customer levels and link with existing service providers like mobile network operators.
Non-Winning teams in the category, Cabral tech and Agricycle will receive free field training from Ensibuuko starting 24th May 2021 and also gain access to special packages that will make their solutions effectively work in the real world.