Since the Genesis of smartphones, task completion for users has become very easy than ever before. Work that used to take a couple of hours is now completed in minutes if not seconds. In fact, Smartphones erased the bullish rise of Internet cafes by making life easier due to their ease of use and all-in-one accessibility tools.
However, a mobile phone alone is insufficient, instead, we need apps from the Google Playstore to speed up tasks. Different applications offer different solutions and have made many difficult tasks easy to accomplish by a tap or swipe. But among the most important Apps, keyboards, instant messaging, and grammar plagiarism checker apps serve as most haves.
Over the years checking plagiarism on mobile phones has become quite easy for users as opposed to the past, these days, you don't need to type a full word, simply, the first few characters make the keyboard auto-complete the word, which may at times not work in your favor. Well, that's where grammar apps come in handy to proofread your sentences without manually going line by line, and here are some of the benefits of using plagiarism checker apps on your Android Smartphone.
The Benefits of having a Plagiarism Check App on your Smartphone
Using a mobile phone and completing tasks with your fingertips is very convenient for people rather than doing things manually. Writing down notes in a notebook and capturing pictures in a camera were done in different objects but now a smartphone can perform multiple tasks.
You can click pictures, jot down notes, keep an alarm and download unlimited applications that speed up your tasks and save your time and effort.
Mobile phones are very convenient and when it comes to writing and checking duplication you can do it while lying on your couch.
As discussed above, using a mobile application for plagiarism checking can save both time and effort. Imagine checking each sentence on the internet for authentication. This would cost hours and hours and you may get lost in between.
Therefore, having a plagiarism checker app would be the best thing for you to detect duplication in your content and it will cost just five minutes and you will be done with the process.
Content Comparison with several different databases.
Plagiarism detection applications compare documents to multiple databases. You don't need to use various technologies for every database; instead, you can use just one mobile application to search all databases.
The standard version, which everyone can access, is used by the majority of teachers and students; all you have to do is choose the most trusted one and begin uploading your papers.
Plagiarism detection apps give you the confidence to submit your work without fear of being accused of plagiar­­­ism.
After you've checked your content for plagiarism, you can submit or publish it wherever you choose. Using a plagiarism checker to check your material will offer you the confidence to publish documents without any fear.
Helps enhance your writing skills
When the application detects duplication in your work, it provides you with a percentage indicating how similar the terminology is to that of other sources.
Because you will invariably practice minimizing the proportion of similarity received for each document you send, this will help you develop your rewriting skills and prevent future plagiarism issues. You also get to know your mistakes and enhance the quality of your write-up.
The nicest part about plagiarism checkers is that they are accessible via the internet and can be used by anyone at any time. It does not necessitate the installation of any software; all you need is an internet connection and your task will be completed in minutes.
Aside from that, you can get plagiarism-checking mobile apps for Android and iOS. Many plagiarism detection applications are safe to use and have an intuitive design that allows students to double-check their work whenever they choose.
Best plagiarism checker apps providing amazing results.
Students and freelancers frequently utilize the prepostseo plagiarism checking tool because it detects content plagiarism and analyses text from thousands of websites on the internet. It generates accurate reports and is secure to use at any time. The application has an easy-to-use interface that allows students to quickly check for duplication in their content.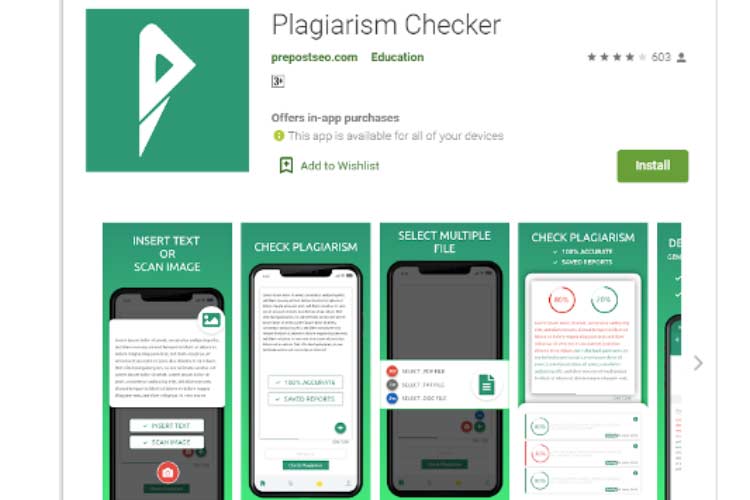 The plagiarism checker app gives percentage findings, making it easy for users to see how much of their work is original and how much is duplicated.
The app is also available for iOS and Android, and it can be downloaded quickly on any Android phone. When students require immediate results, using mobile apps is the most efficient approach to accomplish homework. It saves time and effort, allowing you to get more done in less time.
However, because prepostseo is free on iOS, customers on that platform can also benefit from its features. Users must first register before they can check for plagiarism and receive a report, which they can share with others. The application can be used safely because the data is not kept in the database.
Skandy
Skandy is another plagiarism detection app available for Android. It offers a user-friendly interface for writers and freelancers, as well as the ability to submit other sorts of data, such as a photograph of printed paper or any other image.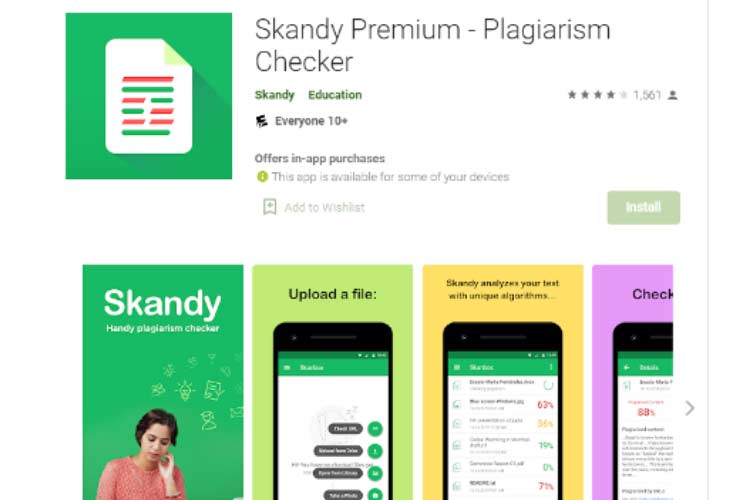 Users can upload text or pdf files, and they can also input the URL of a website to validate their content. The program also functions as an image-to-text converter, allowing you to transform an image into text. It is widely utilized by authors, and students can use it daily for their tasks.
Kavach
Kavach is also one of the plagiarism detection apps that is available on Android that scans documents, theses, publications, and other types of written materials. The software has a four-star rating and is fully free and simple to use, with no limitations or hidden expenses.
It produces findings in minutes, and the results are extremely comparable to those produced by prominent plagiarism detection services. Students can use this app to examine information before submitting it to the university.
In a nutshell, People have never faced a hard time copying content from the internet. Many people still use plagiarised information in their documents and websites, which can harm their search engine rankings. As a result, it's critical to check for material duplication regularly.
So, having a plagiarism checker app on your smartphone ensures easy plagiarism detection. Plagiarism can be detected in emails, text messages, business documents, and proposals, and we send most of them via mobile phones. As a result, having a plagiarism mobile app might save you from sharing duplicate messages.