The TECNO Camon 12 and TECNO Spark 4 are the fresh new Smartphones in Uganda that come bundled with 5GB of free MTN Data. The duo was launched as the inaugural TECNO X MTN partnership devices to serve both the telco's customers and midrange Smartphone warners in the same square.
As the semi flagship on the launched pike alognside the Spark 4. the TECNO Camon 12 packs a finish of improved features from the Camon 11 smartphone with the triple rear camera threat re-shipped back to play.
A 16MP + 2MP + 8MP is the overall Camon 12 rear setup with 4GB Ram and 64Gb finishing the most precious device specs sheet. Suprisingly the Smartphone is priced at an outstanding reservation price tag of UGX 569,000 as the Spark 4 raves at UGX 429,000 with a shiny specs sheet we previolulsy shared.
During the Tecno Mobile partnership reveal with MTN Uganda, the Smartphone brand's country director stretched the new releases as budget-friendly wing encroachers with improved features just like the Camon 11 and Spark 3 respectively.
"At TECNO, we are excited about this new partnership between TECNO Uganda and MTN Uganda. We believe our customers shall enjoy a lot of benefits from this partnership. This partnership means a lot to us and it will start with the launch of our new upgraded devices; Camon 12 and Spark 4.

Camon 12 comes with 4 in 1 technology and mosaic algorithm that enable TECNO CAMON 12 stand out from its range with high pixel and clear camera lens.

It comes true that by utilizing TECNO CAMON 120° Super Wide Angle or 2cm Extreme Macro Photography, the consumers will be able to take blockbusters photos with their phone. And you'll find that with TECNO CAMON 12, anybody can be a professional photographer.

Shiva Zhong –TECNO country director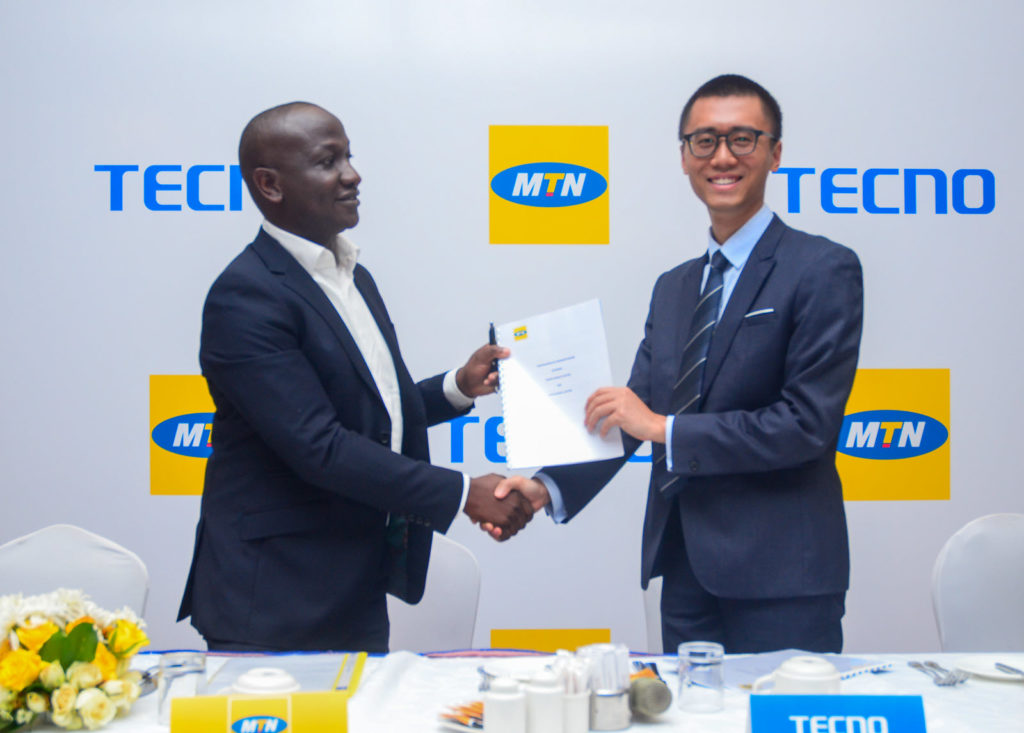 The new Camon 12 and Spark 4 features
Alongside the 5Gb free data for all new purchase customers redeemable by Inserting an MTN Simcard into the new Phone, the new Camon 122 and Spark 4 have a full network finish supporting both 3G and 4G bands as the key compatibility points.
For the Camon 12, it's born from a selfie-centric lane managing its triple rear threat and front lone waterdrop gifted selfie camera are the key features shipped to it.
However, the Camon 12 also doubles as the first waterdrop notch Smartphone in its league giving it a perfect close to bezeless design spicing up its features sheet.
On the other hand, the TECNO spark 4 is born from the close to professional low range evidenced with budget friendliness on a high specifications sheet.
The Spark 4 comes with a low aperture system that allows you to take photos in dim or low light conditions with ease. Furthermore, 32GB storage space accepts upto 20,000 high-quality photos blending on top of your personal files
However, the key amazing Spark 4 feature is once again the waterdrop notch which is the first of its kind in the Spark series lane improved from the Spark 3 that shipped the ordinary skirt top display notch.
Future of the MTN and TECNO Mobile partnership
During the partnership launch, MTN's Sales & distribution general manager Joseph Bogera inked future plans of the two brands working together to make Internet services affordable to mid-range Smartphone owners and the telco's commitment to spicing up its services.
This partnership further demonstrates MTN's commitment to drive our vision of delivering a bold new digital world to our customers.

We're partnering with Tecno to get more Ugandans online, because we believe that getting and staying connected is helping transform every sector of our society from entrepreneurship to education, and everything in between

Joseph Bogera – General Manager Sales & Distribution, MTN Uganda
Contrary to the newly launched smartphones, all future TECNO Smartphones purchased by an MTN customer will carry forward a 100% data bonus recharge for a total of 3 months on each and every bundle purchased
All in all, Its a Nyam Nyam data edition for TECNO Smartphone holders and Yello Camp subscribers who now benefit from a Dabolo data like Syndrom with a full data finish. Nonetheless, existing devices like the Pouvoir3, Pop 2 Plus and F1 also come with the Free 5GB data for MTN Customers.