WhatsApp stickers are now as popular as Emojis and slowly catching a trend of customized graphic impressions on the Platform. In case you're a regular user of the App, you definitely know how awesome stickers appear in chats and creating your own is as easy as installing a creation App.
While a pile of sticker creation apps can be downloaded off the Google Playstore (For Android) and the Apple Store (For iPhone users). We landed on one Ads-free App (Sticker maker) that can be used to create your own stickers using your Photos, and here is a quick guide on how you can use it.
NOTE: You don't have to use the same App (if you wish) to create stickers you can choose to ride with other variants listed in this article
List of WhatsApp sticker Apps
Sticker Make for WhatsApp
Sticker Maker
Sticker Maker for WhatsApp
Wemoji
Create stickers for WhatsApp-Sticker factory
Stickify
Funny Memes stickers for WhatsApp
Kojo stickers
Funny Meme Stickers
Among Others…
Creating your own sticker packs with Sticker Maker for WhatsApp
Step 1: Download and Install Sticker Maker For WhatsApp
Download and Install Sticker Maker For WhatsApp (Green Logo) off your Smartphone's store to start creating sticker packs for WhatsApp.
Step 2: Open the App and select "Create new sticker pack"
Once you open the App, its main dashboard is straight forward and has a single create new sticker pack button you should click to access empty sticker thumbnails to replace with your custom creations.
Step 3: Tap any Thumbnail ( Photo Add icon '+' ) to add Photos
Click on any of the empty thumbnails from the create sticker pack option to upload photos and crop them for conversion into stickers.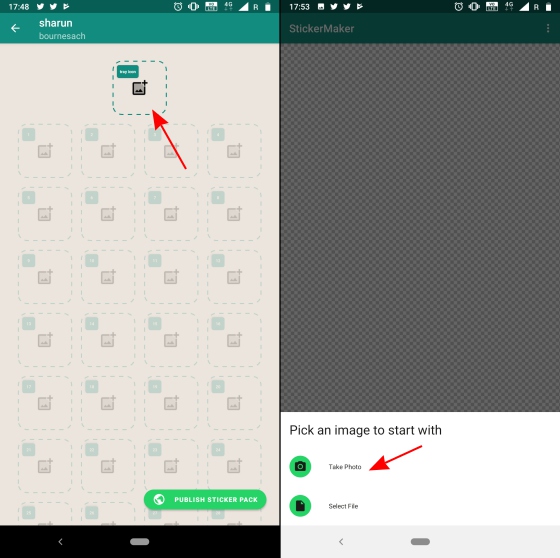 Step 4: Once you create 3 or more stickers, click Publish
Once you crop your photos and remove backgrounds, click the publish button to make your sticker available for usage on WhatsApp before you can import it to your WhatsApp account for usage.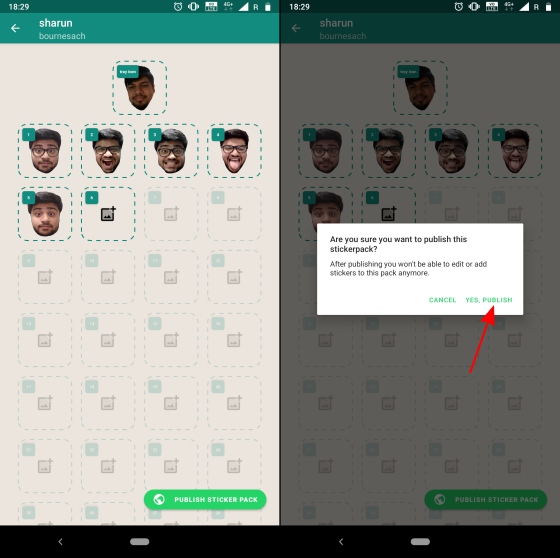 Step 5: Click 'Add to WhatsApp' to move your sticker pack to WhatsApp
Now that your stickers are published, you can move your created Stickers to WhatsApp for usage by clicking the smileys/emoji button and select stickers to see your created copies.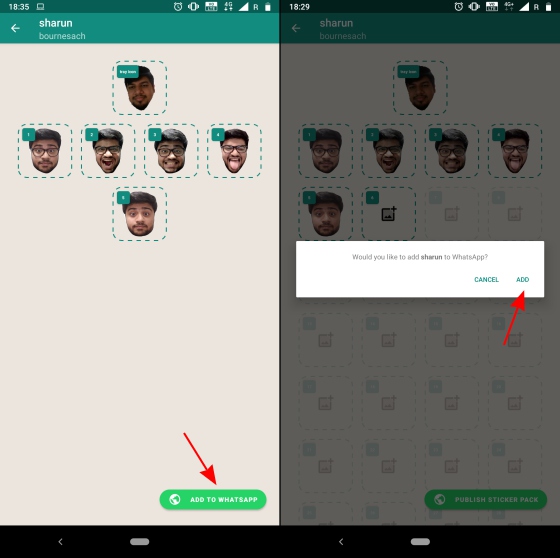 NOTE: Used Images are a property of Beebom.com taken from a Nokia 7 Plus running Android 9 Pie
In a nutshell, creating your own WhatsApp sticker should now be easy for you to juggle with any saved photo you wish to use. Either way, you can use any other available App on the Playstore to create custom stickers and directly deploy them on WhatsApp as long as you hit the publish button.