Android VPNs are the most crucial Apps that you need to have by your smartphone in order to be ready for any form of internet sanctions that could come your way based on your country's policies. In African countries like Uganda, Internet sanctions are common, and so, the need for a VPN is necessary to access all sorts of blocked websites and platforms.
However, the real challenge is finding the correct VPN that will deliver the best uptime possible with your smartphone's internet connection. More so, getting a dose of a great VPN with little or no Ads is also a hard nut to crack since the best VPNs are often premium/paid variants.
On merit, all VPNs work on the same model of tunneling all your data and traffic to securely bypass Internet sanctions. But before choosing any of the android VPNs, you should consider noting whether the VPN logs your browsing activity and whether it has a kill switch or not. And so, here are the best 5 android VPNs you can consider installing on your smartphone.
List of the best 5 Android VPNs
On the list of the best 5 Android VPNs you can consider installing on your smartphone, popular variants like Psiphon Pro, Nord VPN, Betternet, Proton VPN, Ultra Surf, Hotspot Shield, Tunnel bear and Cyberghost rank as some of the best you can consider downloading for your Android.
Ultra Surf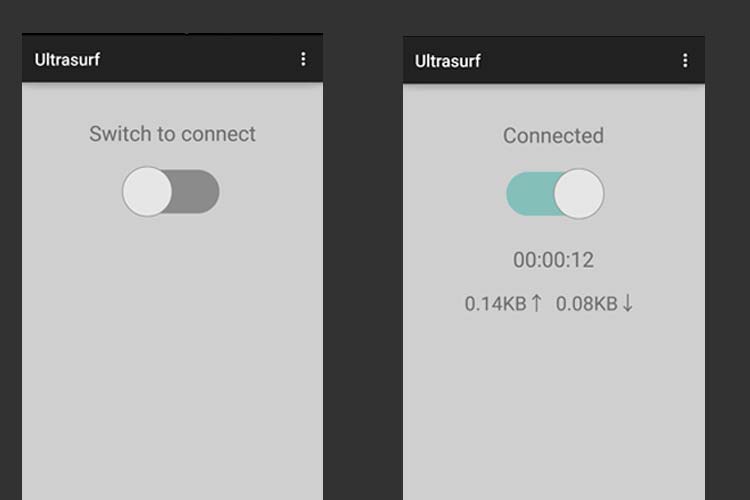 Ultra Surf is a lightweight and AD free VPN service available on the Google Playstore as one of the most downloaded VPNs built with privacy, link quality, and speed in a single package. By Design, the VPN has a single kill switch which you can toggle ON or OFF with ease and no complicated menus attached to its layout.
By pricing, Ultra Surf is 100% free and doesn't feature any paid/premium plans for users. Once you Install the VPN on your Android Smartphone, you will not be charged for any coin, or even required to signup for the service in order to have an active tunneled connection.
Betternet VPN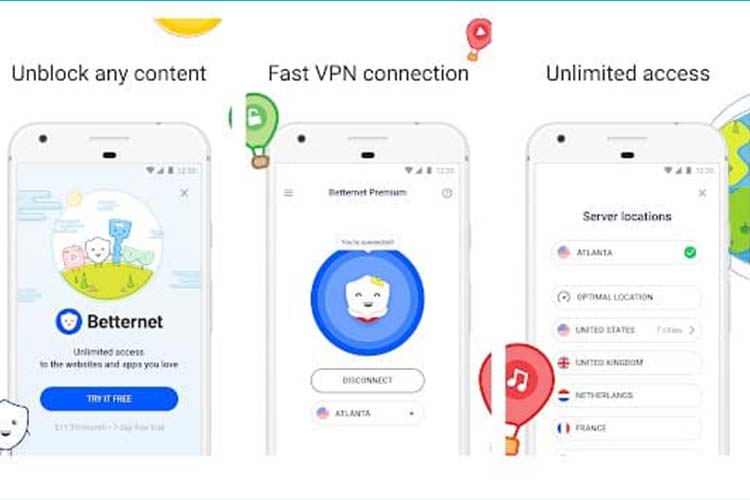 Think of the best VPNs that can allow you to unblock any website or online service for free, and see what Betternet has to offer. Ranked as one of the most downloaded and trusted VPNs, Betternet VPN is a great application you can use to bypass internet censorship on your smartphone.
By pricing, Betternet has a paid/premium version of the app you can consider upgrading to for better privacy, speed, and functionality. But as per its functionality standards, Betternet VPN automatically switches between servers with no ability for you to choose your preferred country as a mode to dynamically switch to the nearest servers available in your region. You can download Betternet from the Google Playstore, or the VPN's direct website.
Hotspot Shield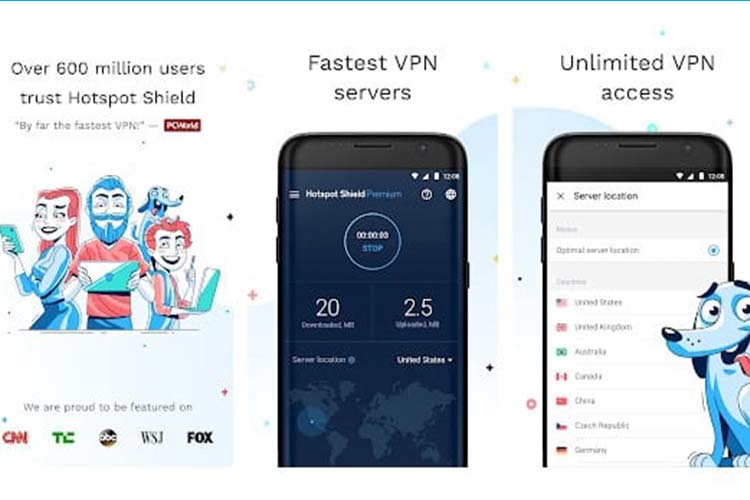 Hotspot Shield is currently the most downloaded VPN for Android with mass installations attached to its dynamic functionality that allows you to bypass any form of internet sanctions and service limitations on your Smartphone.
Unlike other free VPNs, you can choose a VPN server location with Hotspot shield in order to have uninterrupted flow of traffic with a free plan. With the premium plan, you get more server locations and unlimited bandwidth to have the best connection speeds on your Smartphone. With 2G/3G/4G and WiFI support, you can easily download Hotspot shield from the Google Playstore.
CyberGhost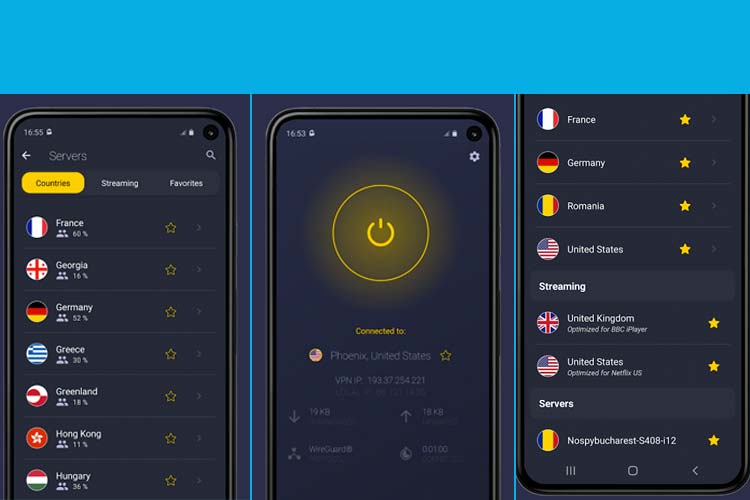 Cyberghost is another Android VPN application that allows you to bypass Internet sanctions with over 6000+ VPN server locations in 90countries to choose from. This means, you can choose the nearest server to your location in order to have the fastest internet speeds through your connected tunnel.
With the free version of Cyberghost, you can connect using a single kill switch to limited server locations in order to secure the connection on your Android Smartphone. By ranking, Cyberghost is one of the most downloaded Android VPNs pimped with great functionality and speed available on the Google Playstore.
Tunnel Bear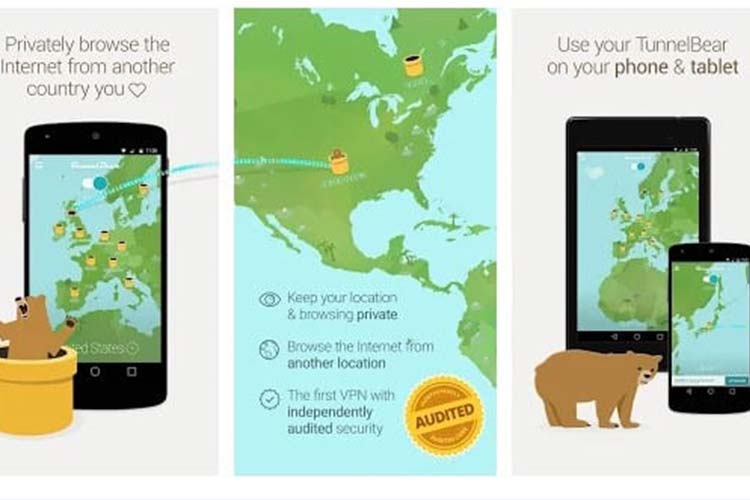 Tunnel Bear is a legendary VPN service that is one of the most downloaded android VPNs of all time. Tunnel Bear has its glory lineage attached to its secure connections created through tunnels as the name describes. The Tunnel Bear interface is straight forward and allows you to swipe through all options available to encrypt your internet connection.
Bonus: Psiphon Pro
Psiphon Pro is probably one of the most popular VPNs available for Android, and probably best known for mobile data hacks in which IT geeks serve free data through proxy configurations. Given its powerful capabilities, Psiphon Pro is not available on the Google Playstore, but available in 3rd party stores like apkpure, 9apps, mobogenie, among others.
However, Tunnel bear has a big limitation for its free account with only 500MB of browsing data every month. But once installed, you'll be able to bypass all possible internet sanctions and download music, movies, among many others.