You can block a stolen Airtel SIM card to prevent any fraudsters from using it and retrieve important data stored under your registration names. Previously, to block our SIM card, you had to visit an Airtel service center to have it done within minutes after stressfully lining up to access an active agent.
Well, it's now easier to block your stolen Airtel SIM card by utilizing the new *100# menu that offers quick access to all Airtel services. In case you frighten on the decision to block your SIM card, here are 5 reasons as to why you should block access to it before replacement.
Easy SIM card replacements/swap: Once you block your Airtel SIM card, it will be easy to swap and replace the card since it will no longer be active. This as well will lead to shorter times of getting your new card to work after swap.
Security Concerns: Stolen SIM cards can be used to access sensitive information, such as online accounts and bank details. This is simple to achieve since the SIM holder will click the Forgot Password prompt and access any of your accounts.
Protect your Personal Information: A SIM Card stores information both locally on the SIM storage, and online through the services such as Airtel Money, and more. Consider your contacts and text messages gone, but non-local data can be saved by blocking the card.
Prevent Unauthorized Charges: Stolen SIM cards are used to make unauthorized calls, borrow money, and send text messages. Incurring charges on your account will force Airtel to bill you on any other SIM card registered in your names.
Protect Your Reputation: Your SIM card can be used to send spam messages and make unauthorized calls. This will damage your reputation and professional relationships. Blocking the stolen SIM card can prevent this kind of damage.
Block your Stolen Airtel SIM card
First, to block your stolen SIM card, be sure its registered in your names as a basic rule. This will save you time when approving the process, and a good ethics behavior since you will not be attacking someone else's peace by limiting their access to the SIM. Hence, to block your SIM, follow the steps below.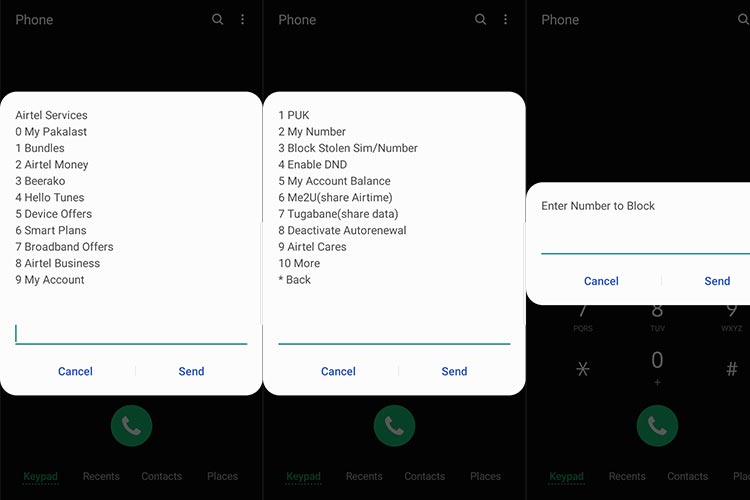 Dial *100#
Select option 9 (My Account).
Select option 3 (Block Stolen sim/Number).
Enter the SIM card number (phone number) to block.
Enter the Airtel Money PIN of the number to block. (To verify you own it)
If you enter the correct PIN, the number is blocked immediately.
DONE: To confirm that your number is blocked successfully, call the customer care helpline 100, and ask an agent to inquire whether your SIM card number is blocked.
In conclusion, if you choose to block your stolen Airtel SIM card in Uganda, this is the best decision you can do to avoid fraudsters from using this small window of chance to make a fine amount of money using your identity. For the best window of chance, block your Airtel SIM card upon confirming that it's stolen.