Facebook has a fresh new design that features dark mode, and a chunk of more excellent features that allow you to use the Social media platform is a fashion much better than ever before.
Having released the new version months back, the New Facebook layout has been on a slow rollout, but now available for every user. However, your account mayn't automatically switch to the new Facebook version, but here is a fix on how you can forcefully race to the new layout.
Force-Switching to the new Facebook on Desktop
Step1: Visit www.facebook.com and Logout your Account if Logged in
Step 2: Clear your browser cache
By clearing your Browser's cache, you're making your browser feed new Facebook cookies and cache for your accounts. So, the next time you log in, your Interface would have changed.
Step 3: Login back to Facebook and Enjoy the new Facebook Design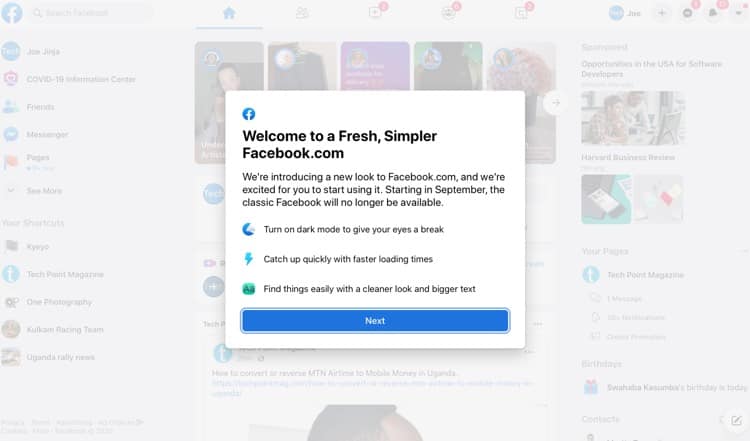 How to Turn-on Dark Mode
Dark mode is the new normal for all platforms trailing in the user experience lane, first it was with high-end Smartphones system wide mode, then Apps adopted the streak with full support on WhatsApp, Twitter, Instagram, TikTOk and alot more Apps.
Well, to turn o Dark mode on the new Facebook, all you need to do is access your Facebook option drop down list and hover the Dark mode button on or off.
Locate the Facebook options list (drop down symbol in the top-left corner)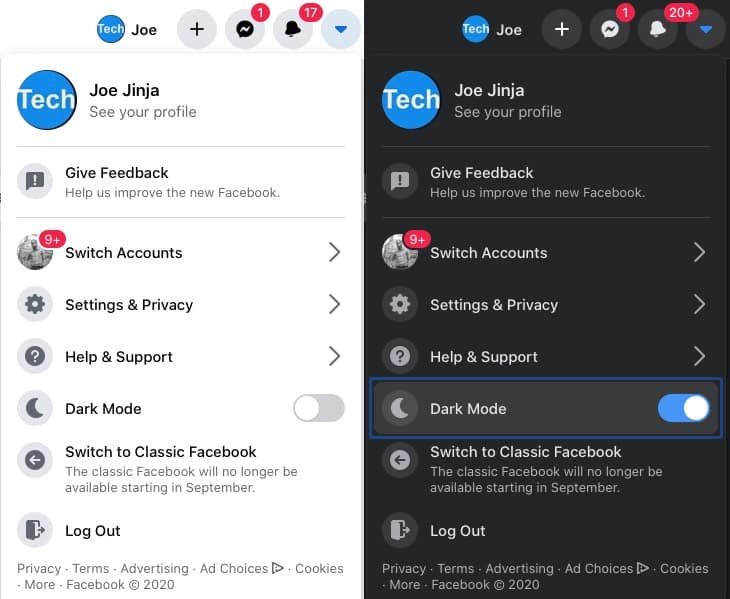 Between Help & Support and the Switch to Facebook classic option, Click the Dark Mode switch
Done: Your Facebook Account will switch to dark mode, and you can turn it off by flipping the button back
All in All, Facebook's new Design is a charm inspired by the Facebook mobile App. Among the noticeable changes, Pages Management, News Feed, Facebook Gaming, and Facebook watch now have new locations.