You can turn on dark mode on your Chromebook before the feature is officially made available on ChromeOS. To do this, you need to enable a Chrome flag on your Chromebook to switch you to a Beta channel.
For the past few months, Chrome OS has shipped new features provided through upgrades with new features like read later, clipboard history, phone hub, and now, Dark mode.
Well, to conveniently switch between light mode and dark mode on your Chromebook, a new toggle will be activated in your quick settings menu from which you can switch dark mode on-off.
But first, with ChromeOS 86.0.4240.183 as the latest update available, you can switch to Beta channel as a starter switch to getting the dark mode tab in your quick settings menu.
Turn on your Chrome OS Beta Channel
To switch to a Beta channel away from your current Chrome OS stable channel, you need to visit the settings panel, and access the About Chrome OS sub-menu, then additional details and change current channel to beta.
Settings -> About Chrome OS -> Additional Details -> Change Channel -> Beta
Once changed, hover back to the about Chrome OS settings tab and check for updates, then download and install the currently available Beta channel version, 'at the moment 88.0.4324.22' in order to fully use dark mode. Next up, a switch will be added to your quick settings pane to switch modes.
Turn On Dark Mode on your Chromebook through the Quick Settings Pane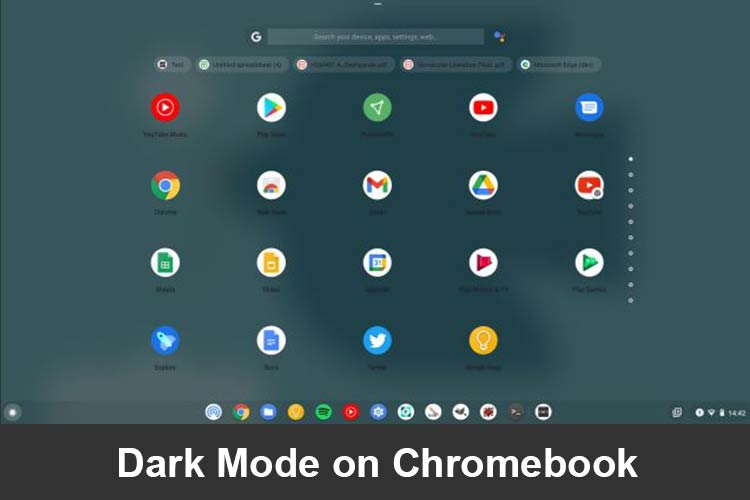 First, open chrome://flags from your browser
Then input "Dark mode" as your search query
OR chrome://flags/#dark-light-mode for direct switch to the option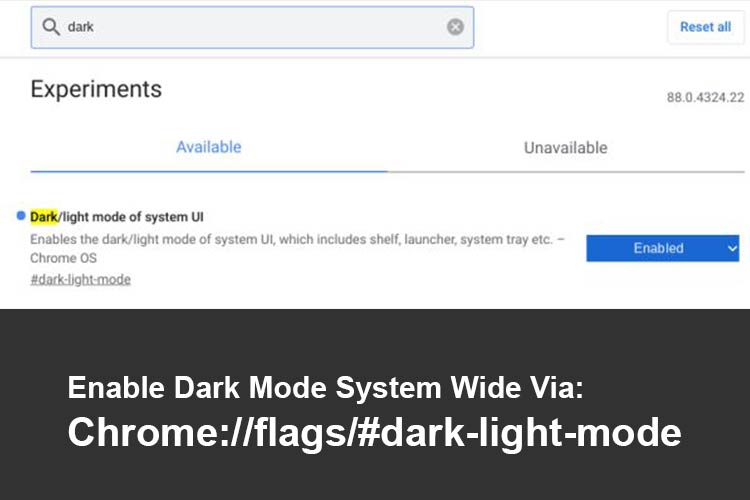 A dark/light mode of system UI option will be displayed, then, click enabled from its drop-down list of options
Restart your Chromebook for changes to take effect
Once Rebooted, open your quick settings menu in the top right corner
From the menu, a Dark theme option will be displayed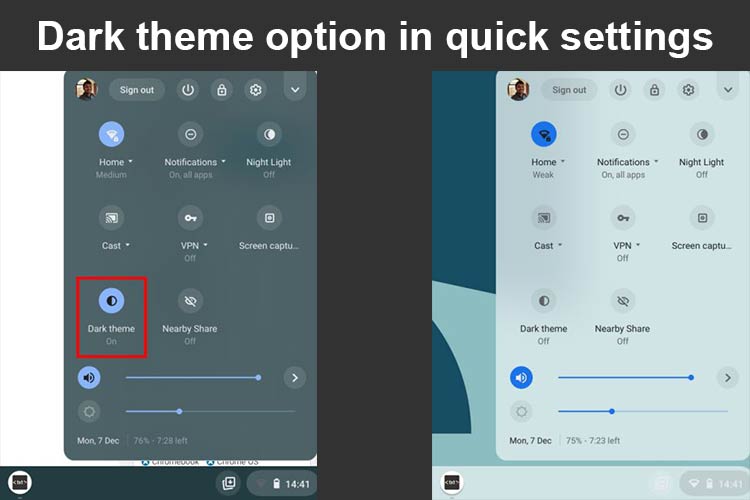 Toggle the Dark theme option to ON for a change as your systemwide display mode
DONE: To switch back to light theme, simply toggle the dark theme option to OFF