Huawei Mobile is now the Largest Smartphone manufacturer in the world, this is after taking over the top slot from Samsung mobile which has declined due to the current COVID19 Pandemic.
According to a new report published by market analysis firm Canalys. Huawei has so far shipped 55.8 million smartphones in the 2nd quarter of 2020.
On the other hand, Samsung came second with 53.7 million Smartphone shipments, meaning Huawei takes a lion's share on Smartphone shipments making it the largest manufacturer in the world.
In 2020, It was not the first time for Huawei to lift up its standards, in Quarter 1 it surpassed Apple to retain its 2nd Place which it had lost due to its unending sanctions from the US. But now, the Chinese giant is back to full throttle.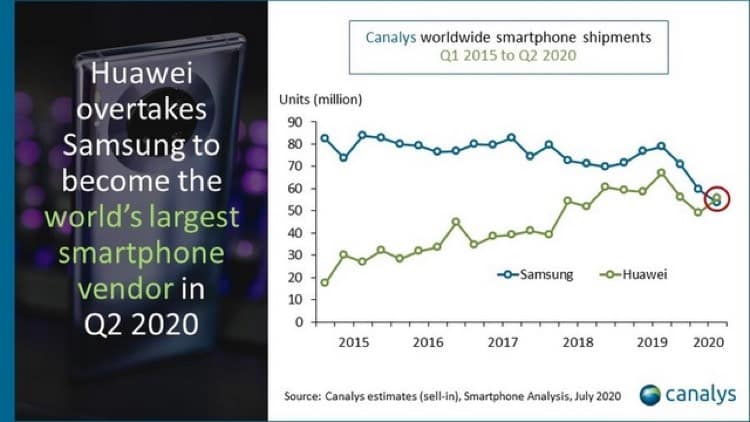 As a matter of fact, Huawei now sells over 70% of its Smartphones in mainland China given the lack of Google services that has attracted negative spikes in other markets.
However, the lack of Google Services serves as a merit in China, since most US Apps/services are banned in the region. So, it's by no surprise that Huawei now registers more sales in China than elsewhere in the World.
Alternatively, the COVID19 Pnamdic has affected imports around the world, and China is the largest highly populated market in the World, Huawei's share to the top slot became inevitable against Samsung.
As compared to previous trends, Huawei has witnessed a 5% year over year decline in sales as Samsung has faced a 30% fall in sales when compared with Q2 of 2019.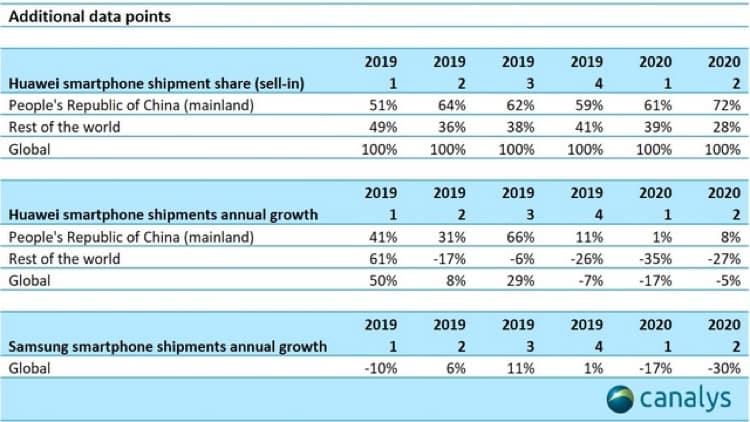 Well, With Huawei Mobile currently rocking as the gigantic Smartphone manufacturer in the World with its Smartphones missing Google services by default. This means the future is clear for the brand given the fact that customers still prefer its top-notch hardware, even without the fancy software.