Huawei Mobile has officially agreed to sale terms with a new buyer of its Honor Smartphones brand. For long, Huawei has kept Honor as its midrange smartphones brand, and now, the brand will soon belong to yet another Chinese-based company.
Shenzhen Zhixin New Information Technology Co. Ltd has officially closed a deal to own and run Honor as its flagship smartphone brand. At a yet to be disclosed sale figure estimated to be at 15.2 billion USD, Huawei will nolonger own Honor, but its employee base remains unchanged.
George Zhao, the current President of Huawei's Honor division, will now be the Chief Executive Officer (CEO) of Honor as an independent brand owned by Shenzhen Zhixin – a consortium of over 30 agents and dealers in China.
A Joint Statement on the sale of Huawei's Honor Smartphones Brand
"This acquisition represents a market-driven investment made to save Honor's industry chain. It is the best solution to protect the interests of Honor's consumers, channel sellers, suppliers, partners, and employees.

The change in ownership will not impact Honor's development direction or the stability of its executive and talent teams, allowing the company to continually consolidate its foundation for success."

The Joint Statement reads
As per the published statement, Huawei's sale of Honor will improve its stand as a great Smartphone brand, and will no longer be affected by any US sanctions as it has been with its former mother company.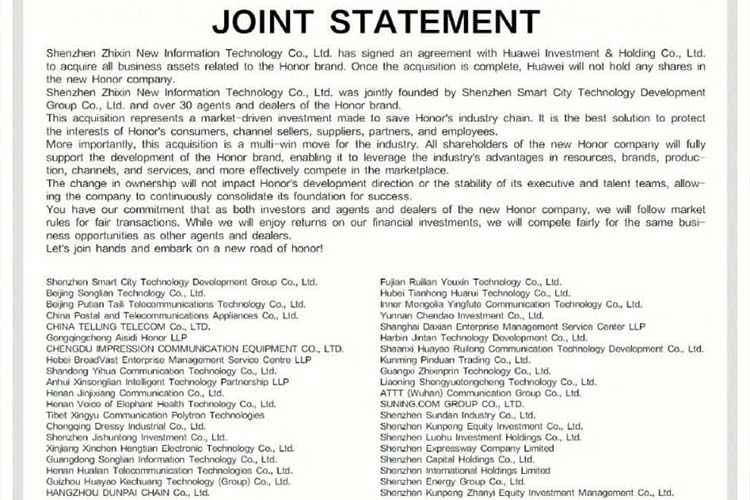 This means, the Honor Smartphones brand will now take on rival bullish players like Vivo, Oppo, Realme, One Plus, Tecno, among other Chinese based brands on a global market scale.
Hence, as Honor moves away from Huawei, the brand will be saved and will now tackle a much wider market across the world since it will not be affected by potential sanctions that would rise under Huawei.
In fact, support for Google management services (GMS) will be valid on Honor devices going forward and will bring together trust from chip suppliers that previously cut business ties with Huawei over U.S trade restrictions.
Nonetheless, the sale of Honor is revenue-in for Huawei, but might cost it a midrange stand with no direct brand in its catalog since its base releases like the Mate 40 serve as top tier high-end releases.