The Huawei Sub-Saharan Africa ICT Competition has come to an end with podium finishes scooped by Tanzania, Uganda, Nigeria, and South African students. In an Awards ceremony hosted online on 29th October 2020, the regional ICT Competition winner have been sorted for global finals set to run in November.
From a pool of 40 African teams that participated in the hard to win Sub-Saharan African round. The quad combination of Tanzania, Uganda, Nigeria, and South African students topped the competition by showcasing skills in Cloud, Routing and Switching, 5G, AI, and VR setups.
With a joint pool of over 50,000 students from 14 Sub-Saharan African countries that participated in the 2019/2020 competition. This year's round has further marked an all time high of attendance since the Genesis of skilling African ICT talent based on Huawei's certification path.
According to Huawei's Global Vice President Mr. Hou Tao, the impressive enthusiasm showcased by students is a good signal for Africa's digital inclusion rate in an era where physical workplaces are becoming a yesterday norm with online formations taking shape.
As a private company serving the African market for over 20 years, Huawei has dedicated itself to and will always remain a trusted partner of governments and academia in building ICT talent pool, strengthening capacity building and increasing people's digital competence.

Said Hou Tao
Annually, the Huawei ICT Competition encompasses the latest technologies such as cloud computing, AI, mobile networks, Big data, and IOT to test student levels in not just job market skills, but also their standards in the Innovation ecosystem.
In South Africa, the Minister for higher education Dr. Blade Nzimande inked the country's goal of repositioning from just being a consumer of knowledge, but also able to leverage acquired skillsets to become a producer of knowledge and cutting edge innovations in partnership with brands like Huawei.
Notably, Dr. Blade Nzimande also urged the need for Pan African collaborations in order to stay competitive with the globalized nature of economies and digital transformation as a key driver.
In light of increased ICT Education centers, Huawei has for the past 5 years embarked on collaborating with over 250 Sub-Saharan Univerisituies through mutual agreements to enable students access top class ICT training.
Through this, over 7,000 University students have so far certified in Huawei's various learning paths with Routing and Switching as the most popular.
In Uganda, the Permanent Secretary of the Ministry of ICT and National Guidance, Vicent Waiswa Bagiire noted that ICT can bring substantial spikes in productivity to address some of the country's urgent needs.
Furthermore, the development of Human capital is relevant to the ICT ecosystem, and so, with companies like Huawei in the pipeline of skilling more talent, the ICT Industry is able to grow stronger with vast training and ready competition.
The 2019/2020 Huawei Sub-Saharan ICT Competition Winning Teams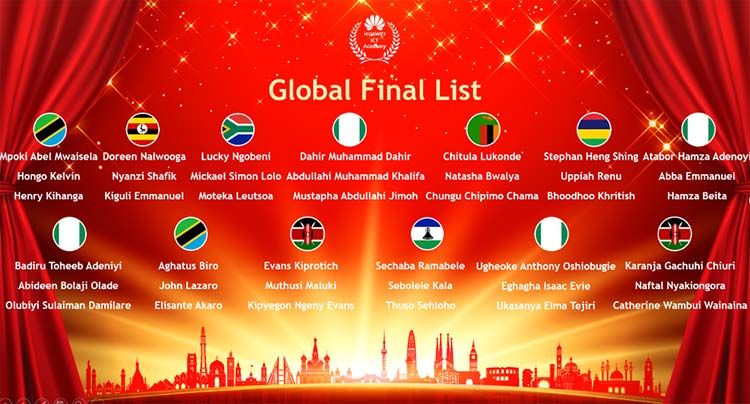 Uganda
Doreen Nalwoga
Nyanzi Shafik
Kiguli Emmanuel
Tanzania
Team 1
Mpoki Abel MWaisela
Hongo Kelvin
Henry Kihanga
Team 2
Aghatus Biro
John Luzaro
Elisante Akaro
South Africa
Lucky Ngobeni
Mickael Simon Lolo
Moteka Leutsoa
Nigeria
Team 1
Dahir Muhamad Dahir
Abdullahi Muhamamad Khalifa
Mustapha Abdullahi Jimoh
Team 2
Atabor Hamza Adenoyi
Abba Emmanuel
Hamza Beita
Team 3
Badiru Toheeb Adeniyi
Abideen Bolaji Olade
Olubiyi Sulaiman Damilare
Kenya
Team 1
Evans Kiprotich
Muthusi Maluki
Kipyegon Ngeny Evans
Team 2
Karanja Gachuhi Chiuri
Naftal Nyakiongora
Catherine Wambui Wainaina
Lesotho
Sechaba Ramabele
Sebolele Kala
Thuso Sehloho
Mauritius
Stephan Heng Shing
Uppiah Renu
Bhoodhoo Khritish
Zambia
Chitula Lukonde
Natasha Bwalya
Chungu Chipimo Chama
From November 6 to 8, the 13 Sub-Saharan African teams will attend an online Global Finale which features excelling students from other continents. online.
With more than 300 Global Final entrants, the winning African teams will be able to demonstrate their talent and innovation levels in support of their origin countries and continent.