MTN TikTok Bundles package the best joy and mood-lifting experience that every customer would want to taste, this is due to the trend that TikTok ranks as the most downloaded mobile application since 2020. Tiktok growth can be attributed to the COVID19 pandemic which has forced many people to stay home and search for stress-lifting activities like watching videos, but also, the new touch of short videos is one that fits the current generation.
Well, MTN is known to break offers first in Uganda, and with MTN TikTok bundles, they decided to brace customers a notch higher with data bundles specific to the most popular short video sharing platform. Much more like other bundles we've anticipated to see off the launchpad like YouTube Bundles, MTN TikTok bundles allow you to use Tiktok all day without worrying about data consumption.
On average, with a normal data pack, you can use between 500MB to 1GB in a single day if you choose to scroll through Tiktok's most-watched videos. But if you opt for the Yello telco's offer, you get to save a lot on not just data, but also money which you would have spent on loading excessive bundles.
Priced from as low as UGX 250, MTN TikTok bundles have a 24hour validity time frame, unlike non-expiry data bundles, either the 24hour validity cap or Tiktok usage frequency can cut off your connection to the platform. To load, you can either use the telco's MY MTN App, or try the old way of using MTN shortcodes.
How to load and activate MTN TikTok Bundles
Using the MY MTN App
Download and Install the MY MTN App from the Google Play or Apple store
Now, Login to the MY MTN if already installed
Then, locate and tap the Buy tab on the main navigation bar
Under Buy, Choose Data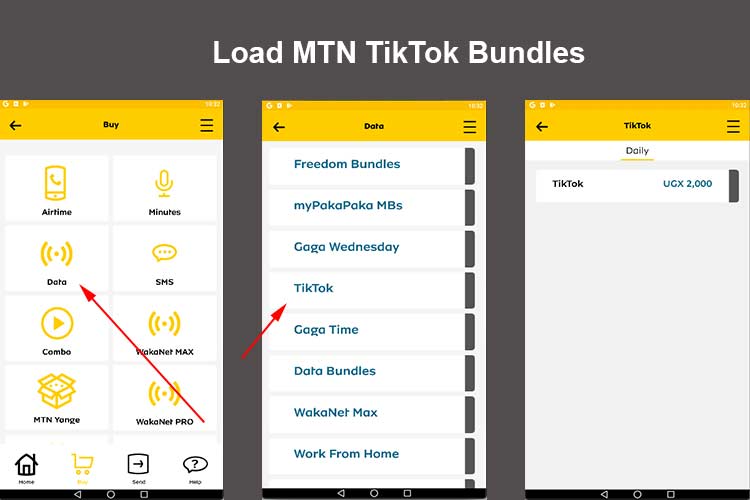 Then, scroll and tap Tiktok
Choose your preffered bundle (Daily 2,000)
Then, choose betwen Me, or Another number to complete payment via Mobile money
Now, Approve payment by entering your 5 Digit Mobile Money PIN
DONE: Once approved, your MTN TIkTOK Bundle will be loaded and activated for your account
Using MTN Shortcodes
Dial *150#
Then Select Option 1 (Mobile Internet)
Now, select option 1 (Buy a Bundle), or choose option 2 to load for another number
Under bundles, Select option 6 (TikTok Bundles, Daily)
Now, select your preffered bundle (UGX 2,000 valid for 24hrs) to load
Then select Option 1 (My Number) to confirm.
Your request will be processed Via MTN Mobile Money, approve payment to load bunde
DONE: Your MTN TikTok Bundle will be activated can only be used on TikTOk.