Bokali USB Power Extension is a dynamic home or office essential electronic device that follows a path laid by premium power extensions, but with better new-age functionality.
Well, we purchased a 3-Way Bokali Power extension from Odukar store in July. Unlike flagship gadgets like Smartphones and Wearables, gauging the performance and durability of an electronic takes time, and so, the timeframe is exact for us to see what Odukar's Bokali variant has to offer.
By Impressions, the extension comes with a box-in-box packaging style, quite unique, and catchy at the same time. Once unboxed, a solid 3.7mm hard cable inks the extension's power rating with a fused UK Type G wall socket plug.
Before crunching with how to power-up the extension, a single power button turns on the power supply and lights up the Bokali branding with a pale blue emission signaling that, the extension is ready to use.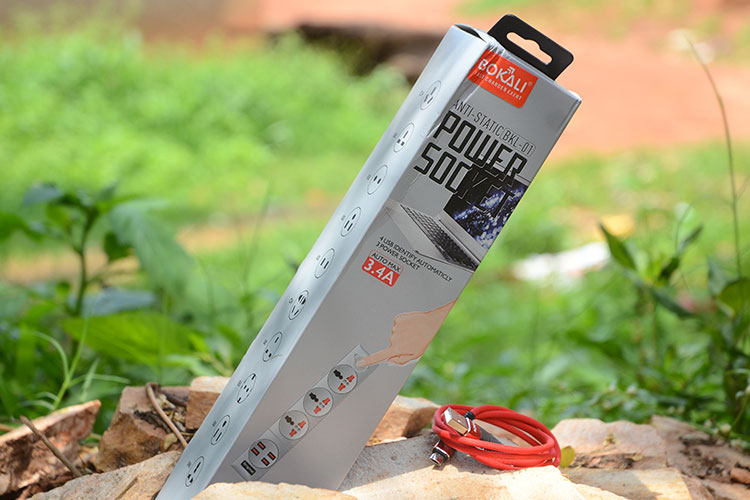 Design & Performance: How good is the extension?
A solid size describes the extension design straight out the box. For our 3-way version, it measures 1.8Meters from the power supply to the base power extension. The base extension (minus the cable) has an approx 0.11ft length and a height of approximately 0.2ft.
So, the base extension boasts with a solid medium size mounting thoughts on how best its ports perform. 4 USB ports, 3 regular power ports deliver 3A (amps), then 10A 2000W-2500W respectively.
Fast-charging as a new age standard is enabled on the 4 USB ports, we tested the feature by plugging-in a Smartphone with a 10W micro USB charging port. In 1-5 minutes the phone gains approximately 25% (with the Odukar Floveme USB Cable) compared to regular charging sticks that boast with 5-10%.
Additionally, in case of power surges, the extension equips smart auto-off functionality which immediately cuts-off power supply from reaching connected devices. This makes the extension ideal for plugging-in critical electronics like TVs, Computers, Sound systems, Fridges, among others.
Given the fact that input levels rave at 100V-250V, you can connect almost all basic home electronics since a majority of them pose below the 200 Volts mark, except for heat variants like Cookers and Ovens. Nonetheless, the extension gets an A+ in performance, but how best can it last?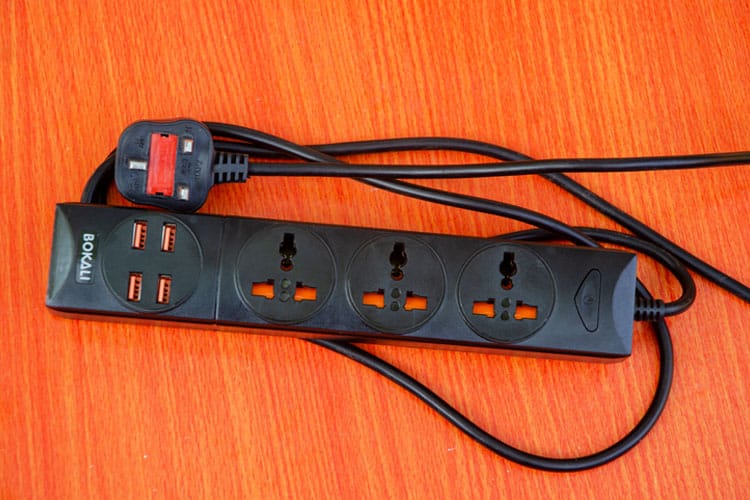 Durability test
Probably the best way to test the durability of electronics is through exposing them to harsh conditions, it could be dust, air, heat, or over voltage. So, we exposed the Bokali extension to high voltage to test its durability levels.
In most cases, weak extensions blow up when over-voltage electronics are plugged in. For the Bokali extension, it kept up when we plugged-in a 280W Microwave Oven to one of the ports, a 240V fridge, and a 32″ FHD LED TV.
Hence, with over-voltage well handled by the Bokali extension, it's safe to say that you can spend as many years as possible with a single power extension, since not so many cheap variants can handle high voltage (which is very common with devices) without cooking or overheating.
Should you buy the Extension? Price and how to order
Definitely Yes! imagine buying a cheap, yet strong power extension for your home needs? It would not only help you get rid of multiple charging bricks, but also, guarantee strong protection for devices you would have incremented by purchasing fused power guards.
A 3-Way Bokali Power extension costs UGX 60,000, as a 4-Way variant costs UGX 70,000, both versions feature 4 USB Ports and only differ by the number of UK standard Type G ports (3 holes) available off the Odukar Store Website via www.odukar.com
In a nutshell, counterfeit power extensions rule the electronics market in Uganda. Powerful extensions have higher price tags attached to their market availability, but with the Bokali variant, your search for an affordable, yet strong extension can come to an end when you purchase a unit for your home or office needs with swift delivery from Odukar Store.