Gypsy clypsy, the TECNO Phantom 9 is a flagship that was unveiled earlier last month with a clear navigation to industry-standard features like the in-screen fingerprint sensor, waterdrop display notch not leaving out the multiple camera Wagon perfected on the Smartphone.
With the Phantom 9 retailing at UGX 919,000 in Uganda, a scale meter comes to play as a gauge on whether this is another must-buy release or just another overrated device.
Well, we loved the device as one you can add on your budget list and here is a tale of its performance off our reviews desk, but first, a quick recap of the Smartphone's specs sheet.
Phantom 9 mini Specifications
Operating System: Android 9.0 (Pie), HiOS 5
Display: 6.0 Inch Screen with Waterdrop notch
Camera: 32MP front, 16MP+8MP+2MP Rear Camera
Storage: 6GB RAM/ 128GB Internal Memory
Battery: 3500mAh
Network: Dual SIM Support, 2G/3G/4G Support
Since we've had the TECNO Phantom 9 for over 2 weeks, close up shots at the display standards, Camera performance tweaks and improved AR tweaks to are some of the features we took time to test and here is a tale of what this flagship release has to offer.
Build, Design & Display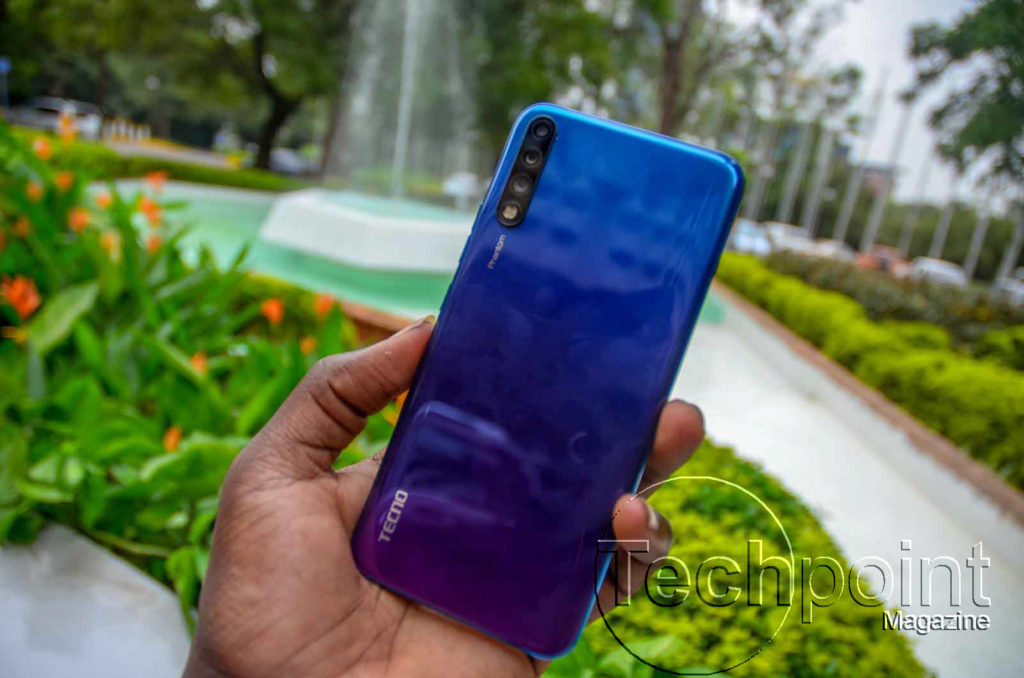 The TECNO Phantom 9 sports a reflective dark blue to purple gradient pon its rear plate inking a catchy triple rear cameras first impression with well-curated device corners finishing the rear cycle.
To the accessibility, its charging port, headphone jack, proximity sensor, and external speakers dab at the bottom of the device as the top brings to play a single status sensor finishing the overall device layout on a 6.1 Inch body.
As a major upgrade from its predecessor, The Phantom 9 has an inbuilt battery with its Cards slot supported on the left side of the phone where you have to point a sharp PIN to insert both a TF memory card and network SIMcards as the power and volume buttons also finish the right-hand sides.
Display-wise, the Phantom 9 ships a close to bezzeless 6.0-Inch screen display with a waterdrop notch (1st of its kind for a TECNO release). But when switched off, the device screen appears hazy away from the fact that it packs a full AMOLED pixels standard.
As a matter of fact, the Phantom 9-pixels display standard makes it an underrated close to high-end release in its category given the fact that it ships a waterdrop notch display riding on an 18:9 aspect ratio with a lone 32MP selfie camera as the notch center piece.
Camera Grades
In this digital age, a Smartphone with low camera grades is as close as being an off the grid feature phone that doesn't sniff the latest industry trends interms of consumer standards. This is due to the fact that platforms like Snapchat, Instagram and the likes are taming moments like never before on the Internet in a time when taxing their usage is a common norm.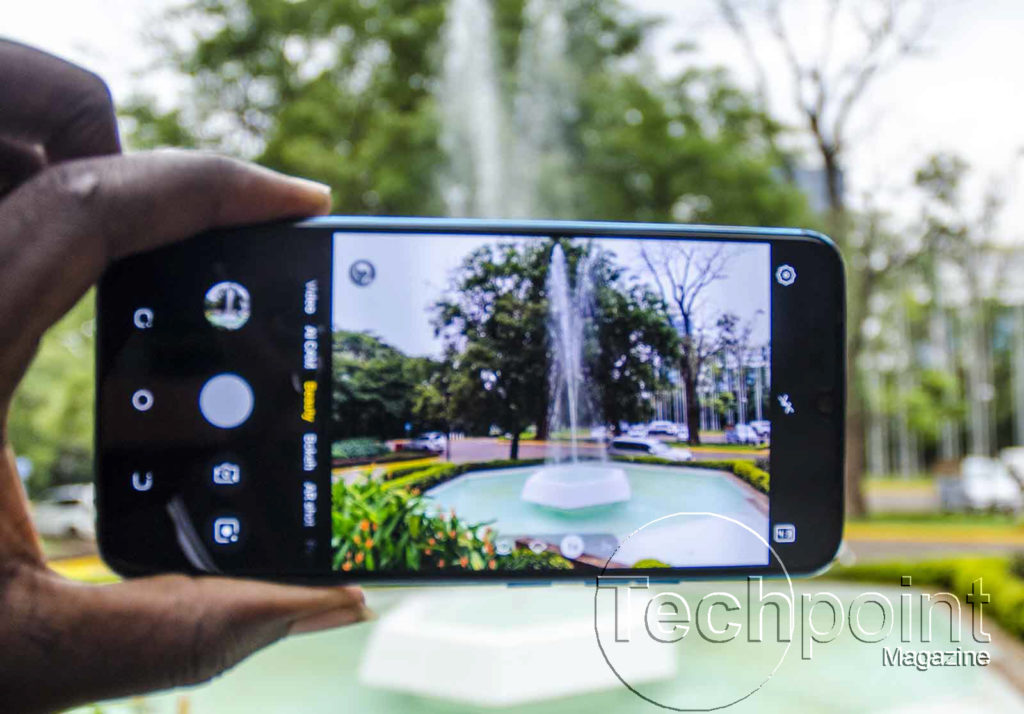 Surprisingly the Phantom 9 Camera grades are not that overrated and function from the word go with no loops of low light disappointments since the Phone is supported by a quad flashlight to the rear end and a duo to the front separated by the display notch.
Amazingly, the LED flashlights are not just fun spicers, but support the triple rear camera setting consisting of a 16MP main, 8MP wide-angle and a 2MP depth (bokeh) lenses as the front 32MP selfie camera is also supported by a duo flashlights with each one of them on separate sides for well-balanced exposure levels for low light selfies.
Amazingly, both the rear and front cameras support a maximum aperture of f2.8 that proves clear quality of all images taken in both low light and well-exposed zones. Nonetheless, here are some of our sample shots taken on the Phantom 9.
With a triple rear camera setup (16MP+8MP+2MP), you get to choose between the best lens formation you wish to use. The device offers telephoto, wide-angle and macro shot modes as the available rear picture triggers you can use. Just like our sample shots above, their's plenty of detail in each and every shot depending on your preferred shooting mode.
Battery Life
Whether TECNO Mobile decided to bring its big battery lane to a close with the L9 or still following the Itel Mobile path with big battery releases. The Phantom 9 is one with a well optimized battery that delivers longer uptime in a single charge.
The Phantom 9 battery grosses at 3500mAh as its overall capacity, but delivers much more than that since we were able to use the Smartphone much longer than its projected times while on a full usage spree.
Software, Security & Overall Performance
With Android 9.0 (Pie) running on HiOs V05, The Phantom 9 tastes beautiful in performance and able to handle multiple applications with multitasking turned on. With 6GB RAM dedicated to the Smartphone with 128GB taking on the storage craze, the Phantom 9 is as fast as its name sounds and much better than what we expected.
Security-wise, the In-screen fingerprint sensor dedicated to the Phantom 9 is the first of its kind in the mid-range coupe and its effective from the word go. As an addition, Face Unlock is unmentioned on the device teaser list, but its another lock mechanism shipped to the flagship piece.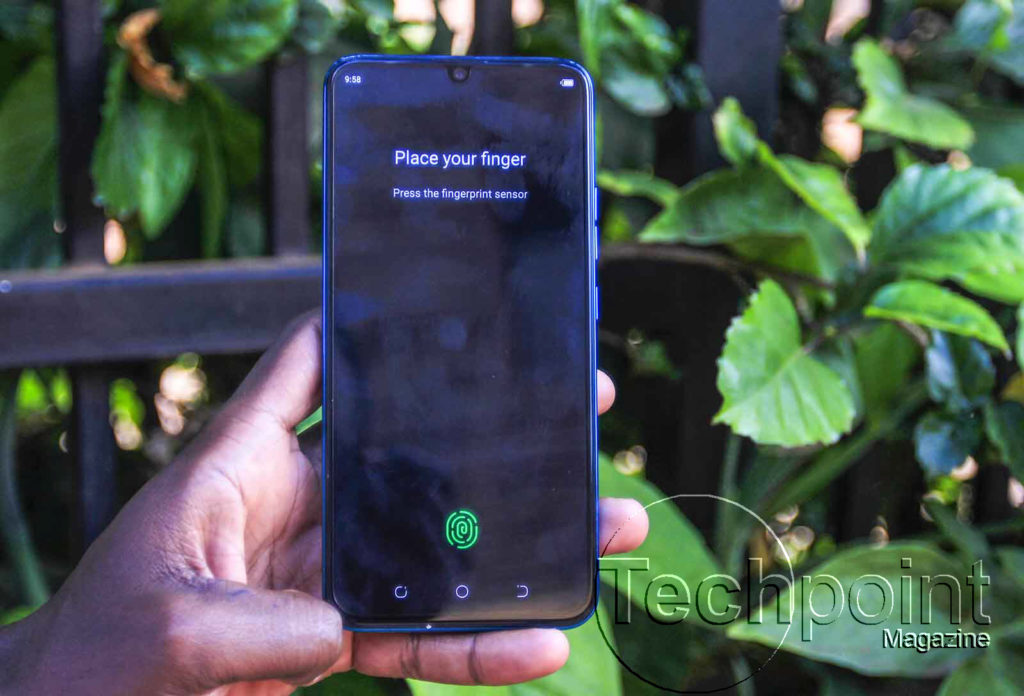 However, the In-Screen fingerprint sensor graphic pops up each time the device screen is touched, meaning a small battery percentage is depleted each time the fingerprint sensor pops up for unlock.
To our performance tests, we didn't face any app-start delays over clogged RAM which is a good standard for running high resource games like Asphalt Xtreme and Call of Duty that gloss with over 2GB of in-play space.
Hence, the Phantom 9 is lighting fast performance companion with no room for app delays given the fact that it's further optimized with Android 9 pie that already ranks up as a faster OS compared to its predecessors. Nonetheless, its an A+ for the performance standards and the fact that the 6GB RAM is indeed what it is and not just a speculation.
Verdict
Just like any TECNO Mobile release we've received to our review desk from the Camon 11 to the top-notch gifted Spark 3. The Phantom 9 carries forward the factor of great performance, amazing picture quality riding in the budget-friendly league.
However, we feel the Phantom 9 display is overrated from its basic scale, though the Smartphone has full AMOLED pixel support, its display appears to have haze components to it unlike any other mid-range tier with the same display mode. Nonetheless, check our overall ratings below.