Wala as the name sounds means Far in Luganda (A Ugandan based language). Crossing borders across Africa from South Africa all the way to the Eastern horn of the continent. Wala is an android based app that will give you financial freedom with its Zero charge services.
Financial freedom and bill payment procedures designed to suit all app users come in handy with a hustle free electronic payments method. Dala which is the default currency used by this financial app in relation to the dollar rates converted into your local currency based on your country code.
Why and Where to Download the Wala Zero-Charges financial app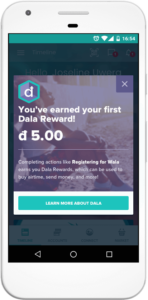 Wala teased its extension to Africa 4 years ago. Only to bounce in with its recent launch in SouthAfrica, Kenya, Zambia, Uganda, and Nigeria. Just after its launch, many users were eager to head over to the Google play store. Nonetheless, Apple IOS users will soon have a separate app for their platform as well.
[irp posts="2555″ name="How to download, use and explore features of the My MTN app"]
The core reason as to why you may need to download the Wala financial app, Paying bills and Sending money to friends and family just comes in a single tap of a button on the Wala app which also has a whole lot of social networking tools. Henceforth, why not give Wala a try today. Download a copy from the Google play store using the store button below.
Download Wala App