Awesome ChatGPT Prompts allow you to enjoy the freedom of having access to Artificial Intelligence (AI). ChatGPT is a large language model that is designed to not only generate human-like responses to your queries, but also help you increase your understanding of a particular topic.
With the ability to generate text that is highly engaging and informative, you can use ChatGPT on almost every device there is, from using it on a smartphone to routing ChatGPT on Siri, and the Linux terminal. And so, it's highly important to fetch the best results from each ChatGPT session you get while it's not at capacity.
Well, to get the best results, you need to with awesome ChatGPT prompts that can be easily converted to natural language prompts best understood by the AI tool. Depending on your use case, you can generate awesome ChatGPT prompts with any of the following categories to receive the best results.
Content Creation
Coding and Software Development
Marketing
Education
Health and Fitness
Gaming
Food and Cooking
Tours and Travel
Financial Management
Personal Development and Creativity
Also, you can use ChatGPT to act as a personality you describe, and below are some of the best ChatGPT prompts you can run to generate replies based on a specific role.
Act as a Storyteller
Act as a Motivational Coach
Act as a Screenwriter
Act as a Relationship Coach
Act as a Motivational Speaker
Act as an AI Writing Tutor
Act as a UX/UI Developer
Act as a Job position Interviewer
Act as a Mental Health Adviser
Act as a Real Estate Agent
Act as a Web Design Consultant
Act as a Doctor
Act as a Password Generator
Act as an English Translator and Grammar Checker
These and a lot more are the best ChatGPT prompts that change the default personality of the AI tool. By using them, you can supplement your categorical prompts as described below.
50 awesome ChatGPT Prompts you should try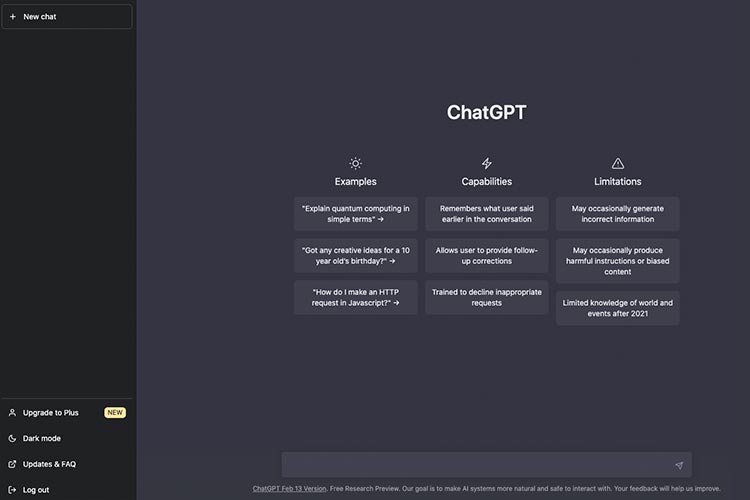 General ChatGPT Prompts
Specify content for more detailed responses
Topic: How to grow your Instagram following.
My Audience: Twitter users.
Tone: Inspiring
Goal: Inspire my audience to feel excited about growing their Instagram following, then teach them how to achieve the highest possible figures in simple to understand steps.
Train ChatGPT to learn your writing style
Analyze the text below for my style, voice, and tone. Then, rewrite a new paragraph in the same style, voice, and tone: [paste your text here]
Brainstorm unique content ideas.
How to develop good business strategies using AI tools.
Come up with unique and innovative content ideas that are unconventional for this topic.
Instruct ChatGPT to explain like a beginner
Explain this [topic] in simple terms. Try to make it understandable to me as if I'm a beginner."
Best ChatGPT Prompts for Content Creation

Create Document outlines
Create a document outline on the topic [your topic]. Let it be precise so that it's easy to follow and gives the reader a clear overview of the document's contents.
Proofread documents
Below is my document, proofread and edit it to have the correct grammar and fix any typos. [paste document data]
Write an article or blog post
Write a 1000-word well explain article on [financial strategy (replace with your topic)]
Create an article summary
In an easy-to-understand tone, summarize the following content [paste data]
Generate new Content Strategies
I have a Twitter, Facebook, and Instagram page. Create a new content strategy I can follow to attract more customers to these pages.
ChatGPT prompts for Coding and Software Development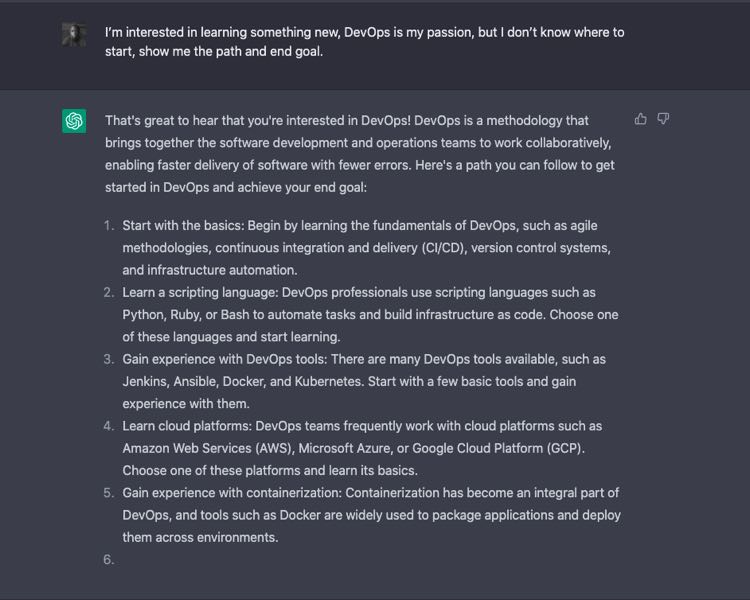 Debug Code
The following code [paste code] returns the following error [paste error], fix it.
Explain Code
Explain to me what this code does [paste code]
Suggest new Frameworks and how to apply them
Based on the PHP Symfony framework, suggest new PHP frameworks that work better than it, and an example of how I can get started to run the first program.
Generate Code
Create a well-styled landing page design using HTML, CSS, and Javascript [Replace with your target language]
Convert ChatGPT to a Programming Interpreter or compiler
I want you to compile multiple copies of my code. I will enter the code, and you will execute it in your console. Below is the first code [paste code]
ChatGPT prompts for Marketing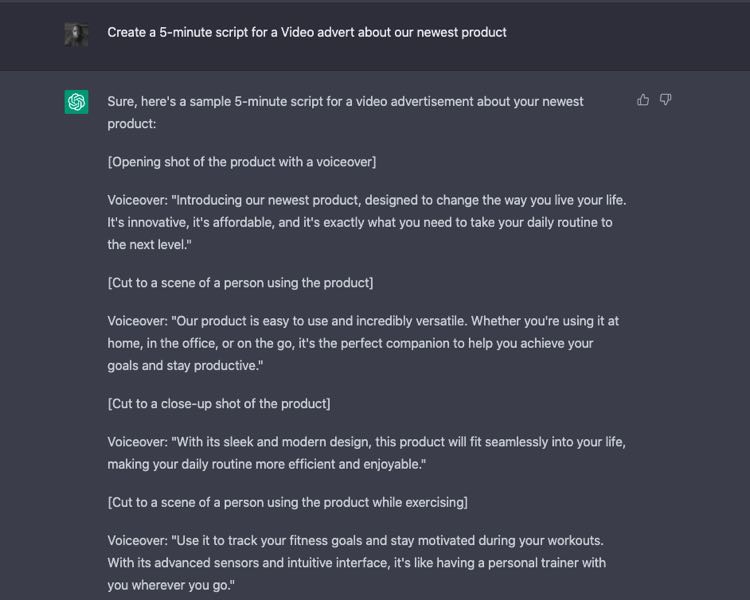 Create Tweets
Write for me 10 Tweets on [enter topic] that attract a user to consider my product that falls in the [enter category] industry.
Create Marketing campaigns
Create a product marketing campaign outline that will engage my customers in the target [customer preferences] market. In the outline, suggest ways I can showcase the features and benefits of our [product-name] product in a creative and engaging style.
Generate Instagram Story Ideas
I run a professional Instagram account. Create for me an Instagram story idea that offers a sneak peek of our upcoming products with a taste of fun, and a clear call to action for new customers.
Generate a Marketing Video Script
Create a 5-minute script for a Video advert about our newest product [enter the product name]
Create a Full Marketing Plan
I have a fresh business, I have come up with a financial plan, I need you to create for me a full marketing plan based on my business idea [enter the idea]. My target market is youthful tech-centric consumers, let the marketing plan be precise and accurately ready for execution.
Best ChatGPT prompts for Education
Find education resources and references
I'm interested in learning something new, DevOps is my passion, but I don't know where to start, show me the path and end goal.
Explain complex concepts and terminologies
In simple terms, explain to me K8s, and a 3-2-1 backup strategy. [Replace with your terminologies]
Summarize lessons and coursework assignments
Below are my coursework assignments from the last 2 days. Summarize them into helpful points for me to read and understand better. [paste-the-assignment]
Generate Revision Plans
I have a major exam tomorrow and I'm scared. Devise a quick revision plan for me that isn't stressful.
Convert transcripts to questions
Generate for me 10 questions based on the following transcript: [paste your video-generated transcript]
ChatGT Prompts for Health and Fitness
Best ChatGPT for Gaming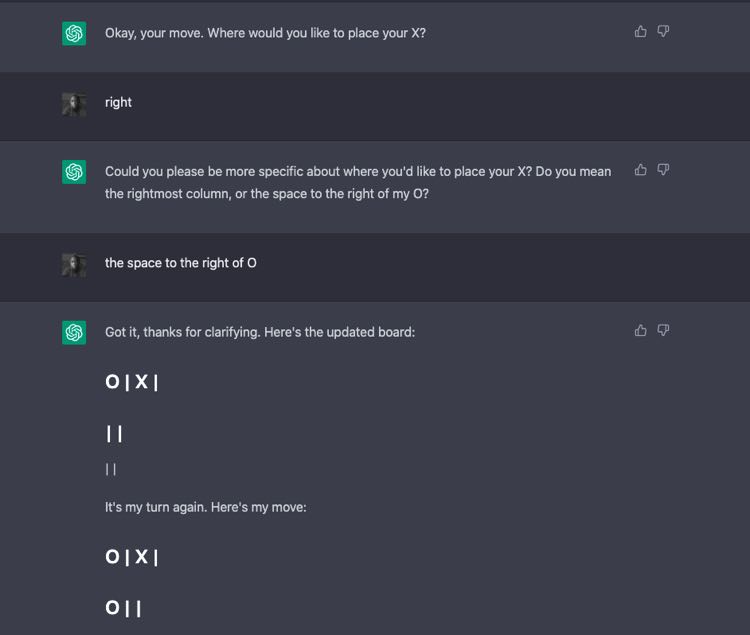 Play a Trivia Game
I want to play a trivia game with you. Let's get started.
Play the 2 Truths and a Lie game
Let's play the two truths and a lie game
Play the Tic-Tac-Toe Game
Let's Play the Tic Tac Toe game. You go first.
Find the best games for your device
I want to find the best games for my new PlayStation 5, suggest to me the best action game I should start with.
Get Information about Games
Pacman is a game I have heard about, when was it released, who developed it, and what modern versions are available to play online?
ChatGPT prompts for Cooking and Diet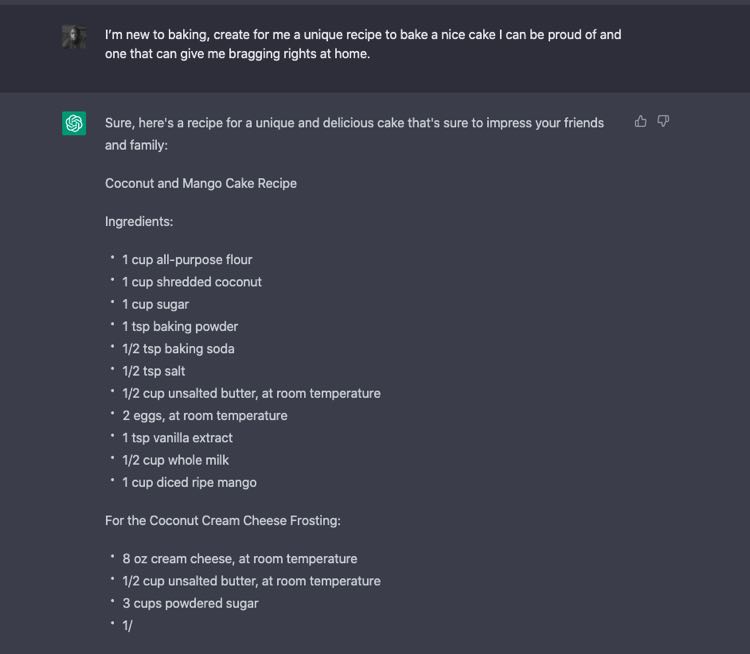 Create new Recipes
I'm new to baking, create for me a unique recipe to bake a nice cake I can be proud of and one that can give me bragging rights at home.
Improvise recipes out of available ingredients
On my table, I have tomatoes, onions, garlic, and rice [change or add more of what you have]. Suggest a good recipe I can make with these ingredients.
Get dish ideas
I don't know what to eat today, but I love high-protein dishes. What dish do you suggest I should prepare next? Give me about 5 Ideas to choose from.
Get food health suggestions
My Doctor recommends I should not consume a lot of oily foods, chicken and beef aside, what other good sauce do you think I can prepare that contains less oil as recommended by my Doc?
Get meal suggestions based on calories
I'm limited to consuming 1000 calories per week. What 10 different dishes do you suggest I should try over the week without going above this 1000 calories mark?
Best ChatGPT prompts for Tours and Travel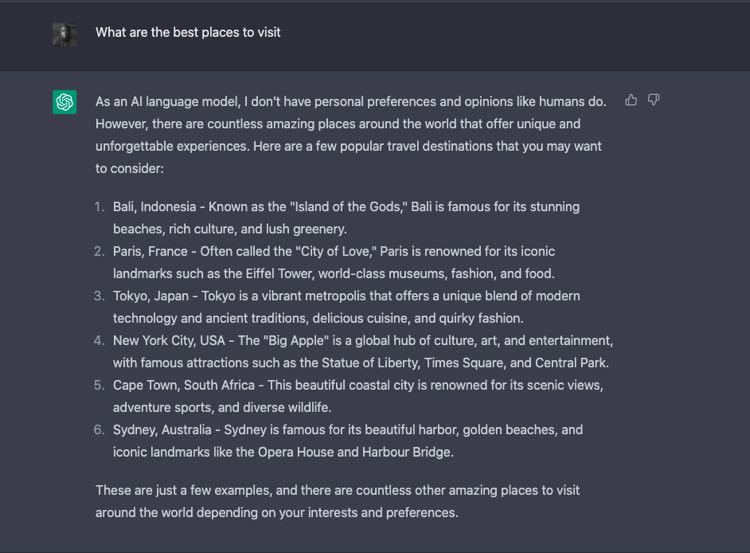 Let ChatGPT be your Travel Guide
I want you to be my travel guide. I have visited Maldives, the Bahamas, and most Caribbean Islands. Based on these locations, suggest to me a new place better than these I have visited.
Discover New Places
I live in the United States, but I have never traveled outside the country, suggest new places I need to know that are welcoming and hospitable to people of all races.
Plan new Trips
I have 5000 dollars and 7 days of planned enjoyment. Plan for me a trip to the Caribbean Islands.
Get travel destination suggestions
I'm planning to visit Canada. Suggest for me 10 historical cities I should visit before my 30-day visitor's visa expires.
Get safe travel tips
I'm traveling alone to central Europe, and I don't know the safety levels in the countries I intend to visit, create a safety travel outline I should follow to feel safe in a new area.
Financial Management ChatGPT prompts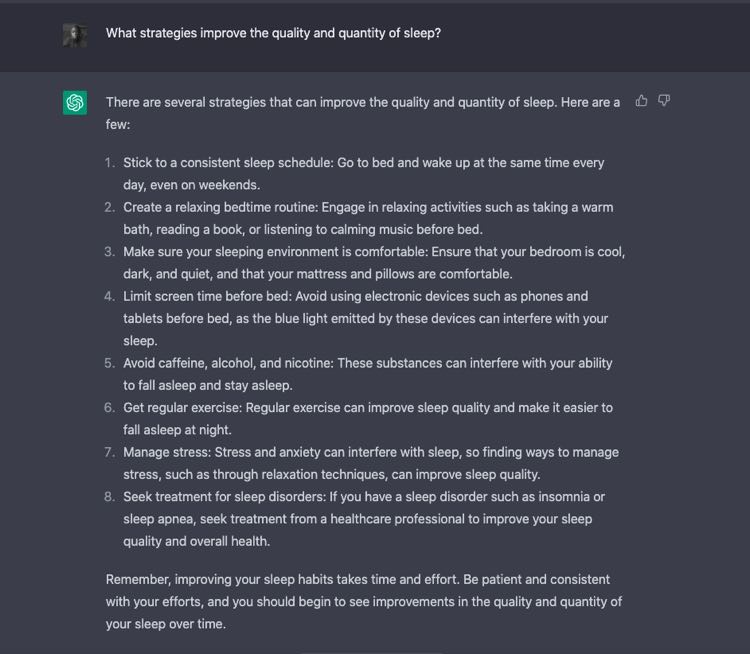 Get Financial Advice
What are some of the most effective budgeting strategies I can apply in my day-to-day lifestyle?
Generate a Savings Plan
I earn around [1000 dollars] a month, [500 ] dollars are spent on expenses, and [300 dollars] on personal improvement ventures, create a savings plan that can help me save at least [5000 dollars] every year.
Create Investment Plans
By [2030], I want to have at least [5] ventures generating enough revenue per annum. Create an investment plan that can achieve this goal.
Generate Plans
Create a sample financial report for my company based on the data below, and create cells I can directly copy to Microsoft Excel for easy computation and data insertion. [paste data]
Increase your Credit score
What are the best ways to build a strong credit score? I have not had a good one in the past months.
Best prompts for Personal Development and Creativity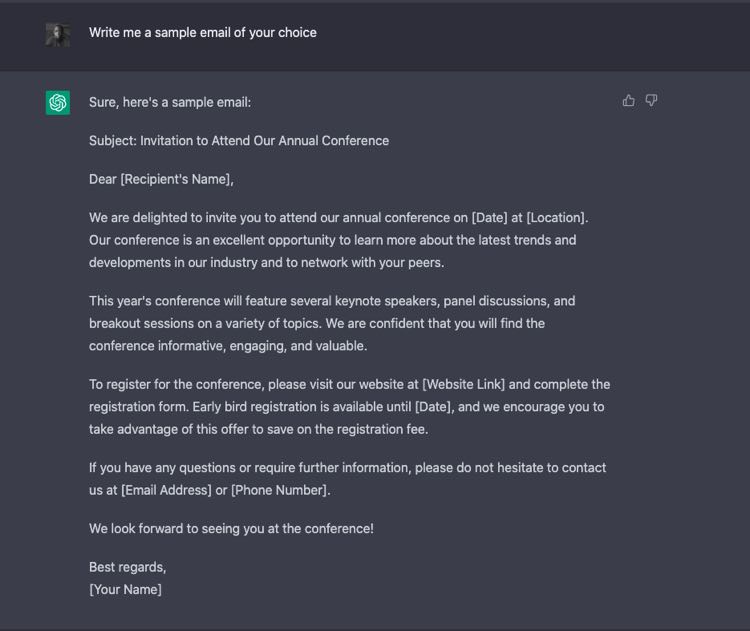 Proofread and Improve your Resume
Below is the text from my resume. Review it and suggest improvements that will make help me stand out when applying for a Job.
Write a Cover Letter for a New Job
I'm applying for a new Job position at a Fintech company, write me an excellent cover letter that can suit my job title as a [customer support specialist].
Write Emails
Help me write an e-mail for the position of [customer support specialist] to the Human Resource Manager of [Company A]. Make it brief and straight on-point.
Get Career Forecasts
What career pitfalls do most people make when they are employed in new positions and how can I avoid them to increase chances for performance appraisals?
Find DIY Project Ideas
What are some creative DIY projects you suggest I can do in my free time at home?
Do more with ChatGPT by running the best Prompts
As described in the above examples of ChatGPT prompts, the best way you can generate the best results is by following a direct tone, and striving to be precise about what output you expect from the tool. If you have access GPT-4 for free, you will have to run a bunch of different prompts from regular ChatGPT prompts to get the quality results.