ChatGPT is a new AI tool that has taken the world by storm. Thinking more like a human brain, OpenAI just revolutionized artificial intelligence (AI) to a level that no public API provider has. Well, if you are wondering how you can get started with ChatGPT, here is how.
In the past, several C-programmed tools were available for Windows and Linux users, all you needed to do was interact with the tool like you would with a fellow human, and prompts like Hi, my name is this, how are you today provided a benchmark for your next replies.
With ChatGPT, to get started, you don't need to salute the AI tool, simply get straight to the point, and you will most definitely receive a reply that may excite you. If the tool can't understand your prompt, you will receive a deserving reply, just like you would on Google Assistant or Apple's Siri.
To get started with ChatGPT, follow the steps below.
Visit the ChatGPT Website.
Click Sign up to create an OpenAI account.
Click Sign up with Google or Sign up with Microsoft to use your desired account provider.
Enter your first, and last name, then click Continue to accept the ChatGPT terms.
Enter your phone number to authenticate that you're a real human.
Enter the verification code received on your phone.
Done: You have created your ChatGPT account, next is to fire up some commands to the tool, click Next to jump through the ChatGPT tutorial, and click Done to start using the tool.
Now that you have your ChatGPT account ready, you can get started by asking ChatGPT the most basic question to train the AI on how to respond. For example, type your name as below:
Hello, example-name here, how can I make a Google search?
Chat GPT should reply you with the information on how to make a Google search.
For easy questions, expect quick replies. As for complex queries, the tool will take time to generate the best possible reply.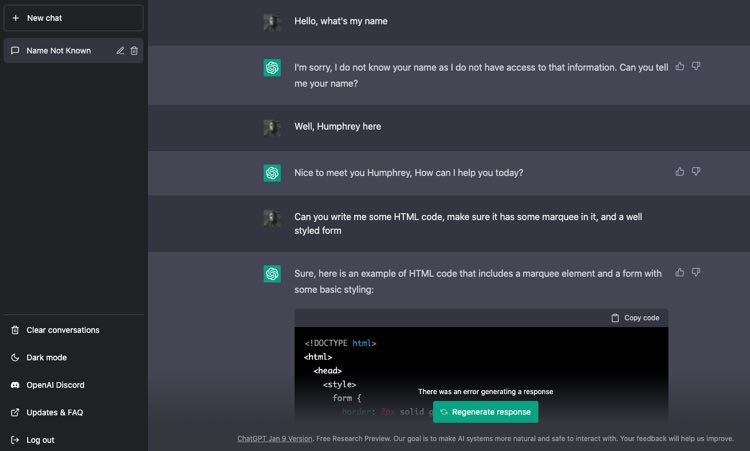 Next, make a big search query to the tool and watch it struggle to think or delay to reply as the case would be with a fellow human being, treat ChatGPT as a robot interviewer ready to give you a reply to every question it can reply to.
For the best results, make sure you make evergreen search prompts that can date back to recent years since ChatGPT is limited to 2021 information at the moment, for a query that's beyond its timeframe, you will receive the following feedback.
I'm sorry, but as my knowledge cut off is on 2021
It's important to note that you can divide your ChatGPT chats into multiple conversations by simply clicking the New Chat button to create a new interaction aside from the old one. Other than that, ChatGPT will give you results to almost every question you fire at it.