Ayoba is a free Instant Messaging App built with an African Spice, the App poses features that closely compare side by side with the world's top IM Platforms like WhatsApp, Telegram, IMO, among others.
The App is developed by Simfy Africa and its currently a darling in many African countries. But unlike WhatsApp or Telegram, Ayoba brings to play a bunch of new features that make it a platform worth reviewing.
Having sealed a partnership with MTN in Uganda, the App doesn't require bulk data to run, but simply routes with free monthly 1GB data gifted to every MTN customer registered on Ayoba.
By usage gauge, the App also consumes less data compared to other Instant Messaging platforms like WhatsApp, this can be attributed to the use of African Datacenters, but also, the simple App layout with only relevant features on-top.
By Features, Ayoba is a complete solution that holds all information you'd need in multiple Apps, and instead, getting it in a single central App. Among the notable feeds available through channels, News is a daily notion based on your liking, Sports updates, plus alot more.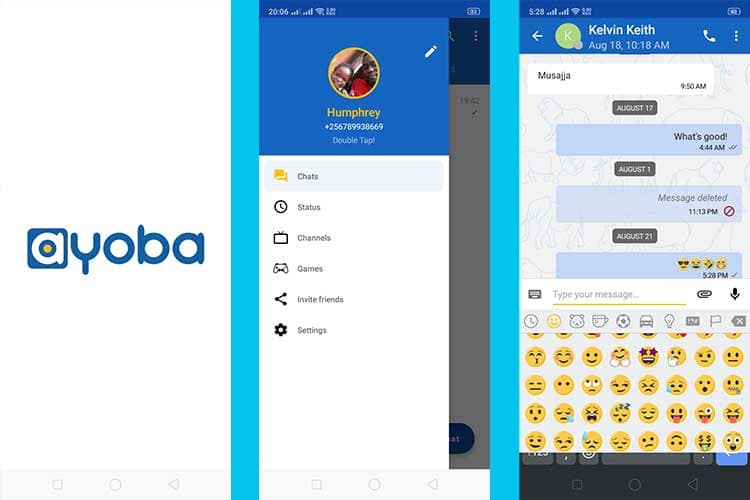 Uniquely, you can play hundreds of In-App games without exiting the platform. Though the built-in games are more like starter games, its expected of a growing platform like Ayoba, but unique for an IM Platform to have gaming functionality, among other features.
Ayoba App Features
Local languages: The App is available in most local African languages.
Chat now: Users can send and receive Instant text/voice messages with contacts whether they have the App installed or not.
Security: Messages are End-to-end encrypted for maximum privacy
Chat with Everyone: Users are able to send SMS text messages with anyone in their contact list, regardless of whether they have Ayoba installed or not.
Channels: Users can subscribe to channels for relevant content.
Gaming: Users can play with a large selection of games without exiting the App.
FREE to use: The App is free for MTN customers by up to 1GB every month.
Money Transfer: Users are able to transfer money to contacts using MTN Momo
Music Streaming: The App allows you to stream online music without worrying about downloads, and increased storage files.
What We like about the Ayoba App
Honestly, it's hard to find a perfect solution to your needs, but with the power of innovation blended with stiff competition, players bring to play reliable solutions and Ayoba is definitely one of them.
The App is not only a favorite due its African spice, but also presents a rundown of functionality that may be hard to find in most IM Apps. Headlining what we like about the App is the fact that you get real-time content updates through the App's channels.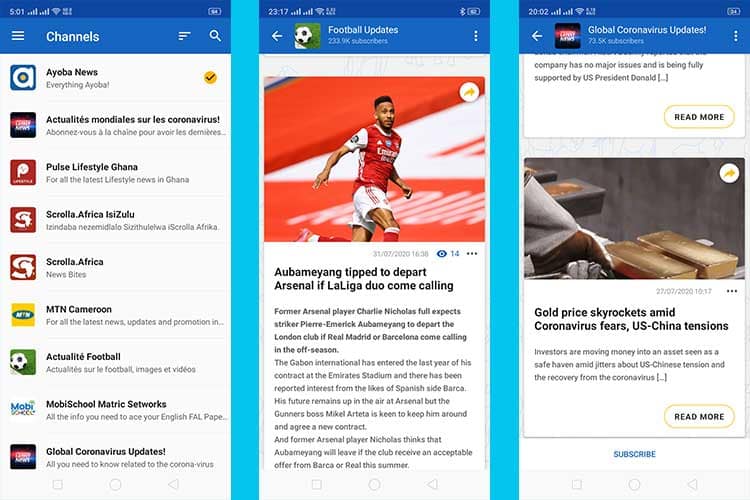 If you're a Football fan, you can receive instant News about your favorite football club, transfer market updates, bundled with Live scores. Based on your content choice, you can select through multiple channels to your liking including Movies, Lifestyle, Entertainment and non-spammy updates delivered right on time.
Also, the fact that you can use Ayoba with or without the App is a perfect model. When you send a contact a message on the App, the same message gets delivered as an SMS message assuming the recipient doesn't own a Smartphone or runs a feature phone like the MTN Kamunye.
Away from the features slide, we like the fact that Ayoba is free on top of free, in that, the App is free to use and in the same frame close to being data-free (Zero rated) for Yello subscribers. This makes the App a perfect companion to keep you connected without worrying about any prior OTT tax payment.
What we don't like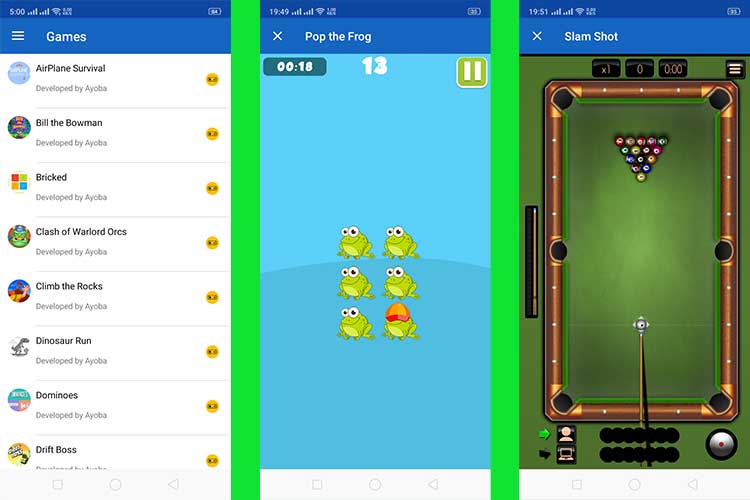 Every IM App is designed to enable seamless instant communications. On top of that, accessibility is an important aspect is User experience. So, the Ayoba is an elegant App, but it uses a drawer layout which is a so yesterday design as compared to current IM designs.
However, we expect Ayoba to keep shifting layouts as it blends more features to the App. Recently, the platform confirmed addition of Mobile money transfer from one contact to another effective with its next update.
On the other hand, Ayoba Games are high-rated, almost all Games we tried playing have non-adult story lines and seem tailored for Kids. Though flavours like pool table are available on the list, they don't translate to good gaming if compared with arcade games like Candy Crush.
All in All, Ayoba is an excellent App, built as an all-in-one companion, and given the fact that it is built by Africans for Africans. The App is one you can install on your Smartphone to securely communicate with your peers, and worry less about data costs since MTN covers 1GB free every month.