After a bunch of user privacy and trust issues rising from WhatsApp's 2021 privacy policy update which will alow the app to share data with Facebook, Telegram as one of the best alternatives has now started supporting imported WhatsApp history allowing users directly import WhatsApp messages to the platform.
Currently, the best way to import WhatsApp messages to Telegram is through exporting your data to be directly retrieved by Telegram with contact selections of those actively registered on the app. This means, every node of your chat history will be saved in the same order as your contacts.
In the importation process of your Whatsapp messages to Telegram, you will not face any errors associated with losing your previous chat data as a matter of migration. Often, switching between apps attracts data loss, but with migrating your WhatsApp data to Telegram, all your data will be saved.
Since Telegram groups operate in a different fashion as compared to Whatsapp groups, you may not get any of your group history imported to the platform. Henceforth, only your Whatsapp chat history with contacts will be migrated in the same style, shared media, and notes similar to your previous chat session.
How to Import WhatsApp messages to Telegram
Well, to import your WhatsApp messages to Telegram, all you need to do is export your WhatsApp data, then, import the exported data to Telegram and cross check through the retrieved chat information which may include text messages and media such as videos, pictures, voice notes and stickers. Nonetheless, here is how you can import your Whatsapp messages to Telegram on your smartphone.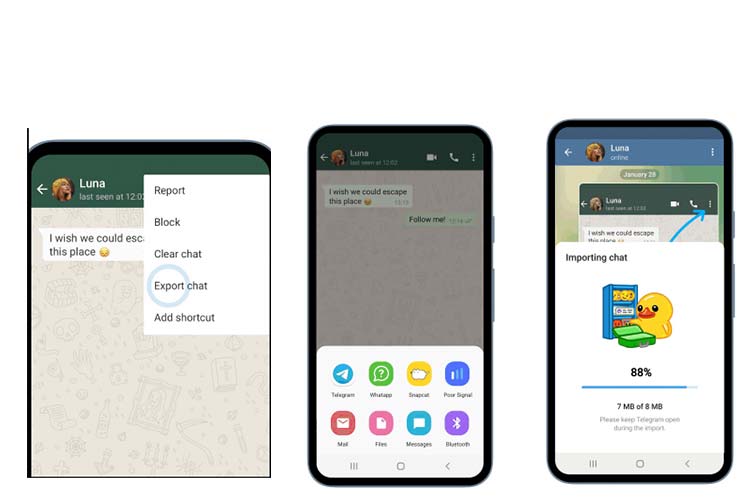 From your applications list, open WhatsApp
Then, on your main chats list, tap the 3 options button (top right corner)
Then, from the options drop down menu, select More
Choose Export, Then choose Telegram from the popup list of options
Telegram will start importing your WhatsApp data
Once importation is done, open Telegram to confirm your retieved chats
DONE: You just imported your WhatsApp messages to Telegram
How to Import a single Whatsapp contact's chat to Telegram
Given the fact that many users have not swicthed to Telegram as yet, a bunch of your contacts may not be active on the platform as yet, but you could be sure on who has an active account on the platform, and so, you get to export their chat history with ease. With the process, only a single contact's chat history will be imported to telegram, and here is how you can achieve that.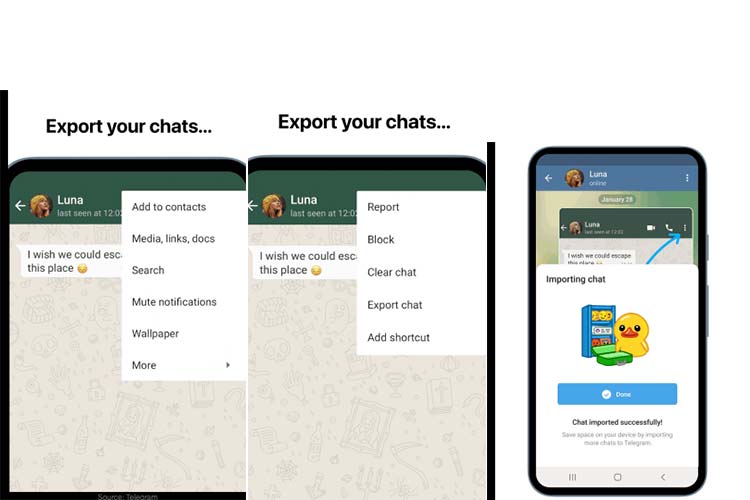 From your applications list, open WhatsApp
Then, on your main chats list, tap the 3 options button (top right corner)
Then, from the options drop down menu, select More
Choose Export, Then choose Telegram from the popup list of options
Telegram will start importing your WhatsApp data
Once importation is done, open Telegram to confirm your retieved chats
DONE: You just imported your WhatsApp messages to Telegram