You can now create AI-generated images using the Bing AI image creator. Adding on the Bing AI Chat niceness value, Bing AI Image creator is a new tool that lets you create images from text. Much as there are many AI tools currently based on the OPEN AI APIs, the new Bing has so far outperformed all including Google's Bard AI.
By using Bing AI Image creator to imagine photos you wish to use for your next project, or a fresh background image to set on your Windows computer or smartphone. You get instant results that are unique based on your AI prompt.
Unlike other AI image generators available online, the Bing AI Image creator is free to use just like its sister services packed in the new Bing. However, it uses a credits system similar to some ChatGPT alternatives where once they expire, your results may delay to process and also face some limits on generated data.
As a basic requirement, to best use the Bing AI Image creator, make sure you are signed in to your Microsoft account that has access to the new Bing, and follow the 3 major steps explained below.
Step 1: Visit the Bing AI Image Creator page
Open a web browser of your choice such as Microsoft Edge, Google Chrome, or Firefox. For the best compatibility, use the Edge browser.
In your URL bar, go to bing.com/creator.
In the Describe what you'd like to create input field, enter a unique prompt describing an image to create. For example, Create an Image of a man sitting on a Rocket.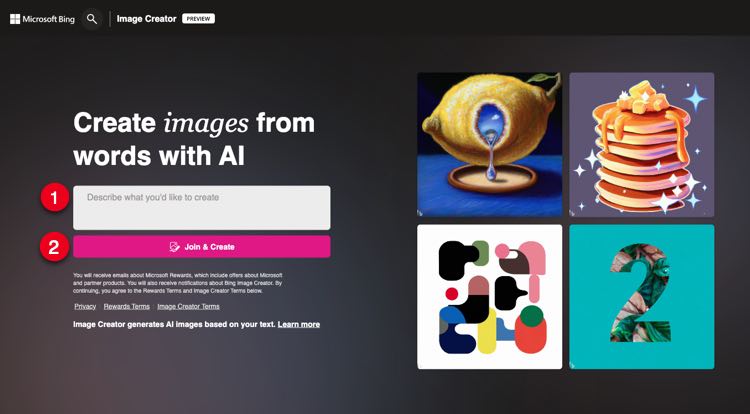 Click Join and Create to start creating your image using AI.
Your image is generated in about 5 to 10 seconds depending on your prompt. Once ready, 4 images are displayed in your window.
Step 2: Refine your prompt, and Generate images using the Bing AI Image creator
Based on your first AI prompt, you may get results that you wish to change in one way or the other. And so, it's important to refine your prompt in order to generate better images as described below.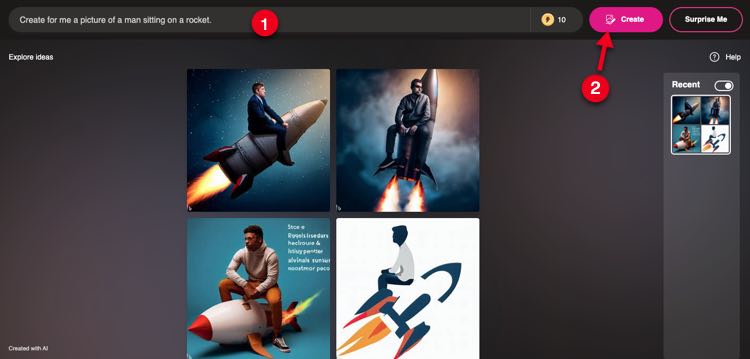 Click the top bar field pre-filled with your first AI prompt.
Edit your prompt to best match a new or improved style you want. For example: Create an Image of a man sitting on a Rocket with dreads.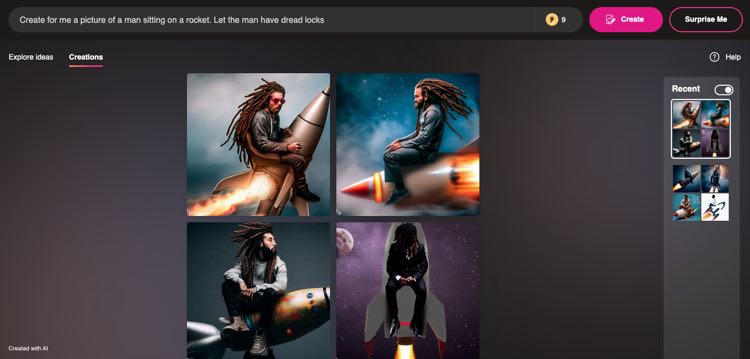 Press enter to generate your AI image again.
If you like the results, click any of the images to open them in a much bigger view, and download a copy of your new AI-generated image.
Step 3: Monitor credits and Download your best Bing AI-Generated Images
Monitor your remaining Bing AI Image credits, for each new prompt you enter, you are charged 1 credit. By default, you have 10 credits to use.
Click to open any of your generated images.
Find and click Download to export the image to your computer or smartphone.
DONE: Open the image on your device and use it as you will.
Generate Images with AI, but in line with the Bing AI policy
As described in this article, you can generate images using AI and use them in your project or send them to friends and family as you'd wish. However, there is a BING AI Image creator policy you must follow when generating images with the tool. If you generate images that are against the policy, your access to the tool is revoked.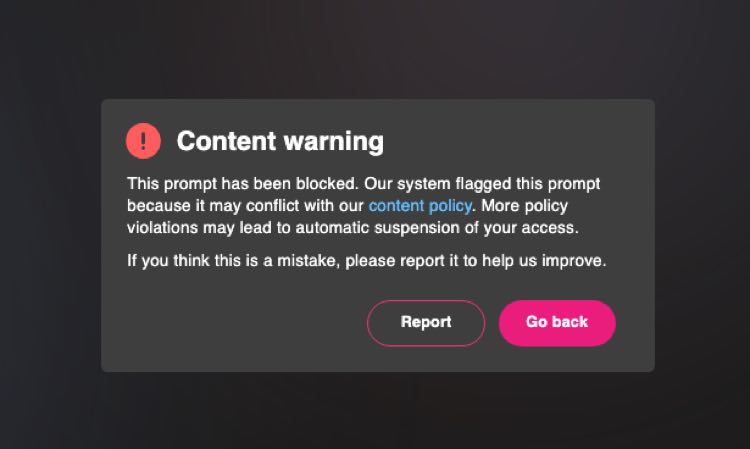 Among the key images that are not allowed for generation with the tool include:
Child sexual exploitation, abuse, child sexualization
Grooming
Non-consensual intimate activity
Sexual solicitation
Trafficking
So, much as you can generate images using AI for free, you must abide by the rules in order to create a safe environment for every user. For now, as GPT-4 is taking a new turn with image support, Bing has put the power to generate any image that comes to your mind with its new tool.