Ever since its reception a few weeks back, Bing AI Chat has become an AI tool every user would want to use alongside ChatGPT. The good news is that you can now use Microsoft Bing AI chat in Google Chrome or any other browser other than Microsoft Edge.
By default, Microsoft Bing AI Chat works best with Microsoft Edge, but if you are by any means not a fan of the browser, then Google Chrome must be your best choice. Before Google Bard AI steps in to disrupt Bing AI Chat, you can safely use the Ai service in your browser.
Since Bing AI Chat is a Microsoft proprietary service, you need to meet the following requirements before using it on Google Chrome.
An Active Microsoft Account. You can easily open up one by loading outlook.com or Hotmail.com.
Access to the new Bing AI Chat. You can get access by joining the waitlist and making your entry count for faster access.
Access BING AI Chat in Google Chrome
To use Microsoft Bing AI Chat in Google Chrome, you need to integrate Bing with the browser. To do this, go to the Chrome web store, search for the Bing Chat for All Browsers extension, click Add to Chrome to install it in your browser, and follow the steps below to use it.
Open a new browser tab (Control + T) on your keyboard.
Click the extension's icon in the top right corner of your browser, and click the Bing extension from the list.
Click Open Bing Chat to start the extension.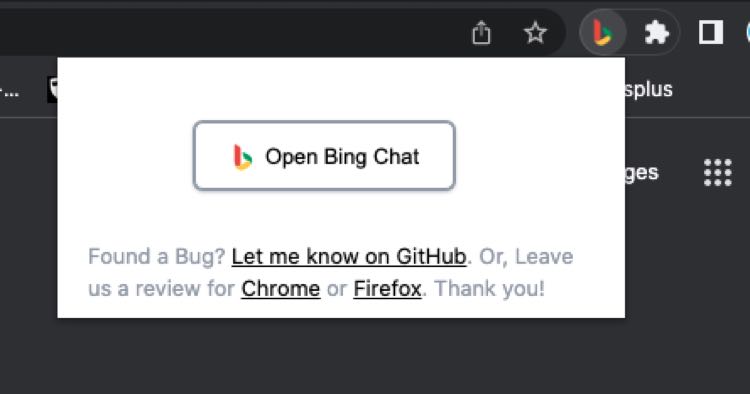 You are redirected to the Bing homepage. Click Sign in on the top bar.
Enter your Microsoft Email address and password. Click Sign in and check the stay signed in option.
Once logged in, close the tab, click the Bing extension, and select Open Bing Chat.
The Bing AI Chat will open up in a new tab.
DONE: Start using Bing AI Chat in your Google Chrome browser with help of the extension.
Conclusion
If you followed this article closely, you can access Bing AI Chat in Google Chrome. As a key requirement, keep your Microsoft Account signed in since your usage is tagged to the account. If you have another browser such as Firefox, you can as well install the extension and use Bing AI Chat as you would on Microsoft Edge.