In these current times, technology has simplified lives with reduced smartphone prices and lowered costs for an internet connection, by this, you can almost accomplish any task you prefer using the Internet. Among these, you can choose to open a Stanbic Bank account online.
Zero queues, Zero Paperwork, an Instant verification process, and the ability to deposit money to your account all define Stanbic Bank's self-registration online process to get you a fully functional bank account.
Based on your needs, to open a Stanbic Account online, you need close to the same requirements needed for account registration at a physical bank branch. Key requirements include a passport photo taken in the last 6months, a national ID or Passport, and a Student ID as listed below.
Requirements to Open a Online Stanbic Bank Account
A Clear Passport Size Photo 
Signature Image (A Graphic of your Signature signed on a paper)
If Ugandan, a valid National ID (front & back) is needed
If Non-Ugandan, a Valid Passport & Visa are required
If a student, you can use a Student ID 
As a standard, the uploaded passport photo must be shared in readable image formats like .jpg and not document formats. Additionally, Webcam images can be accepted if taken in front of a plain white wall/surface with your ears and eyes well visible.
Additionally, before opening your account, you must download the bank's account terms and conditions to be well aware of your rights to the account and how you can use it. Likewise, you need to keep a note of charges that will be affiliated to your account once opened.
Well, once you acquire the necessary requirements to open up your new account, you can then visit the Stanbic Bank root website to locate an orange section with an APPLY NOW button.
Once clicked, you'll be redirected to a landing page where you can download necessary documents, and again click an 'Open Account Here Button' filled with an orange gradient to access the registration form.
How to Open a Stanbic Bank Account Online
From your device browser (Google Chrome, Firefox or Edge) visit www.stanbicbank.co.ug
On the Home page, scroll down and locate the "Online Account Opening" section and click the "APPLY NOW" button.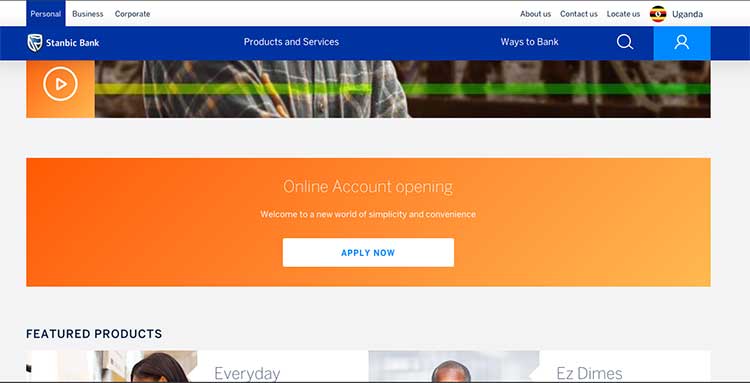 You will be redirected to the Personal Account Online Page
From their, Scroll through the listed details and locate the "Ready to Start" section to click the "Open Account Here" button.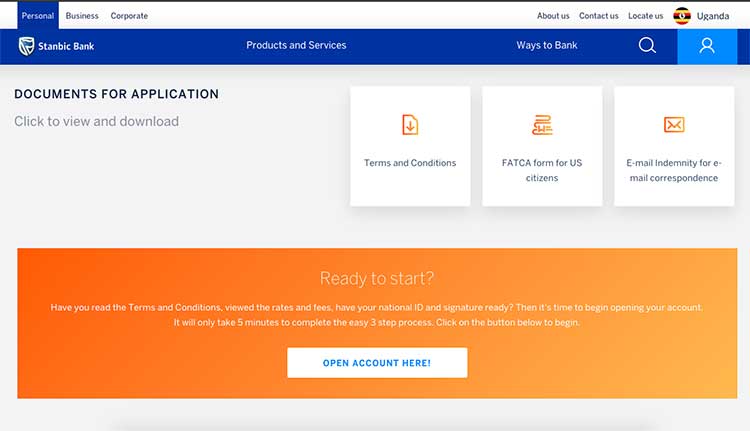 A New Tab will be oped for you to fill-in you to start a new Application
From here, choose the appropriate option of either "New Application" to start over or "Previous Application" to resume an Application.
Next up, fill in the required personal details and choose your preferences where given the options.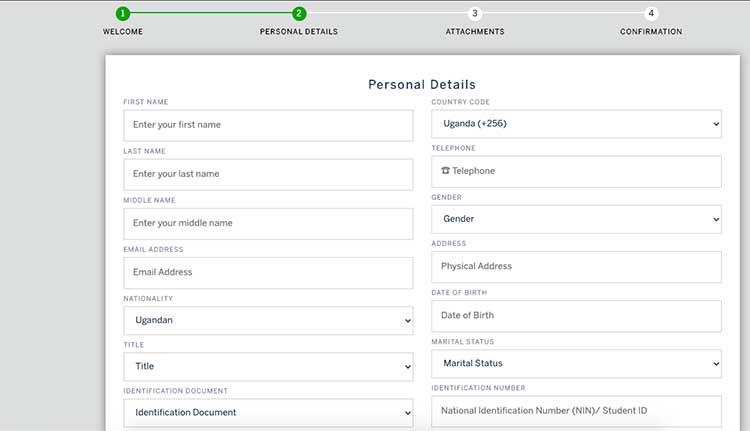 Once Entered, Agree to the Bank's Terms and Conditions to proceed.
Then, you'll be required to upload your account attachments in the formats of either PDF or JPG as per the requirements list.
Once Uploaded, Go to the confirmation, and here receive your new account reference number.
Once your New account is confirmed, you will receive a text message containing your OTP (One Time Pin) and account number for mobile and online banking.
Done: You just created a new Stanbic Bank Account, to get a Debit VISA Card, simply visit your nearest branch with your national ID and UGX 20,000 as the opening fee to receive a copy.
How to Access Stanbic Bank Mobile Banking
Dial *290# – the Stanbic Bank Mobile Banking shortcode
If you just created a new account, enter the One Time PIN (OTP) sent to your number, you'll then be able to change the PIN from the menu.
From the main *290# root menu, you can then check your Bank Account balance, make payments, Buy Airtime among other functions.
Either way, you can download the Stanbic Bank App from the Google or Apple Store for quick mobile banking
For Internet Banking Visit: ibanking.stanbicbank.co.ug to enter your account username and password to access your Bank account.
Done: You can always enjoy Mobile Banking by using your Smartphone.
In a nutshell, Stanbic Bank is one of the best Banking institutions in Uganda, and so, opening up an account just got easier with their new online directory that instantly guarantees you a valid account once Signup is complete.
In a like manner, with mobile banking, you can always send and receive money on your MTN Mobile Money or Airtel Money account with ease. Although the bank recently suffered a Black hat attack, mobile and Internet banking are still the best portals you can use in this current COVID19 Pandemic period.