You can now get a free MTN smartphone and pay back later in installments in Uganda. This is the best customer service offered MTN Uganda as an easy payment plan to allow subscribers get smartphones and pay back in a specified timeframe.
Dubbed MTN  Pay Mpola Mpola'(translating to pay back slowly in Luganda –– a common local language), the telco plans to bring internet accessibility closer to every customer in Uganda by making it possible to get a smartphone on credit and payback later.
While speaking at the launch of the Scheme, the MTN Uganda Chief Marketing Officer Somdev Sen inked that, the scheme is aimed at giving as many Ugandans access to Internet services through easing the affordability and access of smartphones through manageable payment terms.
Additionally, as many people prefer to enjoy a great Internet experience, access to affordable smartphones has remained a challenge in their path. And so, through MTN's easy payment plan, the telco is access to the Internet possible with a free smartphone for user that can be cleared later.
How you can get a free MTN Smartphone with its new Scheme
For long, MTN Uganda has had the option of device loans on its *165*5# root menu which also features MTN Mokash as the top option. Now, the scheme is open to every customer that meets the program's minimum requirements.
As a starter pack, MTN Kabode is a low range smartphone that has been launched as the first available release you can get from the telco and payback in a period of 6months.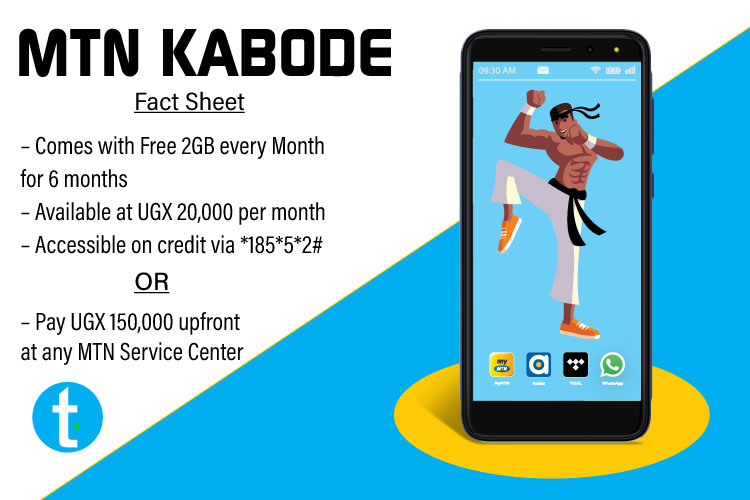 Equipping Android as its base operating system, MTN Kabode sports a 5.5inch screen, a 2MP front, and a 5MP rear camera to its specs sheet tagged to UGX 150,000 as its base retail price.
At the moment, MTN Kabode ranks as the only available smartphone routing under the 'pay mpola mpola' scheme. But as per the telco's plans, midrange releases like TECNO, Infinix, Itel, Xiaomi, and Samsung Smartphones will also be available by 2021.
To register for the offer, and get a free MTN Smartphone, you must dial *165*5*2# (MTN Depo) to confirm if your phone number is eligible for the pay later scheme.
Once confirmed, you'll then be able to signup and pick your brand new smartphone from any of the telco's service centers to sign necessary documentation containing the scheme's terms and conditions.
Upon visiting an MTN service center, you're required to submit a valid National ID card, then pay the required deposit to receive your Smartphone and repay in the next 6months using MTN Mobile Money.
So, with MTN ranking as the first telco to make a device loans service available to customers, the mobile penetration rate is expected to rise as affordability turns into a yesterday tone.
Hence, with MTN Kabode as the inaugural smartphone available under the telco's 'pay mpola mpola' program, buying a smartphone just got easier in Uganda.
Nonetheless, as per the program documentation, the presence of a device warranty and favorable Mobile money payment method will attract non-smart customers to join the smartphone world.