UMEME Yaka Tokens are known to disappoint in times when needed most. On a low, a Yaka meter may decline purchased tokens, but popularly, buying Yaka tokens that delay to be sent, or go missing without any received messages is a situation every customer has been through.
Well, the adoption of new technology standards has attracted shrinks in the way UMEME generates tokens, and how fast they are delivered to the purchasing account number.
With Mobile Money accounting for almost 80% of all Yaka purchases, delays can be expected, but solving them and expediting the process to have your power back, is a perfect measure to undertake.
Getting your lost and Missing Yaka tokens
Download the free UMEME App from the Google or Apple store.
Once Installed, Open the Yaka Tokens Tab on the App's dashboard.
Then, Enter Your Yaka Meter Number.
A list of Yaka Tokens associated with your Yaka meter will display.
Locate the latest Token by date and units (top of the list).
Then, enter the displayed token into your Yaka Meter to load units.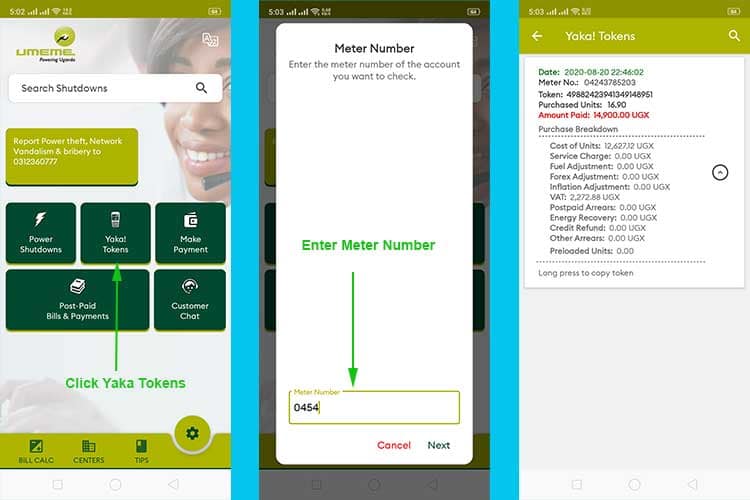 How to get Mobile Money delayed Yaka Tokens
To swiftly get delayed Yaka Tokens purchased on Mobile Money, calling the UMEME helplines may expedite the process. Because of common system downtimes, using the App and continuously refreshing the Tokens page will reveal your Yaka token before it's even sent to your Phone.
Either way, if you don't have access to the UMEME App, you can alternatively dial *165# (Mobile Money Menu), select Utilities, and Under Yaka, choose the 'Get last Token' option.
Info, you can signup for an account on the UMEME Website to see a list of your account records and contact support in real time in case of Token delays.
Alternatively:
Contact UMEME's Official Customer Care Lines on: 0800285285,0800385385 (Toll-Free) or 0312360600 (Paid)
For Instant replies, use the customer Chat tab in the UMEME App or WhatsApp +256772285285
Best ways to buy Yaka Tokens and receive them Instantly
It's known that Mobile Money is the most delayed form of Payment for Yaka Tokens, but using alternative methods to buy your Tokens can easily expedite your overall experience, and here are some of the best Smartphone Apps that ensure Instant tokens.
PayWay Wallet
Ever Send
Easy Pay
Xente
Chap Chap
A-Pay
Mobile Banking Apps (Stanbic bank, Equity Bank, Standard Chartered, DFCU bank, among others)
From the list, Payway rocks as the best App that allows you to get instant Yaka tokens once your payment is received by UMEME. This is due to the fact that Payway operates on a much faster link as compared to other methods.
So, buying Token through a digital payments App will save you from delays caused by a high number of customers making UMEME payments through the same channel attributing to late Token deliveries.
Editor's Note: The UMEME App is a must-have to access a database of your UMEME Yaka Tokens, But for some users, the App may delay and patience may be a perfect choice. So, always buy your UMEME Yaka Tokens at least 1hour prior to a blackout for higher chances of swift Tokens delivery.