You can now get Starlink Internet in Nigeria, all thanks to the Space X efforts to connect Africa to its Satellite Consolation it has worked to beam across the world in the past few years. Starting from as low as NGN 268,000, you can apply and get Starlink Internet in Nigeria with free shipping.
Compared to local mobile internet providers like MTN Nigeria, Glo, and others, Starlink offers bullet-fast speeds (by African standards) as compared to what they offer. By the time of writing, one of the first Starlink users in Nigeria has shared a screenshot comparing his Fiber internet provider versus Starlink.
The Fiber Internet provider offers download speeds at 14Mbps versus Starlink at 230Mbps. This means, there is a 150% increase in internet speeds when you switch to Starlink Internet in Nigeria as compared to your current provider.
Get Starlink Internet in Nigeria
Visit the Starlink Website.
Enter your city in the Service Address and click Order Now.
You will receive the Starlink is Available in your area section. Enter your First Name, Last Name, Phone Number, and active Email Address in the respective Contact Information fields.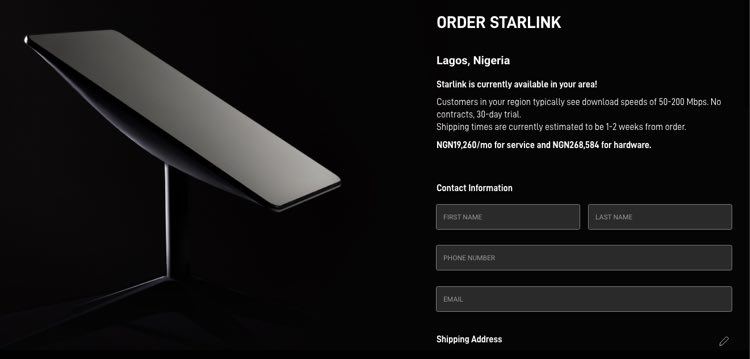 4. Scroll down to Shipping Address, and click the Edit icon to set it to your exact location in Nigeria.
5. Scroll to Billing Information, enter the name on your VISA or Mastercard you wish to pay with, and Enter the Billing Address, Credit card number, Expiry month/year, CVV, and your National ID Number (NIN).
6. Verify the Total amount that should be deducted from your account credit card. By default, it should be NGN 268,584 (approximately USD 583.24).
7. Click Place order to process your payment and deduct the money from your card.
8. Once your payment is successful, you will receive a confirmation email on when you will receive your Starlink dish and indoor connection equipment. In most cases, expect to receive your equipment in 1 to 2 weeks.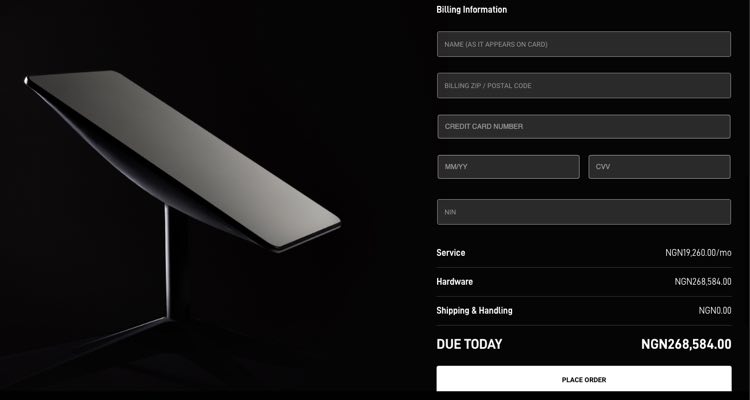 When you receive your Starlink Internet equipment in Nigeria after at most 2 weeks, you will connect right away to the Satellite consolation and use the super fast broadband Internet offered by Space X. For now, as Elon Musk's Starlink team continues to negotiate with multiple African governments, the service is projected to spread to more countries like Zambia, South Africa, Uganda, and Kenya in 2024.
Cost of Starlink Internet in Nigeria
Upon delivery and installation of the Space X-owned equipment to your location in Nigeria, you get a 30-day free trial to test the Starlink Internet in Nigeria. After 30 days, you will pay NGN 19,260 per month (approximately USD 41.82) through the Starlink payment portal.