Starlink Internet will be available in Uganda, Kenya, Rwanda, Nigeria, Tanzania, and other African countries in 2022. The Internet service is operated by Space Exploration Technologies (Space X) as a satellite broadband service aimed at making super-fast internet accessible and affordable to everyone around the world.
Majorly, Starlink internet is designed to provide internet access in remote regions where mobile network signals struggle to reach. Statistically, low network coverage is a common talk in most African countries, and so, the availability of Starlink will increase internet penetration to remote regions.
As a satellite constellation, Starlink Internet will link Africa and other parts of the world through strong dedicated links beaming Internet speeds of up to 1Gbps once all satellites are launched to low earth orbit aboard Space X falcon 9 rockets. By 2022, the total number of Starlink satellites is expected to be around 2,500 off the planned target of 4,000 satellites.
With more satellites in low earth orbit (500KM above earth), the Starlink service will be accessible in several remote locations across the world. Once deployed above the African continent, you'll be able to signup and receive a Starlink internet connection in Uganda, Kenya, Nigeria, Rwanda, Tanzania, or any other country with rocket fast speeds at any location.
Starlink Internet Cost in Uganda, Kenya, Nigeria, Rwanda, Tanzania, and other African Countries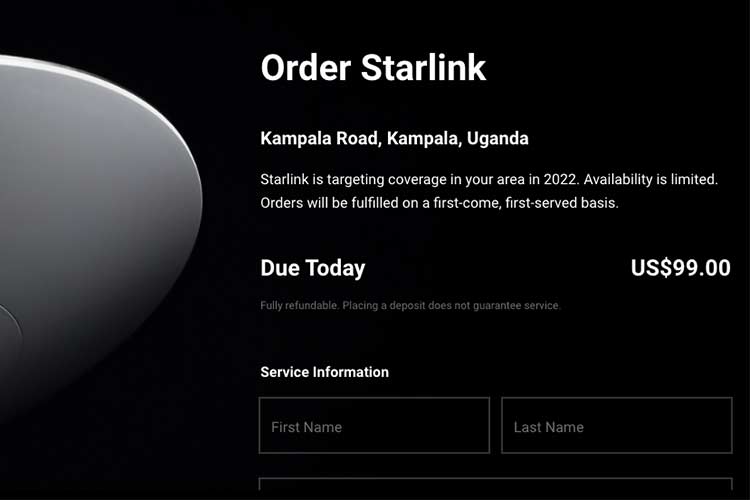 Starlink Internet has a constant pricing structure for its services, the same price an American pays to use the Internet connection, is the same price you will pay to use the same service in any African country you reside in. At $100 monthly, you will be able to use Starlink Internet through a dedicated satellite dish shipped to your location once Space X confirms your $99 connection deposit.
For now, you can signup and register for a Starlink Internet connection on a first come first serve basis through the official Starlink website. On the main portal, you'll be required to enter your exact address in your country, then, Space X will ship your connection kit which includes a satellite dish receiver, and an Indoor WiFi router that allows you to log-in to your account for connection overview and management.
So, the MB economy in Africa could soon be a non-reliable option with the emergence of reliable satellite internet which will pose stiff competition to mobile operators who could subscribers to the unlimited internet notion. More so, with 5G expected to be fully rolled out in Africa by 2024, internet speeds of 1Gbps for Starlink Internet will make broadband the best choice for a reliable connection anywhere in Africa.