By default, you can save ChatGPT conversations without clicking anything like a button on the AI chat platform. In fact, each time you create a fresh chat with ChatGPT, it's automatically saved which makes it easy to scroll through your replies and copy or use them as you wish.
However, to save ChatGPT conversations as a PDF is an even cool attempt that lets you keep track of your data and use offline. Since ChatGPT is an online tool you must use through a web browser, saving your conversations in a PDF makes it easy to style your ChatGPT replies and even print them as physical documents.
Well, to save ChatGPT conversations as a PDF, all you need is to have the latest version of your web browser in order to get the best PDF format compatible with most readers. More so, it's important to have Adobe reader on your device in order to read the downloaded PDF documents as generated below.
Save ChatGPT Conversations as a PDF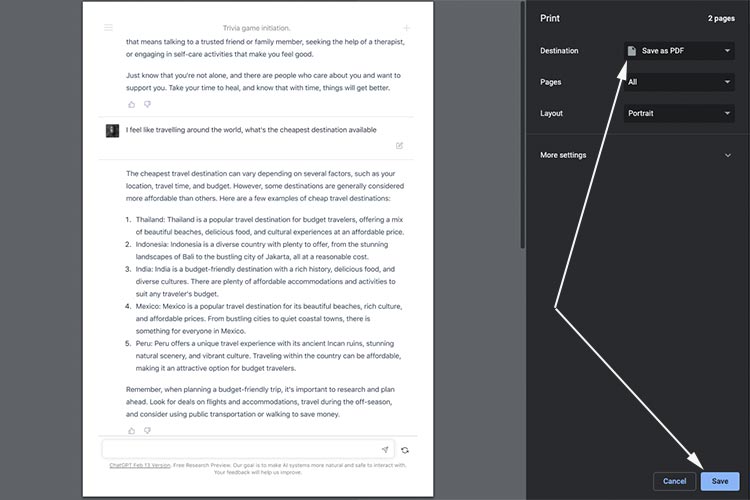 In your web browser, open the ChatGPT conversation you wish to save.
On your keyboard, press Ctrl+P (Windows), or Command+P (Mac) to open the print dialog.
In the open print window, click the Destination section drop down, and select Save as PDF.
Click the Save button to save the ChatGPT conversation as a PDF file.
Enter a file name and destination folder to save the ChatGPT PDF file.
DONE: Find and open the saved PDF file to view you saved conversation.
Conclusion
You have successfully saved your ChatGPT conversations as a PDF file, you can use the saved file to go through your ChatGPT replies offline and follow all prompts correctly. Since most browsers have PDF features built-in to the browser, chances are high that whichever browser you use has the option to print your current page as a PDF, if you have any questions on the procedure, leave a comment below.