Infinix Mobile stretched its wings to Uganda in 2016 with Kilimall and it's barely 5-years-old on the local scene, but its impact has already altered the smartphone trends in Uganda. Well, like it or not, the smartphones calibrated from the Transsion holdings sub angle are super great and offer a warm alternative to high-end releases with a mid-range touch.
Infinix Hot 7 is the successor of the previous high rated Hot 6, the smartphone is rumored to launch in Uganda anytime soon at a time when the Mobile World Congress (MWC) is just hours away.
Depending on the current smartphones trend now shuttered with Samsung's first foldable release and Infinix itself having favorable reviews of its devices being some of the best. The Hot 7 will ship in more features than we expect to line on the pike. As a matter of fact, these are the sweet specifications we expect of the futuristic Infinix Hot 7.
Infinix Hot 7 expected specifications
| Feature | Spec |
| --- | --- |
| Display | 6.2 Inch HD + |
| Camera | 8MP Front + 13Mp Rear with Dual flashlight |
| Operating System | Android 8.1 |
| Network | 3G/2G |
| Storage | 32GB Internal + 128Gb Expandable slot |
| RAM | 2GB |
| Processor | MT6580P 1.3GHZ |
| Battery | 4000mAh |
| Card Slots | Dual nano cards + 1 TF slot |
| Screen Dimensions | 157*75.7*8mm |
| Colors | Cosmic Purple/ Midnight Black/Champagne Gold/Aqua Blue |
| Extras | Fingerprint Senor, Wi-Fi, Face Recognition |
In-depth features overview
Unlike all previous smartphone releases, Infinix and Transsion brands generally improve their devices per release shipping in super-fficient features for all range successors. We expect the Infinix Hot 7 to outperform its predecessor with a much clear camera, better storage, long lasting battery and probably the latest Android OS before Pie.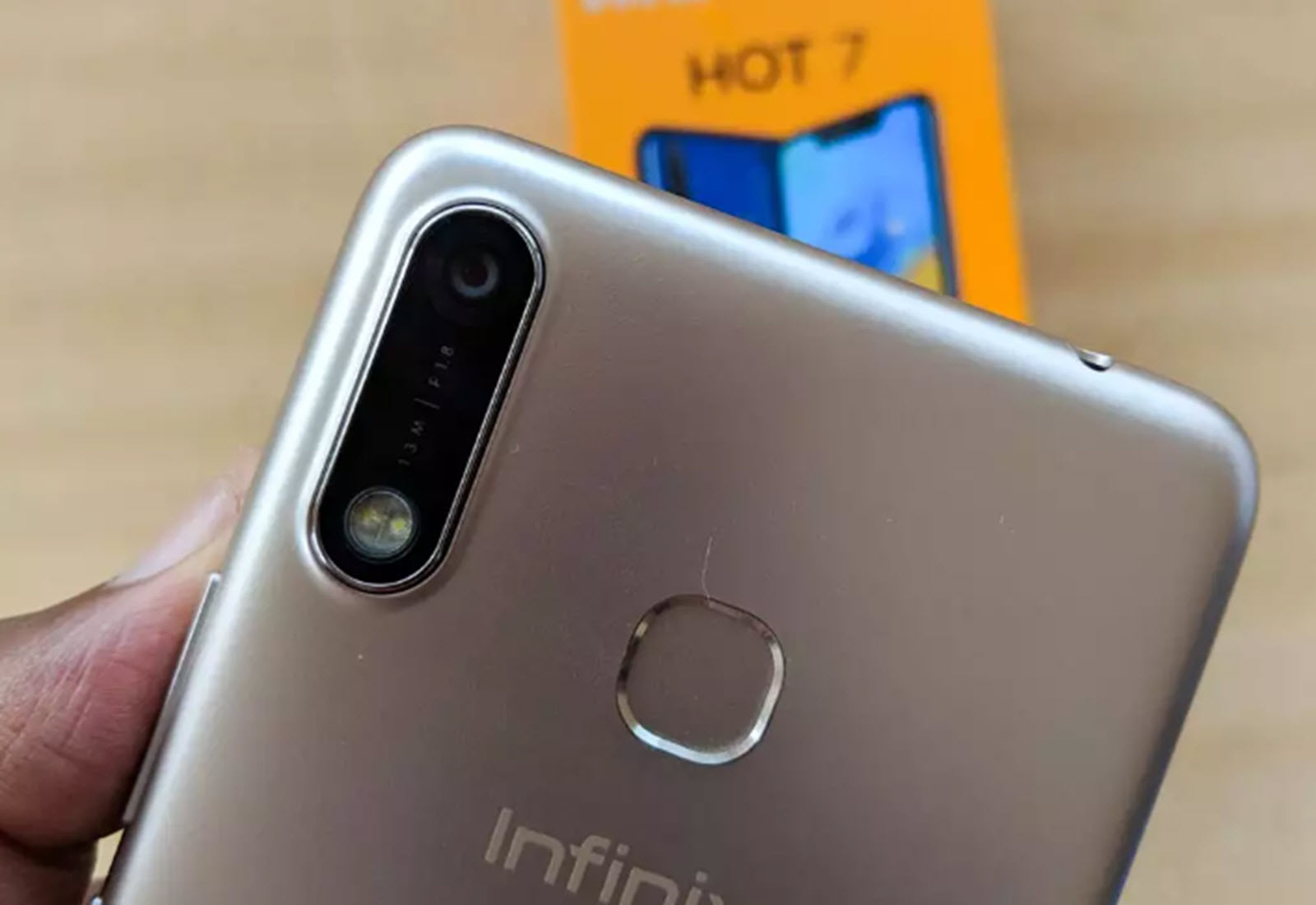 In case you're a fan of selfies and you wish to take on Instagram with a social gain. Then, the upcoming Infinix Hot 7 could be designed to suit your needs with a blooming touch to quality and more detail in both selfies and rear camera shots. So, expect the Hot 7 to feature that ballistic phone camera you've always spired to get at a low budget.
With a 4000 mAh battery, the Hot 7 will be a great smartphone that could take you 3 days without a single charge. Additionally, the excellent 6.2-inch display on a 157*75 body design brings out the elegance of owning a fair sized smartphone with killer functionalities beneath 1 multi-function 1.3GHz performing processor.
In a nutshell, we expect the Hot 7 to be one of those the best mid-range devices of 2019 you can consider as your next smartphone. Basically, the phone is not yet here, but we expect it to be a budget-friendly variant since its an H series release. In case we get a chance of having the Hot 7 on our review desk, we shall traverse the crisp end of why you should own the first Infinix 2019 release.