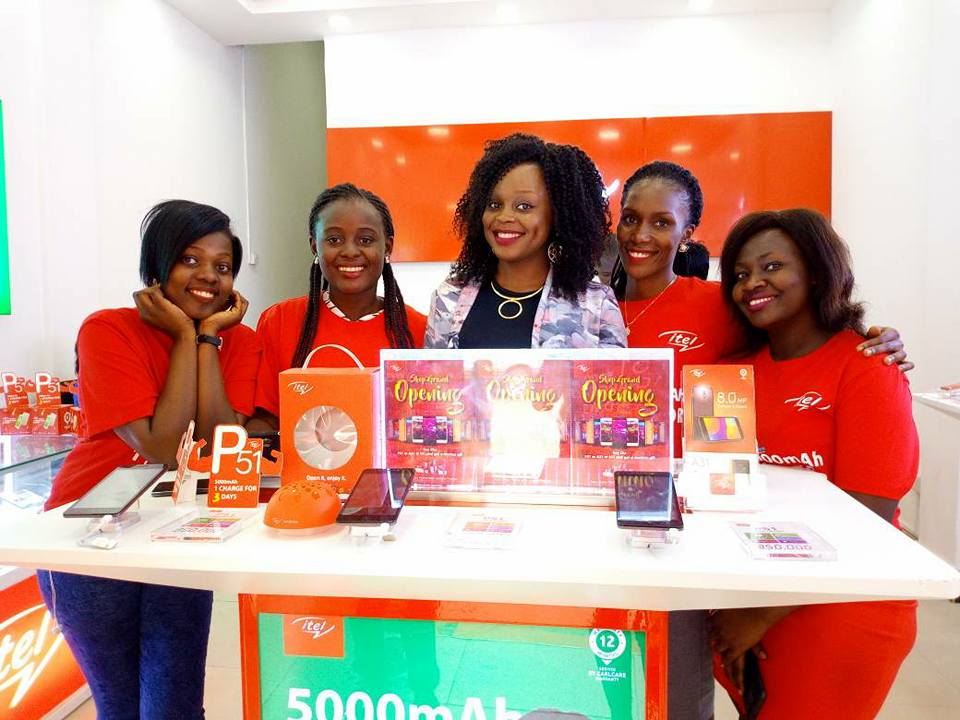 Itel mobile Uganda 's fast growing mobile phone and accessories company bounced back with an exciting outdoor launch on Saturday 2nd September filled with beautiful red dressed Itel brand ambassadors led by the popular Rema Namakula, unveiling a brand new VIP shop in Kampala located at ambassador house along Kampala road with all streets blended with the Itel mobile signages this was yet another big blow to the competitor brands who already own VIP shops in the same area
Rema Namakula Itel's brand ambassador endorsed the VIP shop with an amazing appearance and interaction with the customers who came over to purchase various Iitel smartphones as displayed in this magnificent shop opened up with cheers from the crowds and a band that drew the people's attention as they moved along the streets to ambassador house.  Mobile offered discounts for its new smartphone release the Itel A31 during the VIP shop opening bundled with a mini promotion for the day that left many customers appreciating the devices offered by this fast growing company.
Itel mobile with its fast smartphone releases has blown the market by storm since many phone users are now adopting to the changing trend where many market leaders like Samsung mobile,Idroid,Huawei are depreciating and fast growing brands like Itel,Tecno are dominating the market with superior smartphones comparable to the market leaders since they have the exact same specifications or even far better yet at very affordable prices for example the Itel S31 which retails between 260-280,000/= having exact or even better specifications compared to the Samsung J1 retailing at 400,000/=, such cost differences have drew more people from the uptown trend of owning a brand name to owning a quality good specification smartphone at  very good pocket friendly prices,so with the new trend should we expect Itel's brand to grow from the previous "chinese phone" mentality in most customers to "good affordable smartphones" since many people used to consider the brand as a chinese low quality brand only to be suprised with the latest smartphone releases made every year.
Earlier this year the songtress Rema Namakula was announced as the official Itel mobile which drew more attention to the brand by the public, Rema signed a deal which flagged off with her being the face of the Itel S31 which was released earlier this year which made it the most popular device by Itel for a good time till date when the A31 has come out which is an amazing release by Itel Mobile too Read more about it here Itel Releases The New A31 Itel S11,S31,P51,A31 are all 2017 releases by Itel mobile! with this trend whats your take on this amazing VIP shop opening where you can find all these devices in one place at relatively affordable prices,share with us your thoughts in the comment section below.