After 2 years in COVID19 ignited lockdowns, itel Uganda has ignited a new corporate social responsibility (CSR) season with donations to communities that were most affected in the period. Starting first with donations to schools in Jinja, and Mbarara districts in Uganda, itel Uganda is on a trajectory to appreciate its customers by giving back to the community.
Early January marked a fresh start for school-going children across Uganda, many have been in the cold with little or no education due to mobile internet, and device limitations. Now, with the reopening itel Uganda is embarking on a journey to donated much-needed educational and sanitary materials at select schools in the country.
Through the " Love Always on " CSR initiative, itel Uganda included mobile libraries, textbooks, storybooks, school bags, sanitizers, facemasks, and other educational materials in its donation to children of Jinja Preparatory School, and St. Boniface Primary School in Mbarara.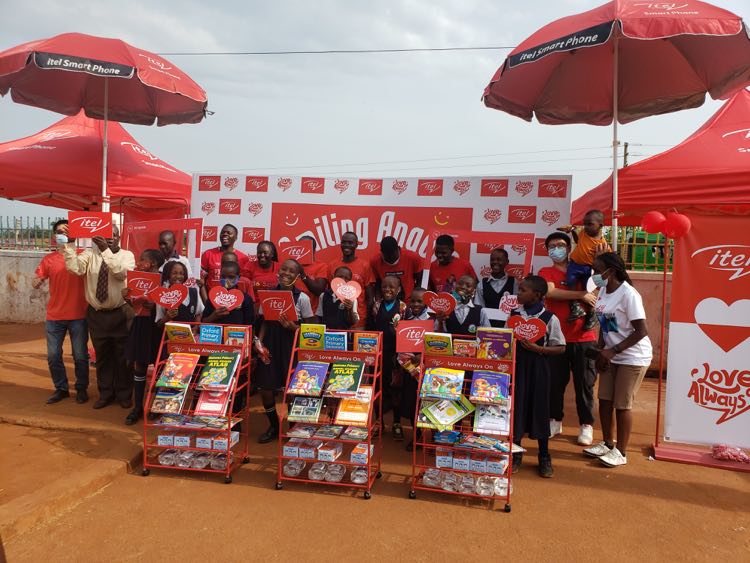 Over the years, the brand has donated to different communities and schools with a strong belief that children are the future, treating them with love and care can guarantee bright careers ahead of their lives. Hence, it's not by surprise that itel chose to donate brand new items to spice up children learning efforts.
According to the brand manager of itel Uganda, Mr. Samuel Song, the brand plans to donate more educational items and library materials to several schools around the country, because they believe rewarding back to the community is what a good brand should always do.
'We have always had a soft spot for children at itel. And with our Love Always On CSR initiative, we are especially dedicated to creating opportunities for them and supporting their dreams.'

Said Samuel Song, the itel Uganda Brand Manager
Accompanying the brand manager, the itel Uganda assistant brand manager Mr. Henry Kijjo, the Below the Line (BTL) marketing manager Mr. Fahad Kiganda inked the CSR campaign as one designed to give back to the community that relies on the brand's high-quality mobile, and recently joined-in home devices.
In return, teachers were filled with smiles and could not believe the level of care and love shared to them by itel Uganda. More so, the brand is expected to extend it's CSR campaign to more schools which further excited the Teachers in both visited Jinja, and Mbarara schools.
'This is beyond what we expected. For itel to do something like this for two schools in two days, we are thankful.'

Remarked some of the School Teachers.
For now, itel Uganda has raised a new standard on how brands should be, and what they can do for communities in Uganda. With 2022 the campaign executed in the first 2022 quarter, the brand promises plenty more from its CSR arm to support societies in Uganda.