The Kenya Space Agency (KSA) is set to launch a duo of mini rockets to the earth's atmosphere this year in August. In collaboration with the University of Rome, the agency plans to launch these two mini rockets from its Malindi Space Center using high altitude balloons, the daily nation reports.
Unlike regular orbital and sub-orbital rockets that continue to be modified with latest generation specs, but have maintained the active use of propellant to launch their first stage. The Kenya Space Agency on the other hand seeks to use high altitude balloons to act as launch pads for their mini-rockets, and not ground based launch pads inorder to reduce runtime costs.
In a launch event dubbed "The space sector we want in Kenya" attended by Defence Cabinet Secretary Monicah Juma, KSA chairman Major-General (Rtd) James Arwasa, Kenya Civil Aviation Authority Director-General Gilbert Kibe and other stakeholders. The agency revealed its plans to utilise available student resources to innovate locally built rockets.
According to James Arwasa – the Kenya Space Agency Chairman, satellites and rockets have become smaller because of advances in technology, and so, the country's launch of rockets has to follow the same path to lower production and runtime costs with all operations manned by Kenyan University students.
"We've students who are already working on building and launching the two at the Malindi Space Centre. We're working with the University of Rome."

James Arwasa – Chairman, Kenya Space Agency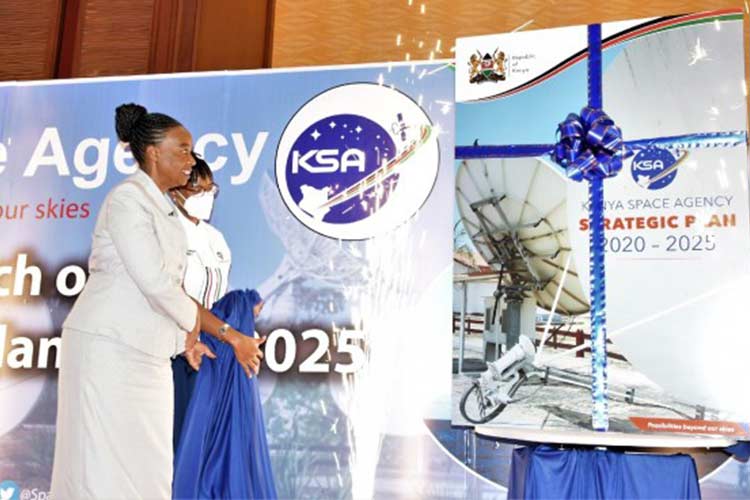 The launch was anticipated to happen earlier in 2021, but due to the current COVID19 Pandemic, over 9 professors from the University of Rome tested COVID19 positive attracting a new launch date for the rockets in August 2021.
"We were expecting nine professors from the University of Rome to join us to witness these students launching the mini-rockets, but unfortunately seven tested positive for Covid-19," James Arwasa added.
Prior to launching these two mini-rockets, the Kenya Space Agency has previously partnered with the University of Rome to launch the country's first nano-satellites to space developed by the University of Nairobi in partnership with the Japanese Space Agency.
The locally produced 4-inch cube satellite was the first Kenyan University nano-satellite precursor flight (1KUNS-PF) developed by students and researchers. Upon deployment to low-earth orbit in May 2018, the satellite was delivered aboard a Space X run Falcon 9 Rocket.
However, the Kenyan Space Agency has not revealed what payload will be hosted on these two mini-rockets it plans to launch from the Malindi Space Center. For now, the country is geared up to launch its first locally developed rockets making it the first African country to do so with local innovators.