Founded in 2017 and nearly 30 months of testing the Ugandan online shopping market and business model feasibility, Kweli.shop has officially launched its operations in Africa with focus on counterfeit-free products on the platform. Kweli.shop focuses on home electronics and appliances to with a mandate to make a counterfeit free shopping experience possible for every customer on the platform.
Similar to other online shopping websites with operations in Africa, Kweli.shop uses a Business to Customer (B2C) model where a customer orders for a product and it's directly shipped to them. However, online shopping websites on the continent are greatly known for hosting fake or counterfeit products attracting worst experiences for online customers.
Now, with Kweli.shop, the platform promises a counterfeit-free shopping experience for each and every customer who chooses to make an order as inked by the founder Stephen Obeli Someday.
''We are changing the narrative of online shopping in Africa, and bringing made for the world quality to the African market as opposed to ''made for Africa'' quality and we are calling it counterfeit-free shopping.''

Stephen Obeli Someday – The Founder Kweli.shop.
Apparently, the company currently focuses on home electronics and appliances, but with time, the Kweli.shop catalogue may widen to support a wide range of products depending on customer demand.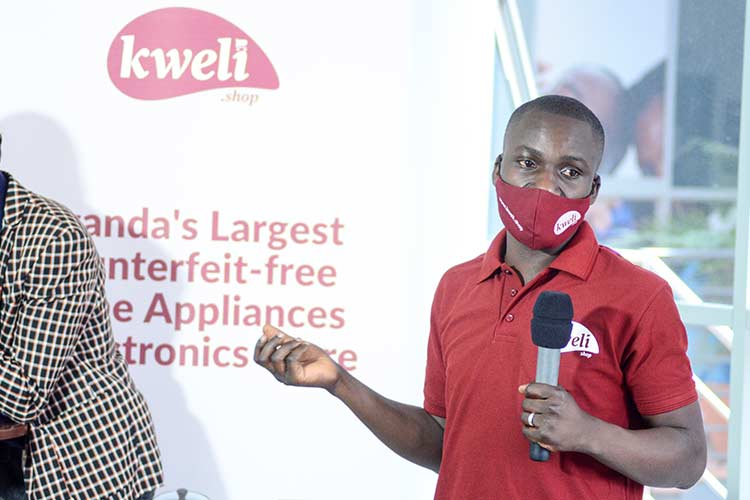 ''We are taking it one product line at a time, and we began with home electronics and appliances because it is the biggest space flooded with low quality or even fake products.''

Obeli added
Following a semi-online business model by operating both online and offline, Kweli.shop allows customers to shop the best quality on the market by ensuring service centre availability in case a purchased product gets faulty. In a like manner, the platform also introduces new features for customers where they can simply make a call and order a product they may have seen online from a platform like Amazon.
To sustain this model, the platform uses a single vendor model to partner with major distributors of the world's best brands including LG, Ariston, SAMSUNG, Sony, Molineux, PHILIPS, INDESIT, beko, BOSCH, among others yet to be added to their supplier list. 
''You won't find any brand with a 4-stars and below rating, only 5-star brands. We want an African in Kampala, Gulu, Kisoro, Arua, and even outside Uganda to have the same LG OLED Evo, QNED or even NanoCell that a family in the UK has.''

Stephen said
Kweli started in a living room in Kireka in 2017 with a single employee working as the merchandizer, web administrator, marketing person as well as delivery person. The platform then grew to employ new skilled human resource with its current physical location at Muteesa II RD in Ntinda.
''We made our first delivery in 2017 and for a very long time it was mechanical. Things got better with time peaking in the Lockdown of last year where in that period alone, we made sales worth 65,000USD.''

Said Stephen
During the launch event, the director of anti-counterfeit network Uganda, Counsel Fred Muwema urged Kweli.shop to stay true to its motto of providing counterfeit-free products for customers. Many online shopping platforms are known to have Fake products, but if Kweli keeps its standard, it will revolutionalize online trade in Africa with top-notch quality as a key element.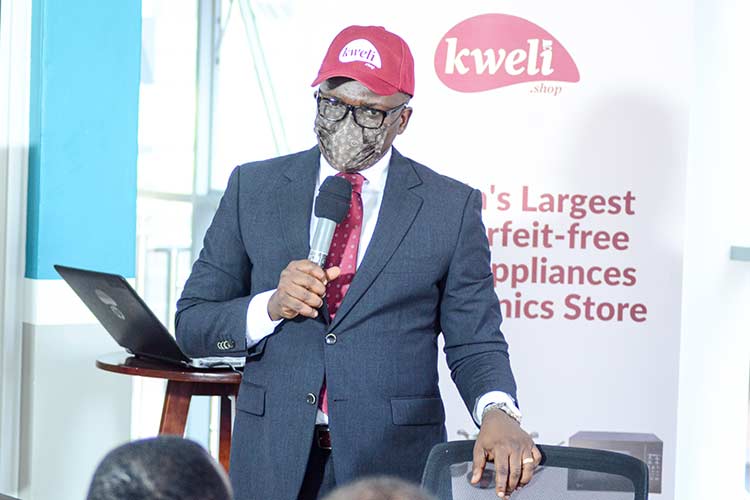 Beating Jumia by delivery times, Kweli.shop promises an under 3 hours delivery timeframe in Kampala and under 48hours for upcountry locations for all orders made from either the website or mobile app available on the Google Play or Apple store. In the next couple of months, a service centre will be opened with Kweli.shop pickup points setup across Uganda.