Do you want to create a video out of your favorite pictures but lack the expertise of a professional video editor? If this question was posed just a few years back, you would have no other option but to pay a professional to get the job done, but things are different now!
You see, as technology is advancing further, it is also getting more user-friendly leading to widespread adoption by the masses. So, if you want to create engaging video content now, there is a lot that you can accomplish without hiring a professional video editor.
We now have excellent tools that you can leverage to convert boring-looking pictures into a compelling new video with music. And all of this can be achieved in just a few clicks! With the advent of advanced video creation platforms, we now have cutting-edge tools that are geared towards everyday users.
So, here we are, with 5 amazing tools that can help you in crafting amazing videos with pictures, or slideshow videos. Let's get started with the list!
5 tools to help you create appealing Videos from Pictures
1. PhotoStage Slideshow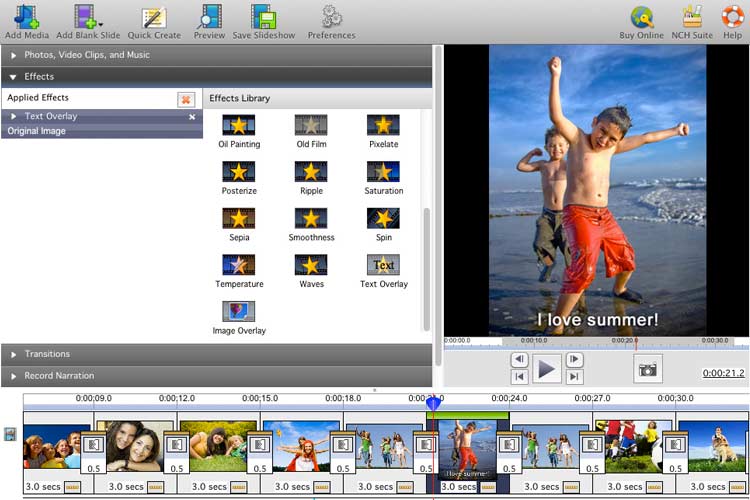 PhotoStage Slideshow is a fantastic option if you need an inexpensive and easy-to-use platform for crafting appealing slideshows. It's not as functional as some of the other slideshow makers mentioned on this list, but it's the ideal tool to create a beautiful-looking video using nothing but your favorite images!
The platform does not offer filters or special effects, but you may use a broad variety of transitions to create a dynamic visual experience for your slideshow. It's an easy job to edit your photographs using this tool as you can trim, rotate and adjust the color hues, contrast and luminosity.
The platform promises excellent color quality and guarantees that your slideshow video is played without any hiccups or stutters. Besides pictures, you are free to upload custom media elements to incorporate into your videos. This allows you to build an attractive mixed media project.
You can put your favorite music in the background and toss in a few clips into the video to create an amazing contrast. Moreover, the tool allows you to publish your creations directly to Vimeo, Flickr & YouTube.
2. MAGIX Photostory Deluxe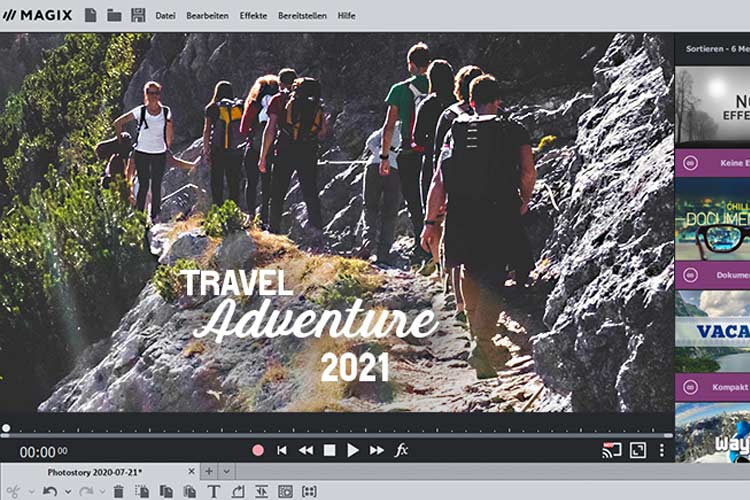 MAGIX PhotoStory Deluxe is an excellent platform for beginner slideshow creators. The UI is straightforward and user-friendly. You may begin creating your movie using an app wizard that demonstrates some of the key features of the platform.
The program offers an image editor for editing your pictures for the slideshow. There is an option called Short Match Tool which ensures that all the pictures carry a consistent brightness and contrast theme.
You are at liberty to leverage a slew of transition effects and filters to transform your humble images into a captivating slideshow presentation.
In addition to various image formats, you can upload a variety of audio and video files to incorporate into your slideshow. While MAGIX Photostory Deluxe has several wonderful capabilities – such as VR and 360 video compatibility, it lacks some of the advanced image and video editing features.
3. InVideo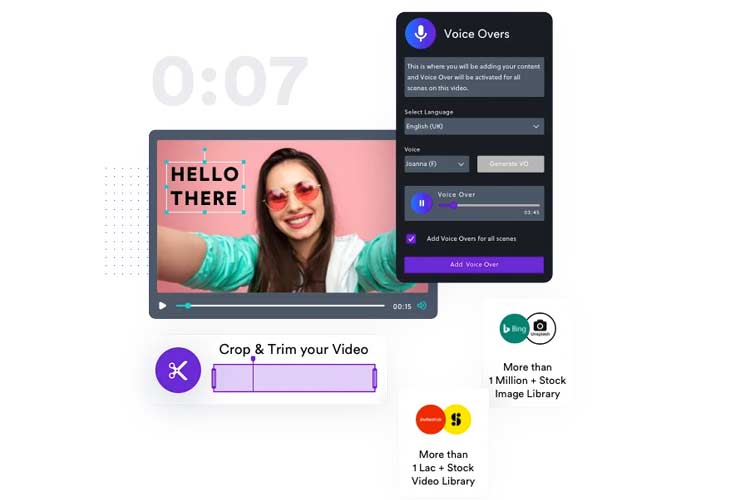 InVideo is perhaps the easiest online video editing tool on this list. It is an incredible option for crafting visual slideshow clips with music since it offers you 4000+ pre-existing templates to craft an amazing slideshow.
It is a browser-based picture video maker that saves everything you do online and allows access from anywhere. You don't have to worry about downloading software or updates. Moreover, all your data is saved on the platform's server so there are zero risks for data loss.
If the pre-existing template collection does not entice you, the 'blank template' option can help you craft a slideshow right from scratch. The tool is highly versatile which makes it possible for you to control almost every aspect of your video slideshow creating journey.
You can include media files, insert transitions, textual components, and a lot more in your videos to craft a distinctive-looking slideshow effortlessly!
4. PixGram
PixGram is a smartphone platform that enables fast and simple slideshow creation. The platform is designed to create music-based slideshow clips, primarily for posting on social media sites.
You may load pictures and videos to PixGram from your gallery and add the tracks you want in your slideshow. The tool offers a slew of filters and transition options to make your video slideshow appear distinctive.
With regard to its video editing features, they are restricted if you consider the primary objective of the program. If your creative requirements are sophisticated, you are probably better off choosing a different program from this list.
PixGram is a mobile-centric slideshow creation platform which makes it an inexpensive solution. The free version restricts your exported movies to 3 minutes and includes irritating in-app advertisements. However, the good news is that the premium version only costs $2.99.
5. Icecream Slideshow Maker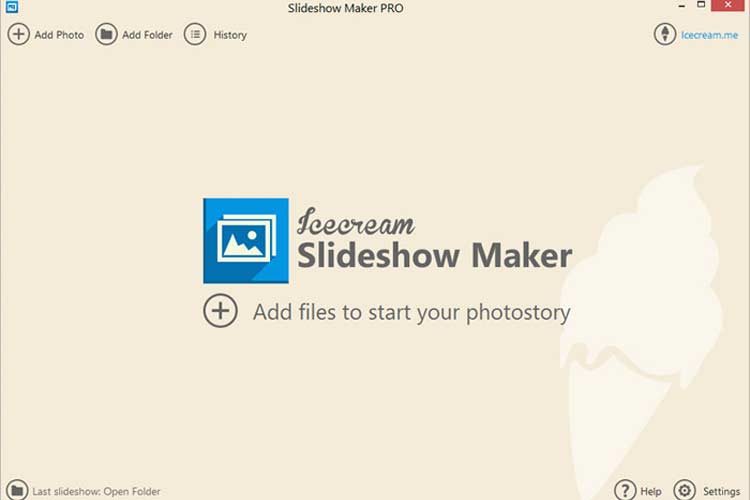 Icecream Slideshow Maker is a versatile & robust tool to craft amazing video slideshows that ooze quality. The tool facilitates numerous import options of commonly used image formats and other media elements, such as music and custom videos to incorporate in your video slideshows.
Icecream Slideshow Maker has a slew of effects, filters & transitions to choose from that can be leveraged to make an outstanding image slideshow video.
One of the main advantages of this platform is that it allows you to export your creations in high-quality and visually appealing media formats. However, this functionality is restricted for the Pro version of the platform.
Although the tool is free to use, you can only create 10 slides and export your slideshow video in a low-res WebM format. The functionality in the free version is limited and you need to subscribe to the Pro version to access all the restricted features.
Conclusion
With statistics suggesting that 90% of users watch videos on their mobile devices, it has become paramount that all the videos you create are top-notch and tailor-made for maximum viewability. With the tools mentioned on this list, you can craft amazing slideshow videos that demand attention, and leave the viewers wanting for more!