OKO, an insurance tech start-up that provides inclusive agricultural insurance to secure farmer incomes across Africa, has closed a Seed investment of $1.2 million. The round was led by Newfund, ResiliAnce, Mercy Corps Venture, Techstars, ImpactAssets and RaSa.
OKO currently operates in Uganda and Mali, the startup uses satellite data and mobile payments to create automated insurance products for farmers whose fields are affected adversely by unpredicted weather patterns — primarily droughts and floods. But with the new funding round, OKO aims at strengthening its presence in Mali and Uganda to serve as a benchmark for expansion to more African countries.
"Agriculture is by far the largest source of occupation in Africa, with an estimated 33 million farms. And yet, farmers are deprived from basic financial services like insurance and loans.

We are using technology to solve this issue and secure the income of those farmers".

Says Simon Schwall – the founder of OKO
At the moment, the company boasts with over 7,000 paying customers in Mali and compensated more than 1,000 farmers who were affected by floods in 2020. Its major customers are maize, cotton, sesame, millet and barley growers. Additionally, the company also works with agro-industries to help them achieve their goals and secure their relationships with suppliers.
For instance, OKO works with Nile Breweries out-growers in Uganda to best produce the best quality barley by giving them a crop insurance guarantee. This motivates the farmers to produce with less worry about risks involved in their relationship with the brewery. So far the company has sealed partnerships with ABInBev (Part of Nile Breweries) and Touton in Uganda to help them achieve their goals.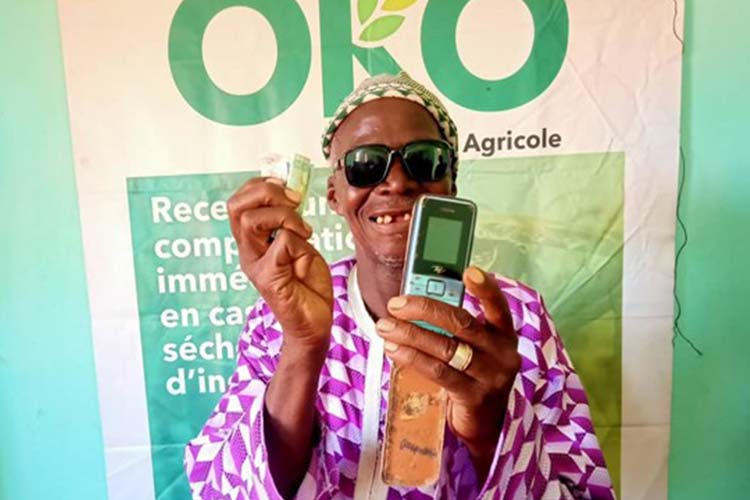 With this innovation, Augustic Sayer – a partner at New fund was convinced that OKO deserves funding to accomplish its set targets and goals which majorly boost farmers in Africa. And with expansion plans, New Fund found it safe to invest in OKO as a great insurtech startup that will bring positive change to many African farmers.
"We believe recent advancement in IoT and data availability will lead to the rise of parametric insurance in Africa for the benefit of the local populations. Simon and his team have built solid bases in Mali from which OKO can now expand in new countries and offer new insurance products."

Said Augustic Sayer
In Uganda alone, OKO operates in a competitive environment where Agritech startups like EazyAgric, Jaguza Tech, and many others strive to help farmers earn more from their produce. But with its focus on ensuring crop insurance for farmers, it connects with them through a mobile phone app and shortcodes from where farmers can obtain more information and pay through mobile money services.
To achieve maximum accessibility for farmers, the company has bridged partnerships with mobile operators with its most recent partner being Orange Mali which has extended the Orange Money platform to make it easy for farmers to use OKO services. And with the new funding round, the OKO founder OKO Schawall noted that they need to find more partners in order to bring their product to more farmers across Africa as they aim to expand to more countries across the continent.