On iPhone, you can now prevent Facebook, and Other Apps from tracking with the new iOS 14.5 update that has been rolled out to all eligible devices. With the new IOS 14.5 version, apps are no longer granted instant access to the IDFA (Identifier for Advertisers) on iPhone, iPad and Apple TV without a user's initial permission.
With IDFA, apps use your usage behaviour to track your preferences and app usage habits to best serve you with the most appropriate services available. Commonly, AD providers like Google and Facebook use the IOS Identifier for Advertisers (IDFA) to show a user the most suitable ADs possible.
Now, when an app wants to use your IDFA, a popup message will show up prompting you to either Allow the App to track your iPhone apps and visited websites or Disallow it from tracking your usage behaviour. Depending on your choice, IOS will set your choice as a default for that App. Also, you can set a systemwide setting to either allow Apps to request for tracking access, or ignore all popups and allow them to automatically track your behaviour.
How you Prevent Apps from tracking you on iPhone
Populary, Facebook is known to be one of the most tracking Apps available on not just Smartphones, but also on dekstop through web browser cookies. So, with the new IOS 14.5 version, advertisers already anticipate that most users will deny tracking access for Apps like Facebook. This can be attributed to the frequent data sharing tactics by big tech making the new IOS feature a must-use for maximum privacy on iPhone. Nonetheless, here is how you can prevent apps from tracking you on iPhone.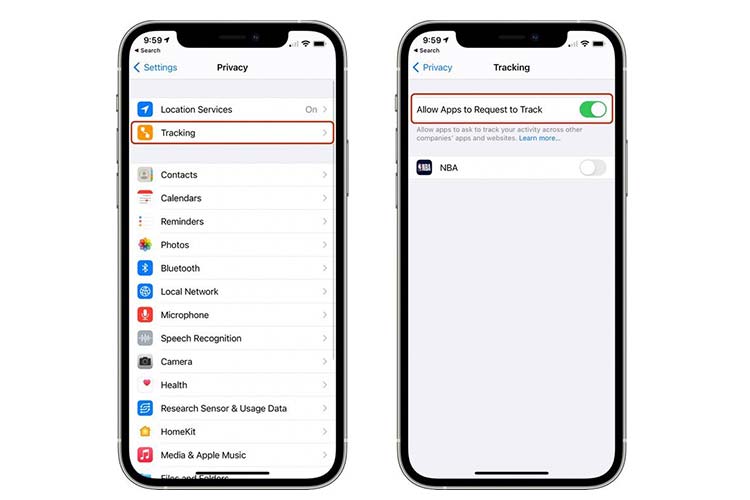 From your main iPhone Apps list, locate and Open Settings
Then, scroll down and tap Privacy
Under Privacy, locate and tap Tracking
Then, Toggle the Allow Apps to Request to Track option ON to let Apps prompt for tracking Access
DONE: In case you want to allow Apps to track you by default, simply swipe the option OFF
Currently, IOS developers are required to adhere to the new Apple privacy rules as a move to respect user privacy on iPhone. So, starting with IOS 14.5 you have to power to choose which Apps have the ability to track your activity and use your advertising identifier, by this, if your data is exploited by an App, it would be your fault, and not Apple's IOS.