In Uganda, Facebook, Twitter, WhatsApp, YouTube, Telegram, Signal, Zoom, Microsoft Teams, VPNs, and App stores are nolonger authorized websites to visit in the country. This means Over the Top (OTT) tax that was introduced in 2018 is now useless with the indefinite ban on these platforms from being visited by any Ugandan-based netizen.
Initially, the Google Playstore and IOS Apple store were banned before Social media sites including Facebook, Twitter, WhatsApp, Telegram, and Youtube followed the same path. Hours later, a total internet shutdown was also implemented in order to stop any VPNs from granting any Ugandan Citizen access to these blocked channels.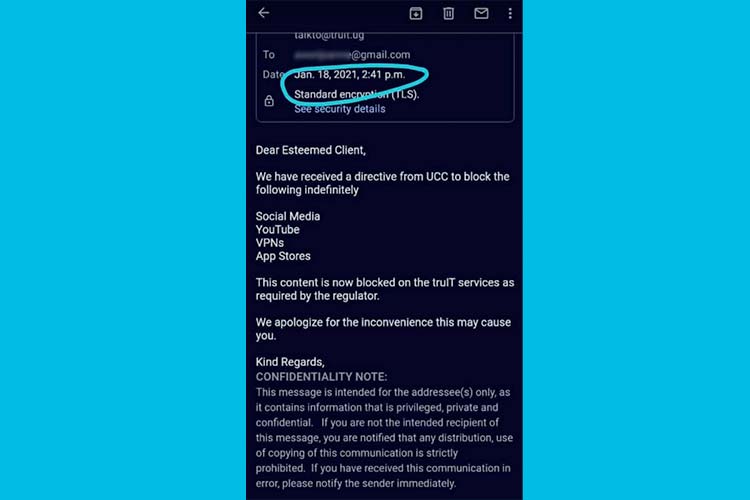 With the Internet restored 5 days later, social media sites have not been restored, and instead, the latest feed from service providers shows an indefinite ban on these platforms with orders issued from the Uganda Communications Commission (UCC).
In a TruIT broadcast email screenshot shared by TechJaja, the service provider notified customers with a list of all platforms that are blocked in respect of orders issued by UCC. Blocked platforms include social media channels, YouTube, VPNs, and App stores.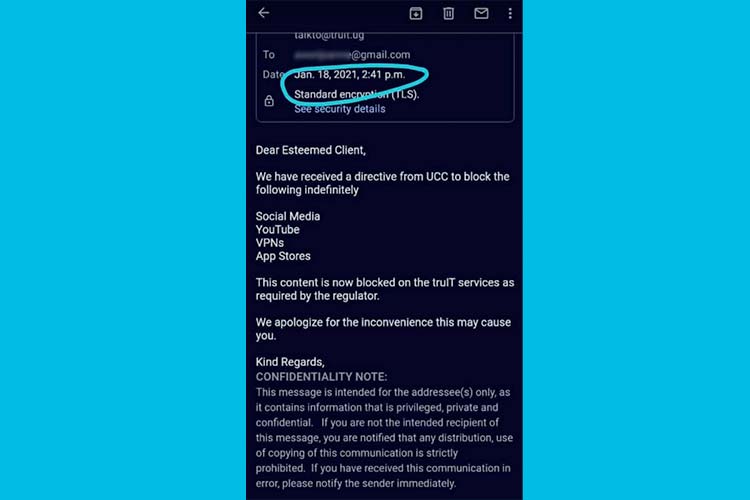 Dear Esteemed Customer,

We have received a directive from UCC to block the following Indefinitely: Social Media, YouTube, VPNs, App stores.

The content is now blocked on the truIT services as required by the regulator. We apologize for the inconvenience this may cause you

The truIT Email read
This means all Internet service providers in Uganda including Broabdna providers like truIT, Liquid telecom, Roke Telkom, mobile operators like MTN, Airtel, Africell, Lyca mobile, and FTTH (Fiber to Home) providers like Csquared, iWay Africa, all comply with the new directive of indefinitely blocking services listed by UCC.
However, with VPNs on the list, banning them will be very difficult for providers since new ways are always crafted for users to devise new ways of accessing blocked and censored platforms. In fact, the rest of the platforms are easy to block except for VPNs which continue to be the only solution for all netizens in Uganda.
In a like manner, the Sony PlayStation Store, Google Playstore, and the IOS Apple Store have all been blocked as per the directive from UCC. So, with no indicated dates on when the indefinite suspension on these platforms will be lifted, online-based businesses are set to lose out more with most of their operations based on traffic from social media platforms.