MTN Uganda is set to refund customers whose data expired during the total internet shutdown inspired by the January 14th general elections in the country. The telco confirmed its plans for compensation after a bunch of clients stormed its Twitter handle with requests on what happens to their expired data and unused OTT tax.
Among the telco's data packages that expired during the total internet shutdown in Uganda include MTN Gaga Wednesday which ranks as the most subscribed-to midweek offer. Before the shutdown, the telco through a statement shared with Tech Point Magazine notified customers of a potential shutdown of social media channels before a full internet shutdown took control with UCC directives.
However, as many customers suffered losses in loaded data bundles, MTN Uganda's clarification on refund is a promise of bright light in the dark. With the refund policy, rival telcos like Airtel Uganda and Africell may as well follow by compensating affected customers as the first step towards better customer relations.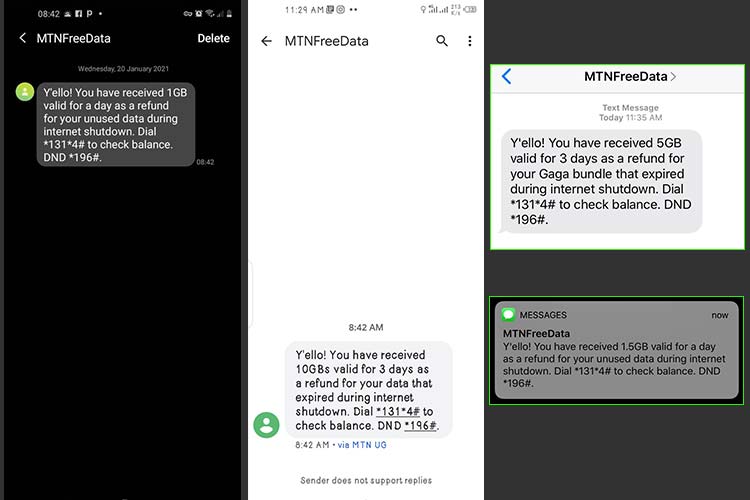 Refunding clients whose unused data expired between 13/01/2021 – 18/01/2021, is work in progress. We request for your patience and apologize for the inconveniences caused. #mtnugcare>Merida— MTN Uganda (@mtnug)

A Tweet by MTN Uganda read
So, with a refund policy for MTN Customers around the corner, OTT tax on the other hand will not be covered due to a countrywide policy of blocking all social media channels in order to limit potential post-election violence in Uganda.
For now, Yello Camp subscribers will have Senkyu (Thank you) refunds from MTN for data bundles that expired between 13th January 2021 to 18th January 2021 with hopes of other telcos following the same path of refunding customers affected by the general internet shutdown in Uganda.