Airtel Money Mastercard is the latest Virtual card available in Uganda that can be used to make online payments on major websites including Netflix, Amazon, eBay, Apple iTunes, Tidal, and many more. Similar to the MTN Uganda Momo Card which also works as a virtual Mastercard, the airtel money card charges on a per transaction basis.
The Airtel Money Mastercard is designed to offer red camp customers a safe, convenient, and secure platform to transact online. For a customer to create and use a card, no bank account is required, but instead enough account balance when transacting at any online point of sale.
As a safety notch, a customer can always delete a card and create a new one at any point in time. Unlike the MTN Momo Card, no initial card fees are deducted in order to get a new card with a different number, expiry date, and security CVV.
There are two ways to create a free Airtel Mastercard including a USSD Code and the Airtel Money App. Via USSD, a new card can be created by dialing *185*7# to choose option 9 in order to create a new card. On the myAirtel App, a card can be created through the Airtel Money interface tab.
How you Create an Airtel Money MasterCard with a USSD Code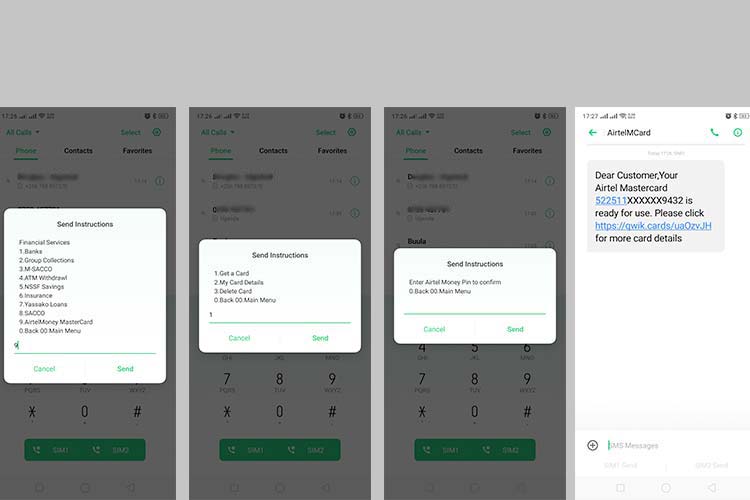 From your phone's dial pad, Dial *185*7#
Or Dial *185# (Airtel Money menu) and select option 7 (financial services)
Choose option 9 (Airtel Mastercard)
Then, select option 1 (Get a card) to create a new card
Enter your Airtel Money PIN to confirm the creation of your new Airtel Mastercard
Once approved, you'll receive an SMS message with your card details
DONE: Click on the received AirtelMCard SMS link to see your card details
How to Create an Airtel Money Mastercard using the myAirtel App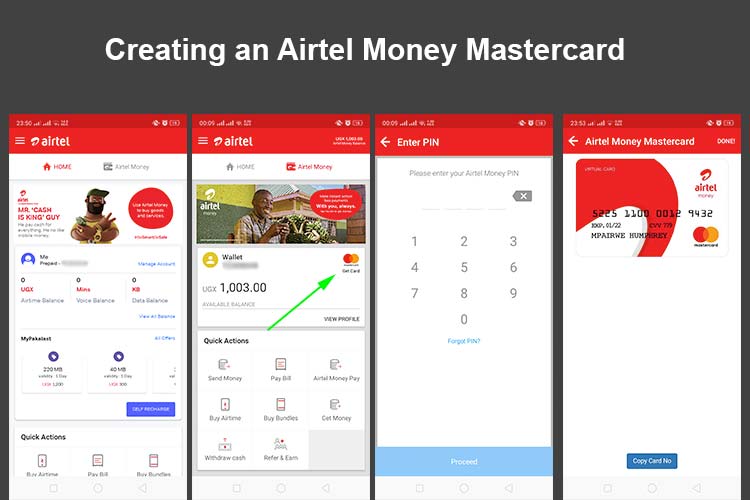 Open the My Airtel App (Download it from the Google & Apple store if not installed)
From the My Airtel App, Click the Airtel Money tab and enter your account PIN
Once correct, you'll be redirected to the Airtel Money dashboard
Locate your Airtel Wallet balance and click the Mastercard logo (aligned to the right)
Enter your Airtel Money PIN, and click proceed to create your new card
DONE: Your Airtel Money Mastercard will be displayed in the App with the card number, expiry date, card name, and security CVV code.