Watching or even just a having sneak preview of sci-fi movies like Iron Man, Ex Machina, Star Trek, and Her, often sets your mind as a viewer with wonders of pure technology standards often used in these movies and whether, by any chance, the Sci-Fi storyline could come to life.
Well, the Human race is so creative and imaginative, and in this era of technological revolution, companies, and individuals are investing billions of dollars in research to bring to life new technology that would have been regarded to as Magic decades ago.
As showcased in most Sci-Fi Movies, common technology modules include the touchscreen projector––a user interface system that augments virtual objects to reality through a projector or optical display by utilizing various sensors to track a user's interaction with the object.
Commonly, we're all familiar with Holograms where a user is able to communicate to a group of People far away in-person, but without being physically present in actual sense.
In reality, What Tech Companies are doing
So, just as you would expect, Microsoft has not to been left behind during the exploration of possibilities in the field of Augmented Reality (AR), and Virtual Reality(VR).
In fact, Microsoft released the first commercially available touchscreen sensor 'Kinect' in 2010. The sensor could track a person's movements and supersize their interactions with objects rendered in a television set.
Competitively, In 2016, a brigade of Chinese technology enthusiasts launched Beijing Puppy Robotics Co. Ltd with a mission to make life easier and convenient through the integration of technology in day-to-day activities.
By observing the possibility of virtual touchscreen technology, on May 5, 2019, Beijing Puppy Robotics released their first ultra-short-throw projector through their sub-company ' Puppy Robot'. The Projector was codenamed Puppy cube and could turn any flat surface into an interactive touchscreen object.
As expected, the Puppy Cube projector was an instant hit, and elevated the company's ranks making them a leading provider of consumer robotics technology in not just China, but also in countries they operate.
After Puppy Cube, another Touchscreen Projector comes to life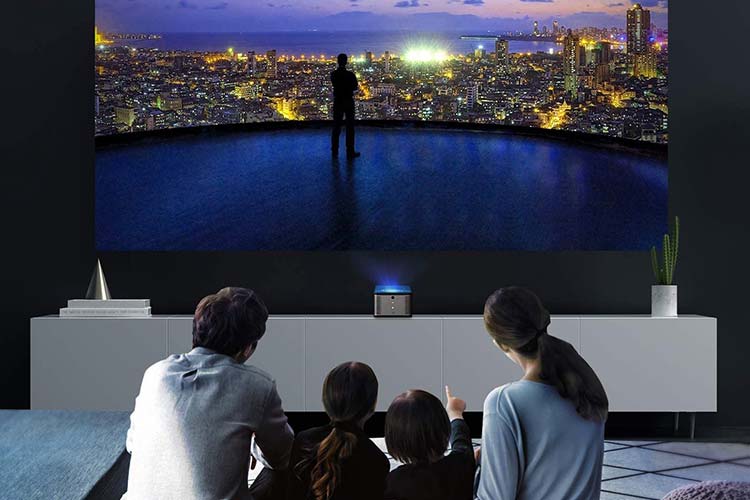 Just like their earlier release, Puppy Robot unveiled another projector on 28th August 2020, this time around not a Puppy branded variant, But Hachi Infinite M1 that doubled as the first AI-powered interactive touchscreen projector.
Unlike its Puppy Cube predecessor, the Hachi Infinite Projector has two modes, a horizontal and vertical mode to its functionality scale. However, you can only use the device as a touch projector while in vertical mode.
With Vertical mode, the projector through its high precision sensors and deep learning modules supports image recognition, skeleton recognition, and gesture recognition to ensure touch accuracy and efficiency.
In Horizontal mode, the device doesn't support interactive touchscreen functionality but projects images to a much larger resolution between 23-100Inches with High Definition (HD) display, contrary to vertical mode with 23-inches.
By default, the projector runs Android 9.0 (Pie) and a cool custom user interface (UI), this allows users to enjoy 3rd party apps and games just like they would on a physical tablet or iPad.
Additionally, the device equips a Qualcomm Snapdragon 670 processor, and a multi-core AI engine that favors AI functions including education, kitchen, and fitness. With these functions, the projector is set apart from other touchscreen variants available on the global market.
Well, with the AI education module, Children games sport AI recognition to easily identify physical objects like letter and blocks places within the device's touch interface. This ensures proper merging of the digital experience with traditional learning experiences.
Through an upcoming software upgrade version to be released later this year (2020), the AI Fitness module will be made available through an App. Then, the AI Kitchen model will also become available in 2021 in another Software upgrade available for the devices.
At the moment the AI Education module is activated by default, but with all functionality and modules, the device can be controlled using Alexa and Google Voice via a 2Way microphone enforcing convenient control.
Hachi Infinite M1 Touchscreen Projector features and Pricing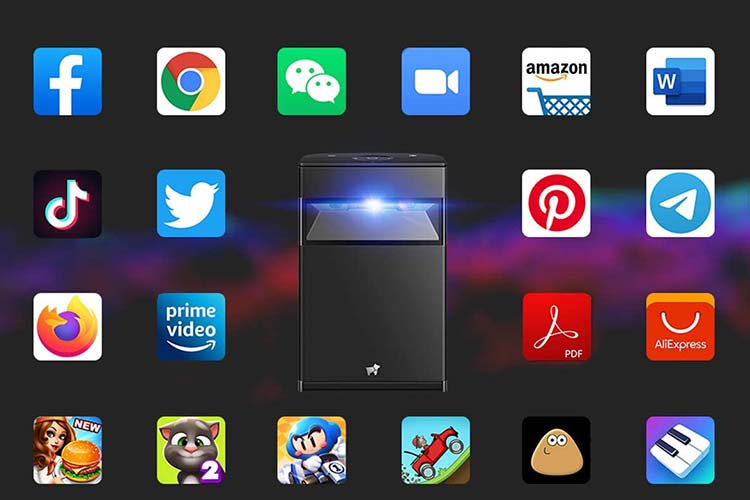 Hachi Infinite M1 ships with dual 5W speakers, an 8M camera as well as connectivity support through wireless pairing with iOS and Android devices. Then, support devices can be connected through an HDMI display Port and USB 3.0 Ports.
On Amazon, the Hachi Infinite M1 projector is available at $799 (Approx UGX 2,957,000) as its older series variant Puppy Robot is priced at $299.
Hence, in case you're interested in merging killer Projector specs with new AI and touchscreen functionality, then, the Hachi Infinite M1 rocks as the best device that can allow you pimp any surface with a touch screen texture.
Amidst the presence of other great and competitive alternatives to the Hachi Infinix M1 like Microsoft releases, you should not feel left behind with touchscreen projectors portrayed in Sci-Fi movies when you can join the World's technology marathon by buying an affordable device online.