TECNO's Spark 3 Smartphone is the first 2019 beast to shine in the light dimmed by top tier finishers evolving killer releases to an odd year. Luckily, the TECNO Spark 3 matches in a degree chamber of this category with a premium feel to its design plus a glossy back plate riding on a dual cameras force for yet another feature filled, but budget-friendly notion in a mid-range package.
Earlier this week, we received a TECNO Spark 3 review unit and by the look of things, this must be the most superior Spark series release to ever hit the market brightly higher due to its price tag. But then, content in a book is never judged by its cover, so let's see what lies beyond the solid color Spark 3 sealed box.
Unboxing the TECNO SPARK 3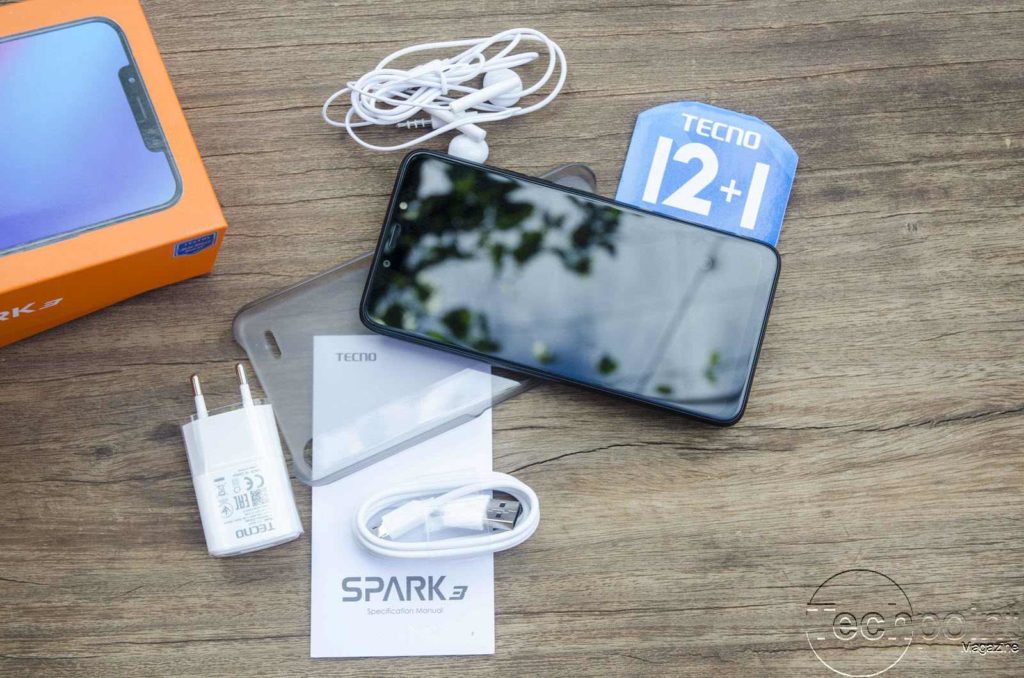 Inside the Spark 3 sealed box, the light up device seats in comfort of a well designed interior housing all power up accessories beneath its back layer. But since its packaging box is not bulk to tease a fentch of catchy accessories to its release mode, we didn't raise our hopes high other than the usual Smartphone accessories that come bundled with every release, except for the fact that the TECNO Spark 3 ships iPhone like Earphones marking the genesis of a top tier future. More so, with the Box looks and design, you might want to keep the device box in a dust free closet with these power-ups spicing up the device.
TECNO SPARK 3 Box Contents
Charging Brick
Headsets
Screen Cover
Transparent Phone Cover
User Manual
13 Months Warranty Card
A Taste of the TECNO Spark 3 Specifications
Announced: May 2019
Available: From May 2019
Model: TECNO Spark 3 (KB7)
Colors: Bordeaux Red, Charcoal Black
SIM: Dual Micro-SIM
OS: Android™ 9 Pie
Network: GSM, WCDMA, LTE
Display: 6.2-inch HD+ Super FULLVIEW, 1500 x 720px
CPU: Qualcomm SD430 Octa-core Up To 1.4GHz
Storage: 16GB ROM expandable up to 128 GB (Memory Card support)
RAM: 2GB RAM,
Rear Camera: 13MP + 2MP dual rear cameras with quad-flash
Front Camera: 8MP front Camera with soft LED flash
Sensors: Accelerometer, Ambient Light, Proximity, Fingerprint
Battery: Non -Removable Li-Ion 3500 mAh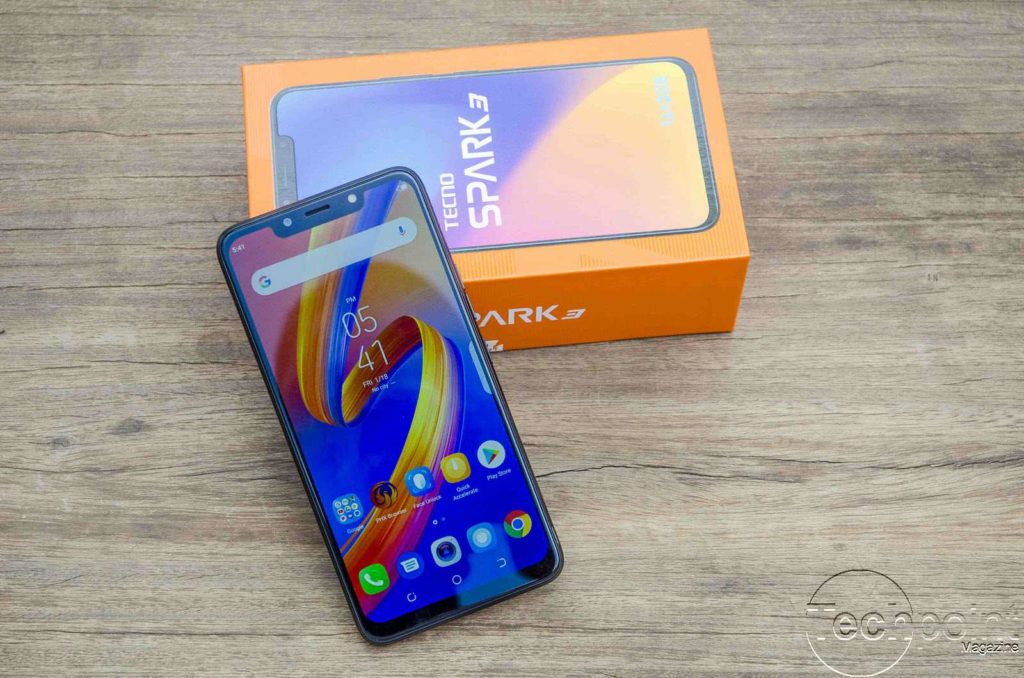 By First Sight: The TECNO SPARK 3 Impressions
If you love quality, chances are you can easily be blown away by the TECNO Spark 3 elegant looks that not only bring out its charmy close to bezzeless curves, but also portray the power of having a top notch Smartphone riding with a triple camera threat to its rear end.
Unlike any previous Spark releases sharing the same lane with the TECNO Mobile's 3rd approach to the mid-range square. The Spark 3 is the first to ship a Camon 11 like back shiny plake with a solid gradient standing out loud. As a matter of fact, once you land on your favorite colors, you don't need any sort of phone cover to re-spice the device since the Spark 3 designs glitter much louder than any pre-custom designed cover.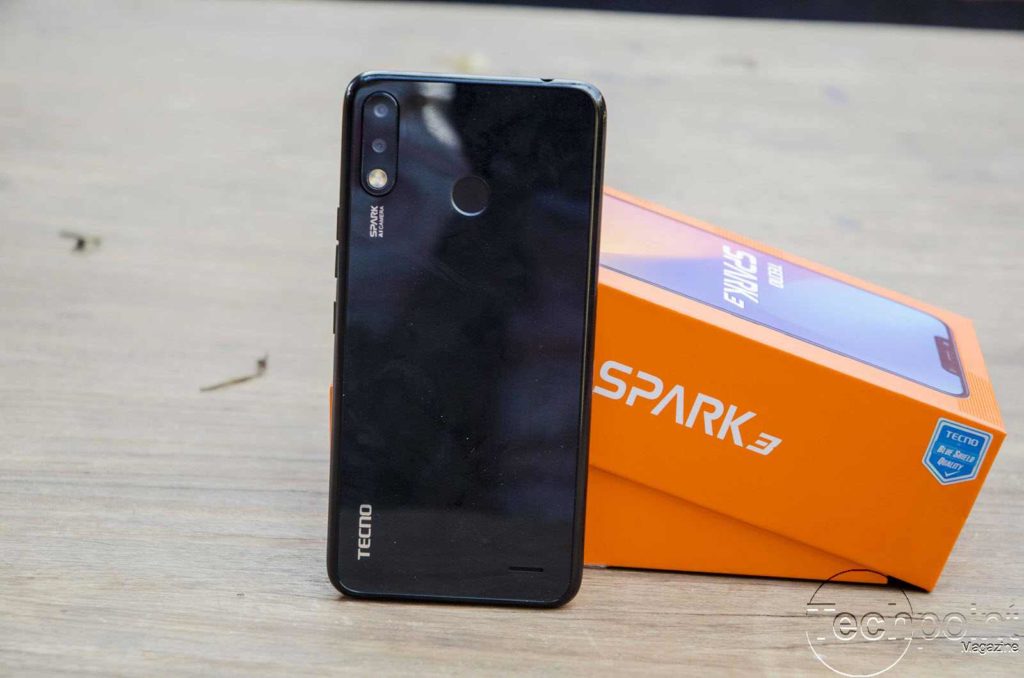 Amazingly the TECNO Spark 3 doesn't carry around the "light up" tagline for less, the device packs a triple rear camera force that ignites another layer of mobile photography than any other release in its caliber. One of the lenses takes over the wide angle duties as its drother brings action much closer to the Smartphone for a peak of super quality. To the front end, the Phone packs a single selfie camera riding on the comfort of a soft LED flash for low light conditions. However, we shall share the quality of these Spark 3 beauties in our review after a prior all conditions test.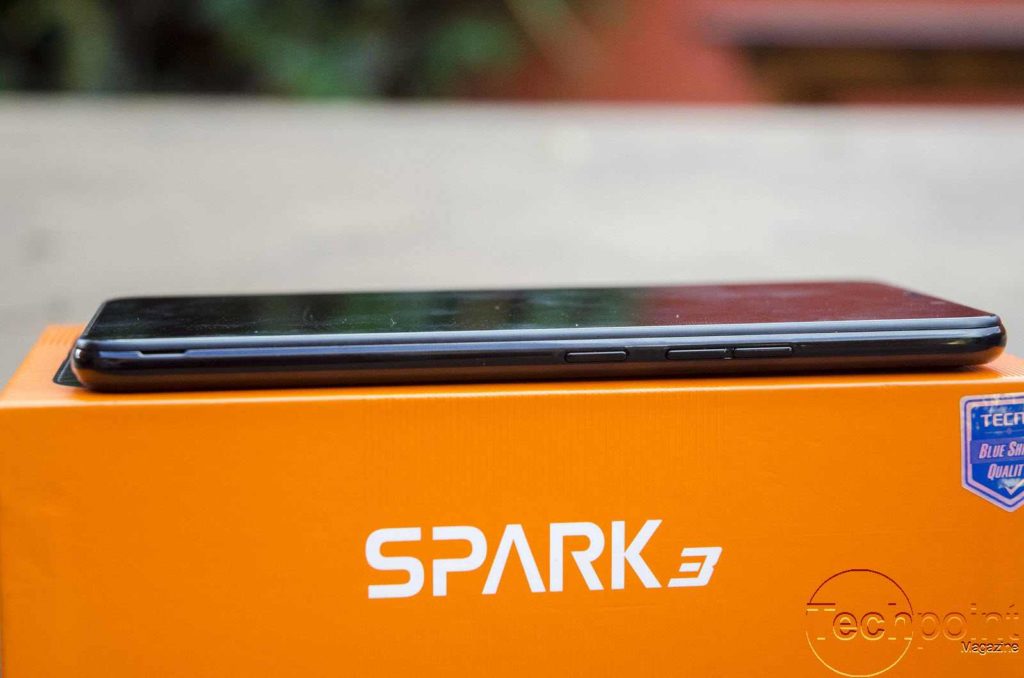 Additionally, the TECNO Spark 3 design is exceptional to the fact that its charging port is on a standalone mission only sharing a slot with the bottom mouthpiece as the headphone jack sit right to the top. More so, it's another 6-inch release that has maintains size to its model making it another perfect pocket fit with no bulky signs. Nonetheless, with a 3500 mAh inbuilt battery, the Spark 3 is one device that has raised our eyebrows to have a taste of Android 9 Performing on yet another budget-friendly release in the mid-range tier.
the TECNO SPARK 3 Price tag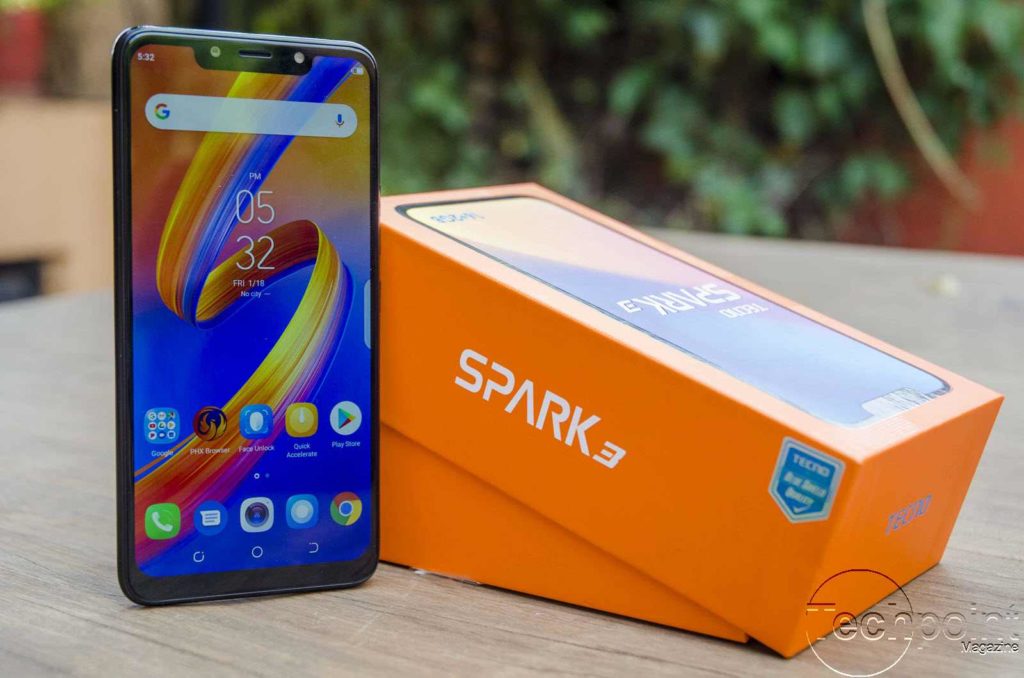 A Brand new TECNO Spark 3 costs UGX 429,000 as it's pro version goes high for 489,000/= with a few features separating the two amazing releases. On Where to purchase a genuine TECNO Spark 3 Smartphone, riding to a TECNO branded VIP shop becomes your ultimate choice to further grab it at its real retailed price. Either way, you can buy the Phone online on Jumia or any other trusted source like Dondolo shops to have it delivered to your doorstep.
All in all, the TECNO Spark 3 is an amazing Smartphone that we shall have to tickle its beats to have a taste of what a budget-friendly release piling Android 9 to the list has to offer. Given the fact that TECNO Mobile has core ties with Google unlike the Huawei Fate, it means more is yet to come to a point that we might see a foldable release from the TECNO camp before 2019 comes to a close.