Blue Origin is an innovative aerospace manufacturer and spaceflight company that has not garnered as much popularity as companies like Space X, ULA, or the Soyuz Russian Program, but has made its mark as one of the best companies that will take back humanity to the Moon and beyond. Founded by Jeff Bezos in 2000, Blue Origin is searching for its first astronaut in 2021 to take on its first human sub-orbital flight.
In November 2015, Blue Origin made history as the first spaceflight company to launch and land a rocket back to Earth with its New Shepard launch vehicle. Years later, Space X has become popular for launching and landing its Falcon 9 rockets, and recently the Starship (SN15) built to take humanity to Mars and the Moon.
So, Blue Origin has a solid innovation paper that has made it a technology-first company even with a slow pace (Gradatim Ferociter) of executing public ideas and launching rockets. Now, the company aims to end its suborbital New Shepard test flights it has executed for the past 5 years, by taking humans to Earth's high-altitude layers in line with the rocket's initial goal of helping humans explore what lies beyond the white atmosphere clouds.
On 20th July 2021, the New Shepard rocket will launch its first Astronaut crew to space with only 1 seat available to bid for on the Blue Origin website. According to the company, only a single crew member will fly to space to make history as the first astronaut to ever launch aboard the New Shepard rocket capsule. To bid for a seat, simply visit www.blueorigin.com to enter your bidding amount, and hang tight for the next 3 phases of auctioning.
The Blue Origin New Shepard Seat Auction Schedule
May 5-19: Sealed online bidding – you can bid any amount you want on the auction website (no bids are visible)
May 19: Unsealed online bidding – bidding becomes visible and participants must exceed the highest bid to continue in the auction
June 12: Live auction – the bidding concludes with a live online auction
How you can become an Astronaut with Blue Origin's Flights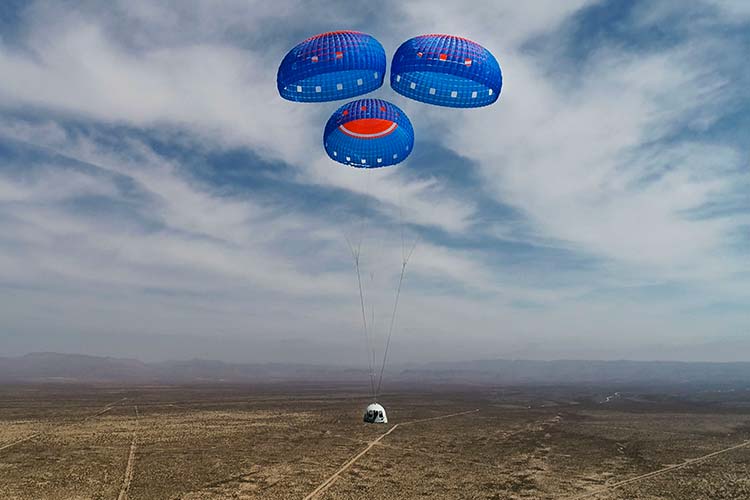 Initially, the first Blue Origin New Shepard flight was slated to take place earlier in 2020, but due to the COVID19 pandemic, the company extended its launch schedule to April 2021 before finalizing on 20th July 2021 as the final first human flight date.
After 20th July 2021, the New Shepard Rocket will officially be open for business with the ability for anyone no matter their country of origin, or citizenship to become an astronaut in 2021 by flying aboard a sub-orbital rocket. With the current bidding process, the highest bidder's winning amount will be donated to the Blue Origin non-profit Club for Future program in which the young generation is inspired to pursue careers in space exploration.
Currently, only New Shepard ranks as Blue Origin's only available spacecraft that can fly humans to space since its New Glenn rocket – biggest orbital rocket is still under production with its launch date expected to be in 2024.
The New Shepard rocket was named after Alan Shepard who made history as the first American to ever fly to space 60 years ago. So, Blue Origin named the launch vechile after him to honor his historic flight, and continue the legacy by flying humans to space since less than 600 astronauts have ever been to space since then.
More so, one can't become an astronaut without going through sophisticated space education programs, qualifications, and accreditation from agencies like NASA, JASA, Roscosmos, CNSA, among others. To ease this, space tourism launch vehicles like Virgin Galactic and Blue Origin's New Shepard launched to allow anyone to become an astronaut by simply taking a flight aboard a world-class rocket.
Statistically, the New Shepard rocket has made over 15 successful flights to space and back above the Karman line – separates earth from space. All previous launched were done to test multiple redundant safety systems to make future flights 100% safe for all crew members. And now, unlike Virgin Galactic's founder Richard Branson, the Blue Origin's founder Jeff Bezos will not be the one to take the company's first space trip, but instead, the highest bidder to buy a ticket to space will enjoy a sole trip for a once in a lifetime experience.