Are USSD Codes phasing out in Uganda? From MTN Uganda's point of view, shortcodes are old school and smart service applications now deserve the front row shield. After successfully integrating the MY MTN App to its Subscriber base, the Yello telco now has a new MOMO App trailing its digital path.
The standard MY MTN App went live a couple of years ago as a self-service application that features both full account control, and mobile money integration served in a single user dashboard.
Well, the 2 in 1 process seemed a hectic path for the telco that decided to launch a new fully dedicated Mobile money services app dubbed MTN Momo that has turned out to be a must-have for every Smartphone user with a Yello SIMCard.
Among the exciting features of the new App include the ability to download your Mobile Money statements and perform all transactions you would have pulled off using the Yello camp's *185# shortcode with convenience shipped into play.
How to Install the MTN Momo App
Visit the Google Play or Apple Store.
In the Search field, Input MTN Momo or MY MTN as your Keyword.
Choose MTN Momo Uganda from the Search results to Download.
Install the App, and check your applications list for its icon.
Next up, Register or Login to your account for instant access.
Getting Started with the MTN Momo App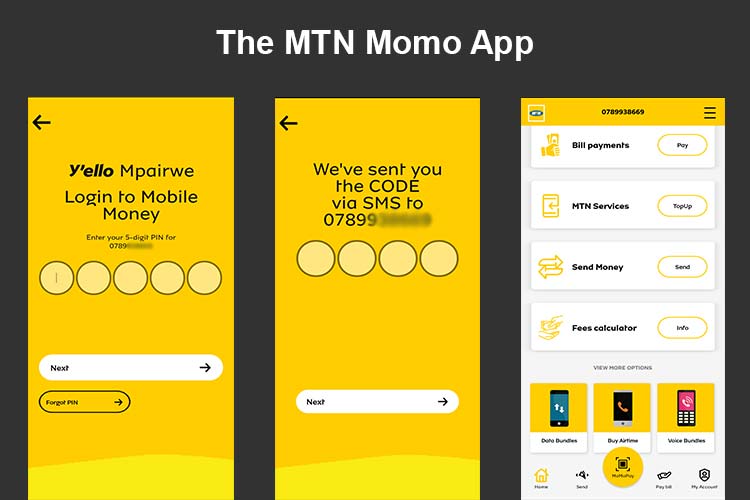 Once installed, open the MTN Momo App from your Applications list.
Enter your Mobile Money PIN, and a security code sent to your registered number.
Once authenticated, you can then access your account's dashboard.
Within the App dashboard, toggle through Send Money, Buy Bundles, Pay OTT tax, and Pay Utilities to easily make transactions of your choice.
Done: Enjoy what the MTN Momo App has to offer.
MTN Momo App Features and common functions you can use
Send Money.
Pay for Goods with MOMO Pay (QR Code Scanner).
Pay Utility Bills.
Access your Account settings.
Download Your Mobile Money statement.
Buy Data / Airtime.
Pay School Fees.
Make Bank Transfers.
Save and Borrow money with Mokash.
And alot more.
All in All, the MTN Momo App is a perfect companion you need to install as an easier path to using MTN Mobile Money. In the presence of the MY MTN App, you can still use the new MTN Momo App to easily buy bundles and access several other features with ease.