MY MTN app is a cross-country MTN services customized app. Back then everyone was used to dialing long USSD codes in order to subscribe to a service, but with the MY MTN app, USSD codes are a yesterday trend with subscribers having first-hand access to current deals and subscriptions.
In Uganda alone, the number of mobile subscribers hit its all-time high to a point that UCC is finding it hard to regulate all users and sieve non-transparent users.
While mobile fraudsters have always developed new ways to victimize subscribers every now and then. The core functions of the MY MTN app allow you to get all services in one dashboard without prompting for any 3rd party access.
How to Download the MY MTN App
Android smartphones are popular around the world as you will always find Samsung, Tecno, Huawei, Infinix, Oppo, Realme, among other brands in Smartphone retail shops.
However, the more popular Android releases have become, the easier getting things done has adopted a new streak. By this, the MY MTN app is easy to download the same way you would download WhatsApp or Tiktok on your Android Smartphone.
For Apple IOS users, MY MTN App can still be downloaded from the Apple store with MTN as the legal developer. Within Apple store, your search query should be MY MTN since no 3rd party apps with the same keyword exist on the store.
While in the apple store MTN is still marked as the developer of the MyMTN app. Your experience with searching the app won't be hectic since there are no 3rd party or fraudulent apps associated with the app name.
MY MTN App Features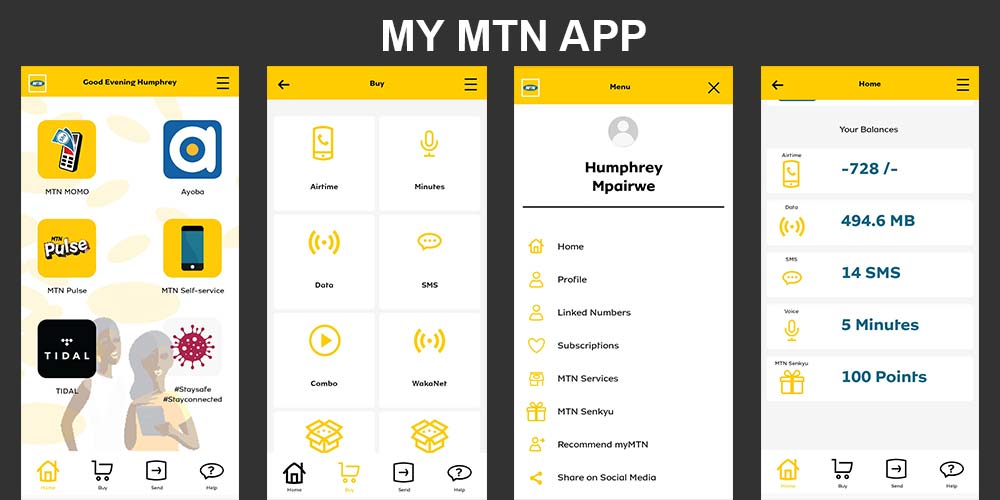 MY MTN App has a straight forward user experince layout. Once you Login to the App using your Yello number, you'll be presented with a main dashboard from which you can execute several tasks the same way you would with common shortcodes.
However, MTN Uganda scrapped off Mobile Money support on the App by introducing a newer version dubbed MTN Momo App. So, within the MY MTN App, you'll be able to execute a bunch of account tasks, and incase of mobile money, a redirection link to the MTN Momo App is automatic.
Well, once you access the main dashboard, expect main features to be tamed around data and voice bundles purchase, tariff plan management, among other functions, and here is a toss of those to expect:
Data Bundles
Within the App, you can easily buy data bundles, check your current data balance without accessing your phone's dial pad. Through this, you're able to purchase exact bundles that fit your budget and validity timeframe you can track within the App.
Voice Bundles
Ever wondered how you can get MTN voice bundles without necessarily digging through the telco's daily, weekly, and monthly offerings? Well, the telco's app offers you just that, you can buy, check, and track your voice minutes balance.
Borrow Airtime
MTN Xtra time is accessible through the telco's App with a quicker procedure to borrow airtime and data with ease. From the App Dashboard, locate Xtra time and select your preferred amount to instantly load it on your account and pay back later.
Share Airtime and Data with Me2U
Me2U and Data Me2u are great sharing plans thta allow you to top up airtime or data for another sibscriber for free. Within the App, you can share airtime and data by simply enterting a recepeint's phone number and the amount of airtime or data to directly share from your account.