Playstation 5 is now available for Pre-order. As Sony prepares the NewGen Console for an official launch away from the official unveiling event held earlier in June. The PS5 will be ready to ship to first-buy customers on the pre-order list by late 2020.
Unlike common pre-orders, you can only order the PS5 for an early sniff by registering for a slot on the PlayStation Website. Once registered, Sony will select out a few lucky customers who will be able to get the Console first-hand.
Apparently, there is only a limited number of PS5 consoles available for pre-order. Additionally, the company has adopted a 1-customer 1-console policy where you can only order 1console which comes with two Dual sense controllers and other PS5 accessories.
How to Pre-order a PlayStation 5 Console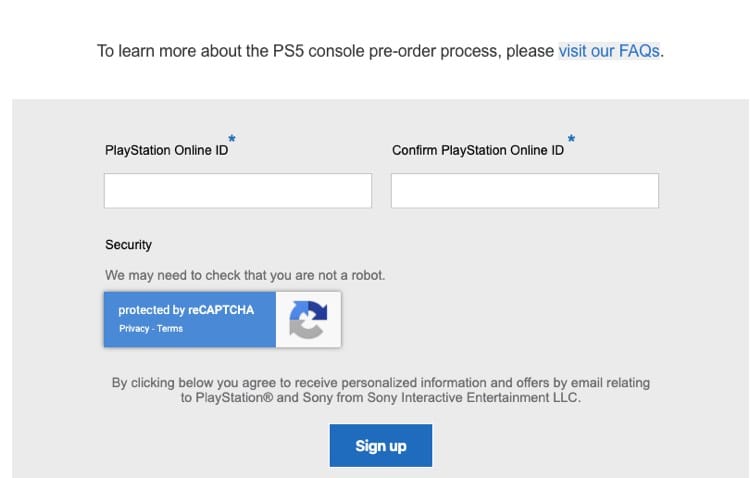 Visit the Playstation.com registration portal via: https://www.playstation.com/en-us/campaigns/2020/ps5-direct-pre-orders/
Fill in the Pre-order form with your Playstation online ID and Click Sign up
If successfully selected for Pre-order, you will receive a confirmation email from Playstation with more Information on how you can complete your Order
NB: You Must have a Valid PSN Account and Online ID to Pre-Order
However, Playstation5 Pre-orders have been limited to only US Customers with a valid address. At the moment, Playstation is not taking International Pre-orders, but if you have a virtual US Address, you can link it to your PSN account before Placing your Order.
Hence, as the Gaming community awaits for an official Playstation 5 launch and pricing reveal, you can snick through as one of the first Console owners by applying for a pre-order slot.