MTN has today been recognized by Rohde & Schwarz, with a 'Highest Network Performance Score' award for its data and voice services coverage map in Uganda.
Rohde & Schwarz bestowed the award on MTN Uganda after conducting a network study across Uganda during the 3rd quarter of 2019. The study involved Voice call and Internet speed tests run for a total distance of 8500Kms across the country and at static hotspots.
The award was presented to the MTN Uganda Chief Executive Officer (CEO) Mr. Wim Vanhelleputte at the telco's offices in Kololo, Nyonyi Gardens on Tuesday, 18th February 2020 by the Director of Africa Together Mr. Shakil Ahmed, and Mr. Paul Mwangi, the Manager Mobile Network Testing__Rohde Schwarz.
The conducted network quality and performance tests were run on all local networks including MTN, Airtel, UTL, Africell, K2, and Smart Telecom against European mobile operator ratings using a global scoring methodology of the European telecommunications standard institute (ETSI) TR 103 559 S.
While the Uganda Communications Commission (UCC) recently published its findings on the state of mobile networks in Uganda and ranked Airtel as the fastest. Rohde & Schwarz 's study was run on ETSI standards, and their findings indicated balanced statistics for all local operators
Their overall report indicated that MTN's network had the highest aggregated voice performance across major towns and highways in addition to registering the highest data performance score when tested for online streaming and file downloads.
This means, with over 13 million subscribers, the Yello camp has strengthened its voice and data performance goals to match International standards as published by Rohde & Schwarz.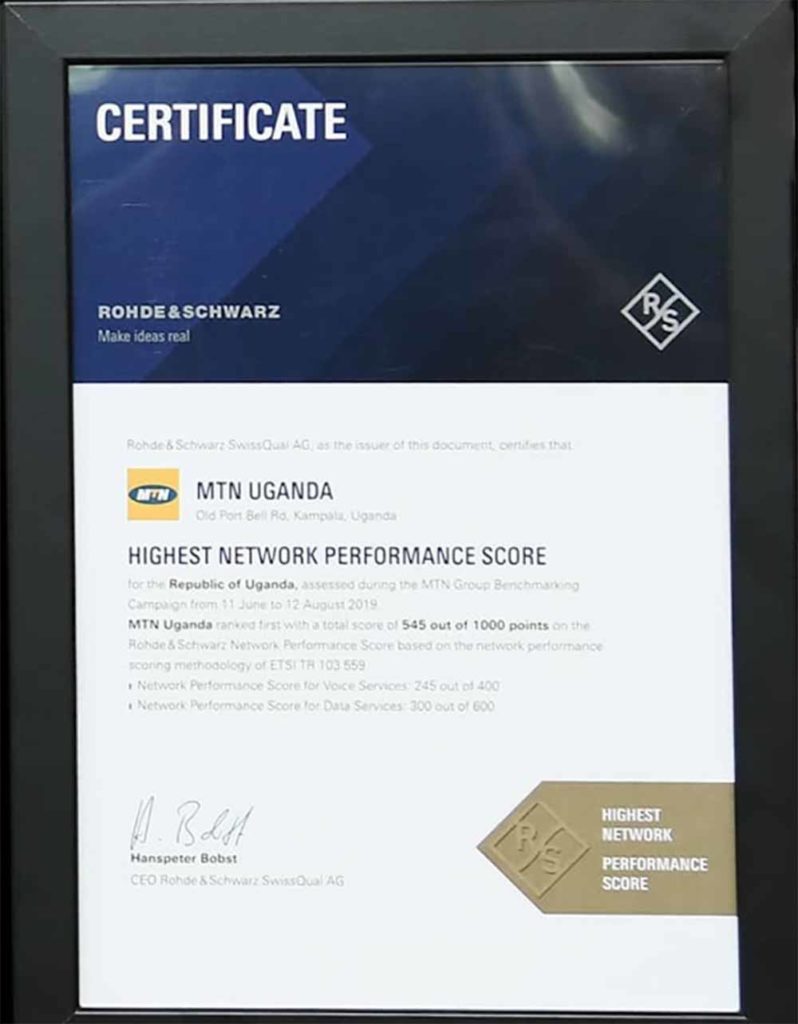 According to the telco CEO, Mr. Wim Vanhelleputte, the use of global standards to test network performance helps the telco benchmark its status against leading mobile operators in the World, and improve to match or better avail more speeds to its subscriber base as he said:
The advantage of using this global standard of measurement (is that), it challenges us to not only be the best in Uganda but also benchmark ourselves against leading networks across the world. Our consistent investment in the network over the years is getting us ever closer to the 'best in class' global networks.", he further noted.

This award justifies MTN's commitment over the years to continuously invest in a wide and quality network

Mr Wim Vanhelleputte – CEO, MTN Uganda
The telco has been awarded as the highest performing in Uganda in a timeframe when it has run a successful 5G trial as the 1st in East Africa, and the 3rd in Africa after its sister wings in Nigeria, and SouthAfrica. In return, this has attracted other operators like Safaricom to join the 5G league
Rhode & Schwarz__the awarding institution is an Internationally recognized organization that specializes in auditing 2G, 3G, 4G and 5G performance of mobile networks across the globe using the International Telecommunication Union (ITU)/ETSI standards.
Editor's Note: When UCC ranked Airtel as the fastest in Uganda, we took it to the North, Central North and Western parts of Uganda to test how the top 3 competing operators MTN, Airtel, and Africell have to offer in terms of browsing speeds. Our findings and poll results will be published in an article soon.