The National Information Technology Authority of Uganda (NITA-U) is awarding millions of shillings in cash to young people that are taking part a new Cybersecurity Quiz dubbed 'NITA-U Festive Quiz.' For two weeks now, individual participants win UGX 500,000 and groups consisting of at least 5 people win 3,000,000/= for submitting the best cyber security stories.
According to Mr. Arnold Mangeni, the Director of Information Security at NITA-U, every week, the quiz runs with two questions on different cyber security themes targeting both individual entrants and group winners.
Quiz entries are accepted through NITA-U's Twitter, Instagram and YouTube platforms and winners are elected based on engagements as votes from fellow Netizens. Once a Question is posted, the best 2 answers with the highest engagements win UGX 500,000 and UGX 3,000,0000 accompanied by a gift hamper for individual and group entrants respectively.
"The groups of 5 submit a video discussing a selected theme for that week. To be more inclusive, we have set strict guidelines to ensure that among the group of 5 there's at least a female. Groups that submit all-male participants don't meet the winning criteria."

Anorld Mangeni – Director Infomartion Security, NITA UGANDA
Originally designed to be a proper physical School Quiz, NITA-U couldn't execute it since schools are still closed and the format had to be adjusted to online. They had planned it as a hands on Cybersecurity awareness campaign for students but due to the COVID-19 circumstances, it is thriving online.
"We know students are at home and many are online. This Quiz is a way to get them to positively be involved in the said quiz and at the same time create awareness about Cyber Security for themselves and their peers in a way they can understand."

Added Mangeni
Among the winners, Andrew Mugisha and Bwire Ian Jeremiah were awarded UGX 500,000 each as the 1st week individual winners. In a like manner, a group consisting on Brian Amanya, Tugume Hastings, Natseli Godfrey, Murangira Boris and Namilo Habibah emerged winners with a cash prize of UGX 3,000,000.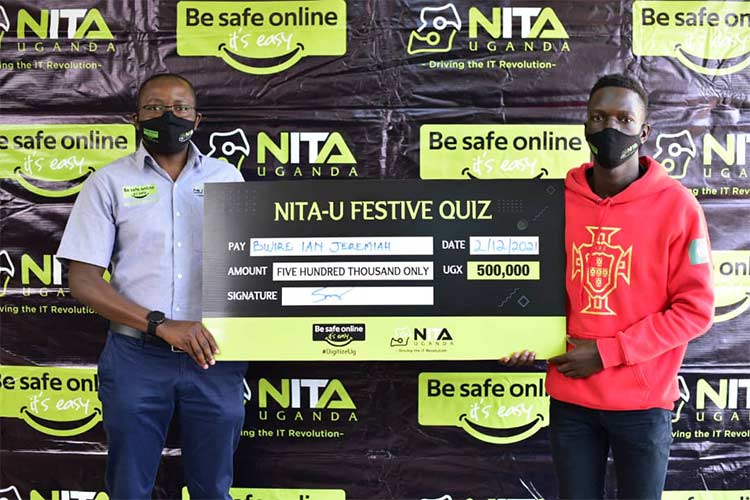 The winning group published a short video demonstrating the importance of tightening phone security with passwords, and advanced mobile operating system features with presentation of potential risks if not well set.
For week two, individual entrants were required to describe malware with highlights on common types of malware users can easily identify and avoid. On the other hand, group entrants were required to recreate a Tendo animation project (shared by NITA-U) about common hacking attempts.
Janat Kwagala, Sarah Namiiro emerged as the individual contest winners, while the group of Kenneth Kasasira, Ndyamuhaki Barham, Mugisha Simon, Ajo Clement and Mugenyi Suleiman won the UGX 3,000,000 winning group grand prize. 
As a weekly campaign, Quiz winners for the Week 3 trivia will be announced on Friday 10th December 2021 ahead of the final week which will usher in the festive season. With positive responses from winners, NITA-U's cyber security trivia serves as a perfect festive present.
"I believe in Santa now. I thought he was just in stories and I had always wished for him to check in on me. NITA-U came in the form of Santa this year for me and I am grateful. On top of providing me an opportunity to grasp Cybersecurity and teach my peers, I got cash to celebrate my Christmas."

Kenneth Kasasira, one of the winners said.
Well, with the ongoing Be Safe Online Cyber Security awareness month , NITA-U pledges to continue delivering on its promise of safeguarding Ugandans on every step of the way. As the campaign goes on, you can follow active feed through the agency's dedicated website: www.besafeonline.ug or social media handles: @besafeonlineug on Twitter and Instagram respectively.