Tecno Mobile is now Africa's top Smartphone brand after beating top tier brands Samsung, and Huawei Mobile. The growth of Tecno Mobile in Africa can be attributed to its midrange market status as the best manufacturer providing cheap alternatives to the expensive top tier and flagship smartphones from brands like Samsung, Huawei and Apple.
Over the years, the overall Tecno Mobile smartphones suite never exceeds $300 in all African counties where the brand is active, by this, many customers tend to opt for a cheap, yet high specifications release offered by the brand. More so, the unpredicted effects of the COVID19 Pandemic period in 2020 ignited a low-expenditure behaviour amongst customers makign midrange and entry-level smartphones the best choices to consider.
The brand managed to beat Samsung which has over the years been Africa's top smartphone brand due to a 6.7% Year on Year (YoY) drop in smartphone shipments in 2020. Damage to smartphone shipments is attributed to the COVID19 pandemic which attracted lockdowns in countries like Uganda, Kenya, SouthAfrica, Nigeria, Rwanda, and many others.
The biggest drop in Smartphone shipments was in the first half of 2020 when COVID19 became a talk of the day. Then, manufacturers entered recovery mode in Q2, then restarted shipments in Q3 and Q4 when the African business atmosphere reflected with blue skies attracting a 1.5% YoY gain as opposed to the Q2 27% YoY drop in shipments.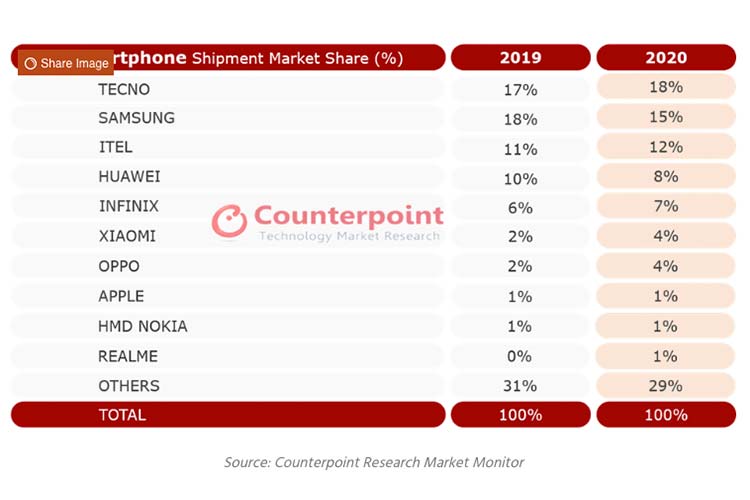 According to Counterpoint Research's senior Analysts Yang Wang, the change in market dynamics is greatly attributed to uncertainty caused by the COVID19 Pandemic which attracted a saving behaviour in customers as opposed to expenditure due to lockdown effects and preparations for the future.
"Looking at the entire year, the African smartphone market outperformed other regions but was not immune to disruptions caused by the pandemic. Q2 2020 was especially difficult as demand was hammered when most countries entered lockdowns. Smartphone shipments during the quarter saw a YoY drop of 27%."

Said Yang Wang
On the other hand, mid-range smartphones sell like hot cake in Africa, and over the years, many customers have deviated away from purchasing top tier smartphones by opting for cheap quality. This has made the Transsion holdings trio of Tecno Mobile, Infinix, and Itel Mobile succeed in shipping smartphones at price tags users want to see, and not top tier quality that would hike prices.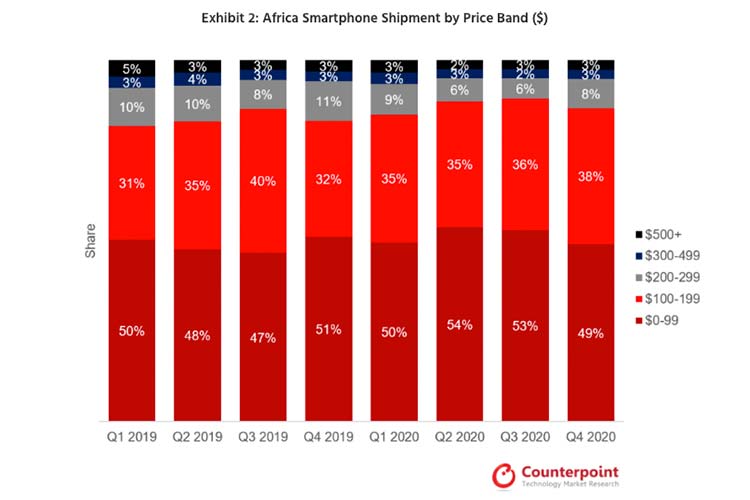 As per the Counterpoint Research Market monitor, smartphones priced between $0-$199 were much popular and registered high shipments as opposed to top tier brands that often cost $300 and above. On average, midrange smartphones where Tecno Mobile ranks as a clear leader contributed to over 80% in smartphone shipments of 2020.
This means a change in user behaviour across the African continent, and top tier brands like Samsung have noted the change by introducing budget-friendly yet quality-centric smartphones to the midrange sphere. By standard, Samsung A Series releases rank as the best mid-range smartphones on the market as compared to Tecno Mobile releases.
By this standard, if Huawei Mobile re-opts to ship more midrange smartphones to the continent, then, the competition landscape will change giving manufacturers like Samsung, Xiaomi, Oppo, Realme, Nokia, to re-imagine their prices and quality to best serve the midrange market. For now, Samsung is no longer Africa's top smartphone brand – a position it has held for years. Instead, Tecno Mobile is now the leading smartphone brand with its sister brands of iTel and Infinix ranking 3rd and 6th respectively.