To wirelessly transfer files from your Smartphone to a computer, it's an easy tale as tweaking your Phone and PC settings with a touch of IP Address assignments to make both devices discoverable on a mutual Wi-Fi network.
Given the fact that the age of Bluetooth is slowly getting off the file transfer ladder, and now applied in connecting audio plus accessibility devices. Getting the best transfer method for your files becomes limited to strictly Wireless (Wi-Fi) or Cable transfer.
Alterations in the trend can be attributed to the inevitably increasing significance of technology in our day-to-day lives coupled with undeniable variations in PC and Smartphone roles.
Well, to transfer files from your Smartphone to a computer and vice versa, you only need to install a helper application or service of your choice to act as with a server/client model. Popular services include Wi-Fi Direct, ResilioSync, Feem v4, Share it, Xshare, Xender among others.
In a fashion similar to the now fading USB Cable transfer method, these applications allow you to simply drag and drop, copy and paste, or explore a Smartphone's file system with blazing fast speeds.
Among the best, Xender is remarkably a popular variant to consider. So, as we entail how you can transfer files from your Smartphone to a computer wirelessly, we shall be using Xender as our application of choice.
How to use Xender to transfer files from your Smartphone to a Computer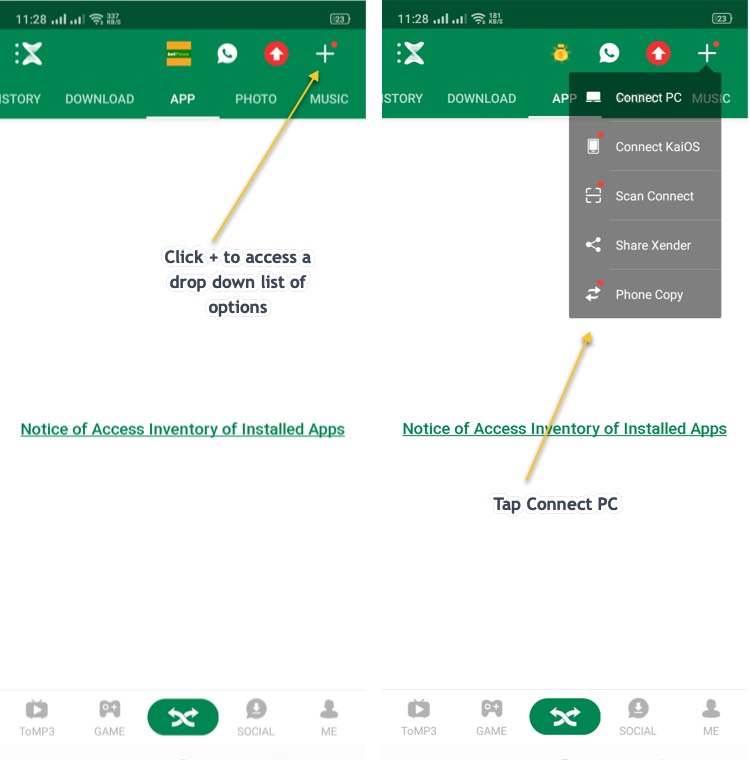 Download and install the Xender app from the Google or Apple Store
Open the app, and on the main menu bar, tap the plus "+" or equals "=" symbol
From the drop-down menu, tap "Connect PC". This will lead you to a page with connection details (if connected to WiFi) and an option to create your own hotspot to connect your computer.
Connecting Xender to PC without a Data connection (No Internet Usage)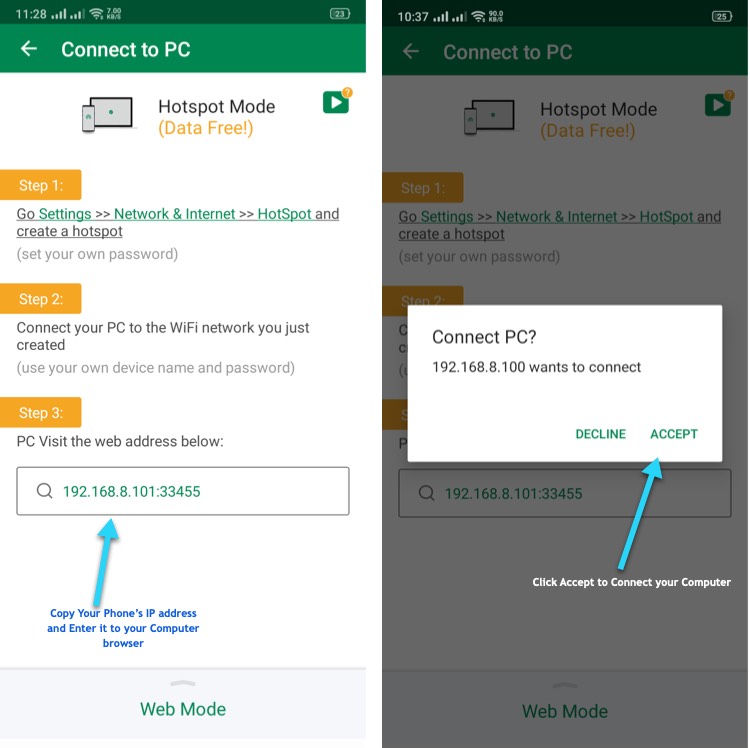 If you're connected to a Wi-Fi network, your phone's IP Address + Port Number will be displayed on Xender. For instance 192.168.8.101:33455 (Based on your Wi-Fi IP Addressing).
Alternatively, if you create a Wi-Fi hotspot on your phone, your IP Address will be 192.168.43.1:33455 (depending on your phone model)
Then, Open a New tab on your computer's browser and Enter the IP Address displayed on your Xender Application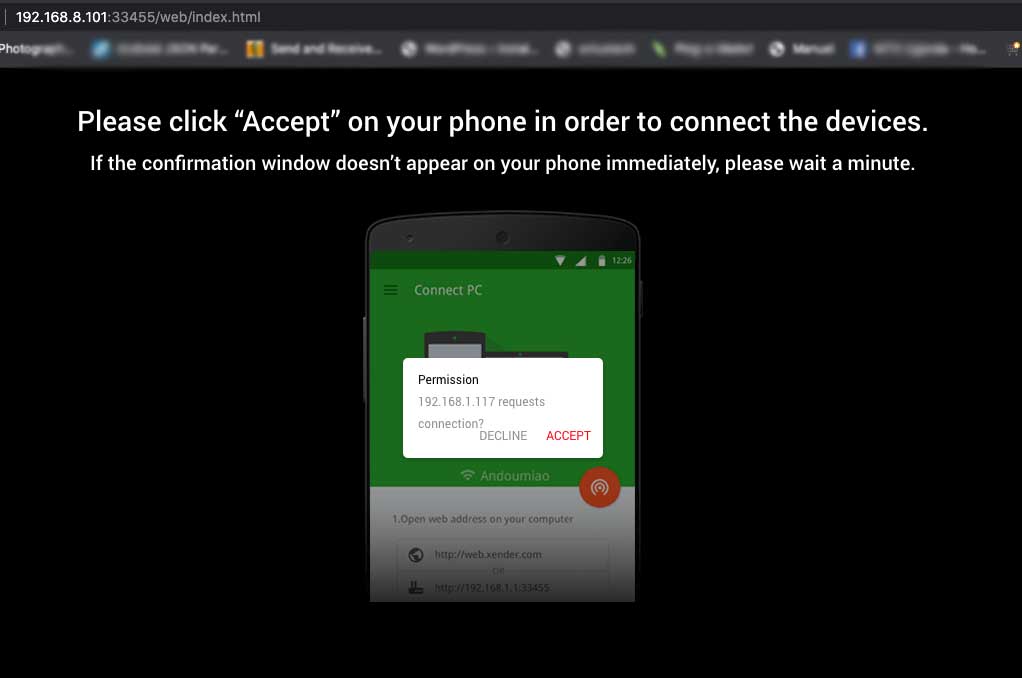 Click Accept to allow the Smartphone's connection with your computer
Once accepted, your Smartphone will be connected to your computer.
Connecting Xender to PC With a Data Connection (Internet Data will be used | QR Scan required)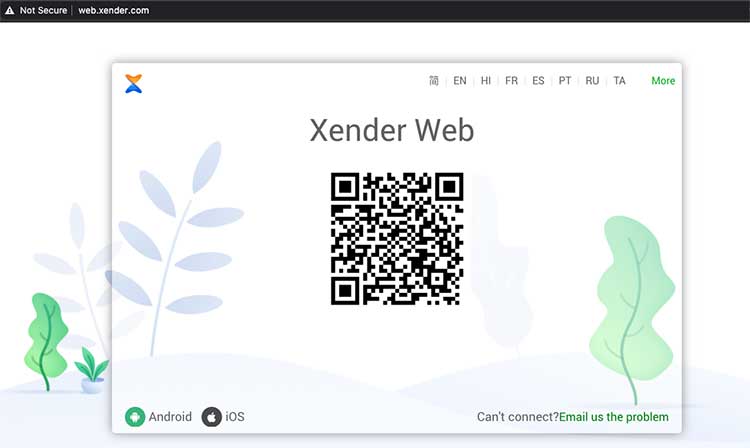 From the Connect PC page, Tap the Web Mode option (Swipe Up)
Visit web.xender.com from your computer's browser
Then, Scan the QR Code on your Computer screen using your Smartphone's Camera
Once scanned, your Smartphone will be authenticated and Connected
Done: For every file transferred from your Smartphone to the computer or vice versa will impact on your Internet Bundle (If in the MB Economy)
Transfer files from your smartphone to a computer
To transfer a file, simply tap the file name or icon. If it's an image, it will display on your Computer, and then, you can tab the upload button below the image.
Files will be able to auto-download and save to your Downloads folder or alternate location
Alternatively, you can use the Xender browser file manager to manually locate files on your Smartphone, then hit the Download button to sync them to your computer.
Done: You can always repeat the process to transfer files from your Smartphone to Computer with ease.
Transfer files from your computer to the Smartphone.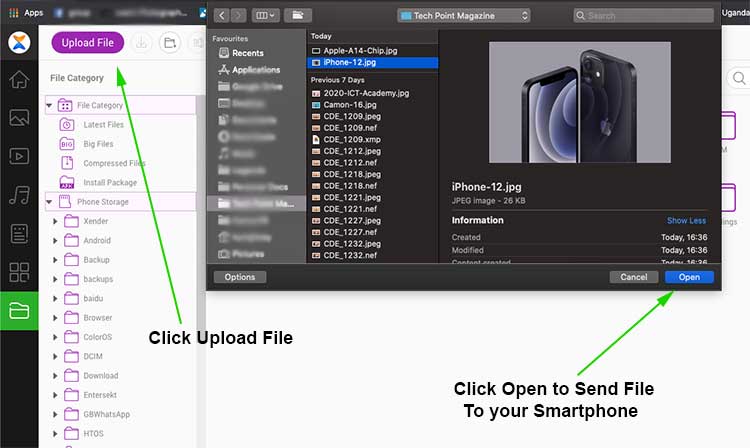 Once a connection is established with your Smartphone, a Phone Mockup is displayed in your browser window where you can drop files
To Drag and Drop, simply locate a file from your computer to drag it, then drop it on the phone mockup in your browser window
Alternatively, from the main Xender Window, click the "Upload" button and locate files to upload from your PC explorer directories, then click Open to upload files.
Once Selected and Uploaded, your files will reflect on your Smartphone in the Xender Downloads File Directory.
Done: Enjoy transferring files from your Computer to Smartphone with ease.
All in All, transferring files from your Smartphone to a Computer and Vice Versa is as easy as installing Xender – which actually comes pre-installed on most midrange Smartphones like TECNO, Infinix, Xiaomi, among others.
So, why fuss anymore about data transfer between your devices when you can use Xender without a cable or active internet data connection? Simply brace the new legion of file transfer available at impeccable speeds.
However, alot more solutions are available to help you transfer files from your Smartphone to a computer and vice versa. These include Email sharing, Chat services like Whatsapp Web, Telegram, Skype, Discord, among others.
But based on our file transfer experiences, Xender rocks as one of the perfect companions that not only allows you to transfer files to a computer, but also from iPhone to Android, Android to Android, and Vice versa.
Editor's Note: By Default, Xender Communicates with your computer (any model) via port 33455, But incase it changes, the new IP Address and port is still displayed on your Smartphone