WhatsApp is working on a new feature that will allow you to transfer chats from Android to IOS. In the past, you could only transfer your WhatsApp chats from Android to IOS by using 3rd party tools like Dr. Fone, but in the presence of these, WhatsApp has always noted that they act against its terms of use. So, the Instant Messaging giant is rolling out the feature to give user the power to transfer chats from an Android Smartphone to iPhone.
At the moment, the feature is still in its early development stages and may roll out in mid-2021 as leaked by WABetaInfo – a reliable WhatsApp information source. The feature was spotted in a recent WhatsApp Beta update, and it will require users to have the latest version of WhatsApp in order to transfer chats from Android to IOS and vice versa.
Once the feature is rolled out, you will be able to transfer text chats, images, video, voice notes, and all media from Android to IOS and vice versa. This means, if you often switch Smartphones from Android-based variants to the Apple league, this feature will save you from the stressful task of having to start fresh conversations in groups and individual chats.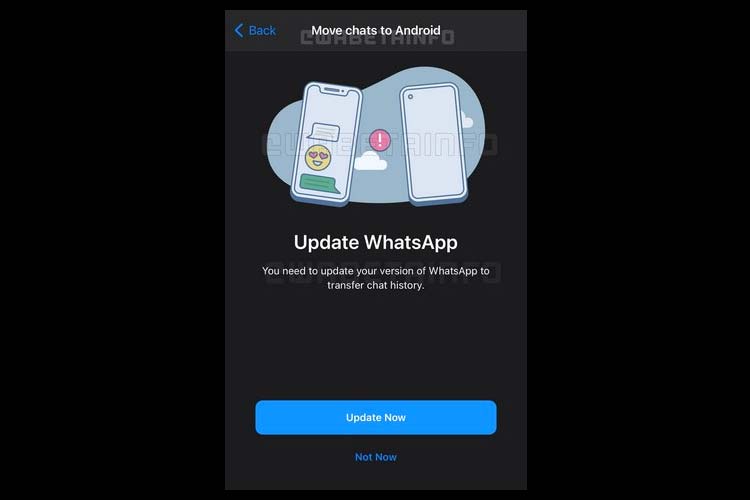 By functionality, the feature may work in a wireless fashion which will compile a backup of your current WhatsApp information and share it over Bluetooth or a private personal hotspot from your Android to iPhone with ease. For now, WABetaInfo has not leaked further details on when we can expect to see the new WhatsApp chats transfer method.
But as compared to all leaked features in the past, WhatsApp features often take a while to leave the launchpad, and we can expect the new game-changing feature to be launched in mid-2021 for Beta testers to give it a try before a public rollout. Currently, expect to see a smooth way of transferring WhatsApp data from Android to IOS without using sophisticated Apps.