Google has released an early preview of its upcoming Android 11 mobile operating system in Beta mode. The OS will succeed Android 10 with a pile of new features tamed around user privacy and catchy app functions.
Among the new features, Security takes a notch-stand as design tweaks are drops from the previous Android Q Beta release and were ignored in the official Android 10 release. With Google Pixel users getting an early taste of Android 11, here are 5 cool features tagged to the Beta version of the OS.
Scheduled Dark Mode
Dark mode is a new trend of Smartphone usage that decreases chances of eye strains and high battery usage on a phone by giving apps a dark texture on run time.
Apps like WhatsApp, Twitter, and Instagram now have full dark mode options to cope with the new trend that not only ensures low battery usage but also tags along health benefits.
Well, Android 11's dark mode feature will allow users to toggle between light and dark mode with the ability to set particular times when lights should go dark.
Improved Permissions
The more developers join the open-source community where Android is a popular resource, It's the more Apps request for permissions to execute specific tasks to enable specific functions.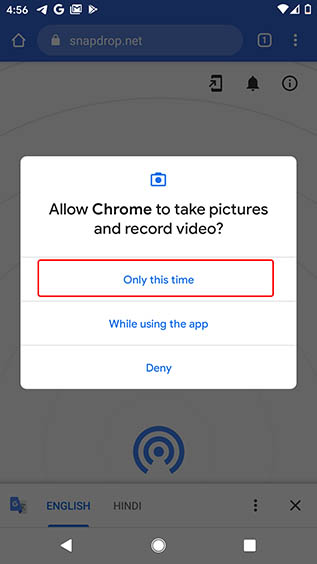 From Android 8.0, App permissions were improved in a fashion that before an App is run, it's usage permissions are displayed to the user who can either accept or deny access to specific functionalities.
In Android 11, a user now has even more power over what apps can do by making permissions more strict. For Instance, a user can choose to grant the App one-time access to a feature or simply have access when the App is open.
Chat Bubbles
Popup Chat Bubbles are most evidenced with Facebook's Messenger app, but Android 11 is enabling this functionality for every IM App on your Smartphone. This means, you can read and reply your WhatsApp messages without directly opening the App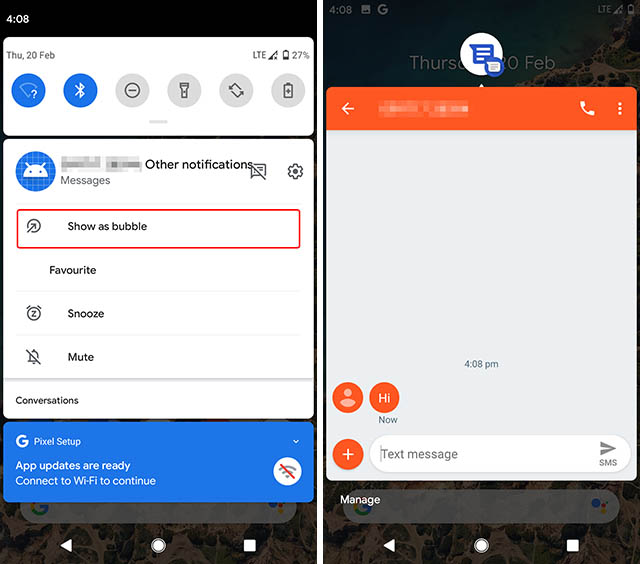 At the moment Chat Bubbles can only be used by Google messages and Gmail since the operating system is still in Beta mode.
To open Chat Bubbles all you have to do is long-press a message in the notification panel, then it will be opened in-form of a chat bubble similar to the Facebook Messenger-style.
Copy-Paste is now in the Notifications Pane
Unlike all previous Android versions from the first version released in 2008 where copy-paste was a long press procedure. Android 11 ships the feature as a notification bar option to copy or paste Items on your Smartphone.
For Instance, if you wish to copy an image from WhatsApp to your Email composer, all you do is hit Copy on the notification bar, visit the mailbox composer and tap paste (notification button changes to paste) to attach the current clipboard image.
Battery Share (Hidden Feature)
Imagine if you could share your Smartphone's battery charge with another phone? Inside the Android 11 settings lies a feature dubbed Battery share. As per the description, the feature allows you to share your phone's charge with another Smartphone wirelessly.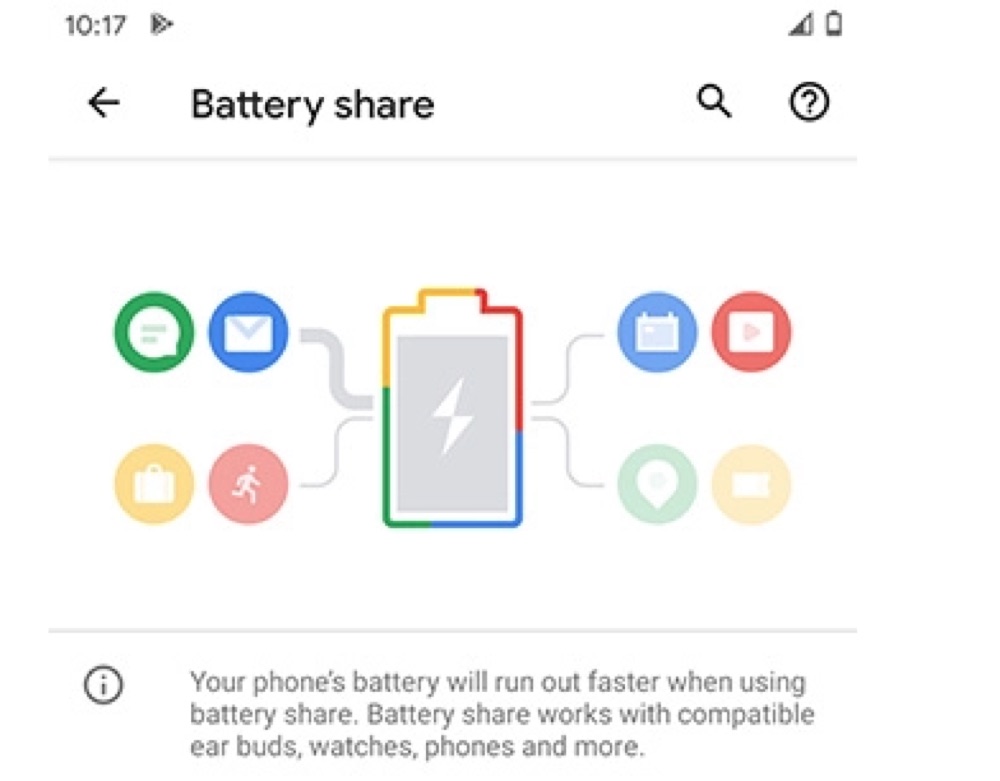 At the moment, the Google Pixel doesn't have wireless charging capabilities, but Samsung's line of flagships do. This implies that the feature will be more effective when Wireless charging is adopted by all major Android manufacturers.
Android 11 release dates
At the moment, Android 11 Beta is available for Google Pixel users as the Pixel 5 is expected to be the first Smartphone to ship the operating system. This means Android 11 will be launched between the 3rd and 4th quarter of 2020.
With more features expected to ship with the OS, Google's dedication to this particular release lies in the ability for users to have more control over their data and ride to a vast features path for all apps on the platform.